Pile is the kind of band that inspires people to do crazy things, like start a record label or write a concept record about it. At least those are two of the more outlandish examples we have so far.
On the surface, it's hard to see what makes the Boston four-piece so special. "It's a four-duded rock band," vocalist-guitarist and band leader Rick Maguire says flatly, before tossing in a statement that's self-deprecating but also, at least partially, true, "That is the most boring genre." Maguire started the band back in 2007 with the solo acoustic release Demonstration, slowly building a band around him for the release of Jerk Routine in 2009, since solidifying Pile's lineup with guitarist Matt Becker, bassist Matt Connery, and drummer Kris Kuss. While Pile uses the traditional setup of a four-piece rock band, its music defies simple, genre-based classifications.
Part classic country and part atonal noise rock, Pile is like if Waylon Jennings stumbled into a Jesus Lizard show, grabbed the mic out of David Yow's hands, then went on to finish the set. At times it's quiet and contemplative, other times loud and distorted, and sometimes both in just a few seconds. Despite Maguire's assertion that rock bands are boring, that's not true of Pile. If anything, it's about as weird as a rock band can get without being fully avant-garde.
With songwriting that largely eschews a verse-chorus structure in favor of movements that push and pull, Maguire knows his approach is a little odd, even if he's too modest to admit it. "I know we have some weird timing and stuff, maybe some sort of dissonance here and there, but sometimes we play with these bands that are really out-there and fascinating," he says before pausing to name-check bands like Guerrilla Toss and Horse Lords. "And I feel like we're the Foo Fighters or something." But even at its most direct, Pile is miles apart from the Foo Fighters. Especially because Dave Grohl has probably never written a song about an awkward tryst between a man and an ape.
G/O Media may get a commission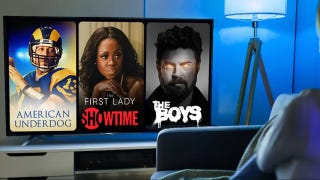 UNDER $1
99¢ Prime Video Channels
It's that song, "Pets," that serves as an early summation of Pile's power. Released on Magic Isn't Real, the band's second album—or third, depending on how Demonstration is classified—it's the moment when the cult of Pile began to grow in earnest. Few songwriters are daring enough to employ a line like "Ape gets his and rolls off" and not play it for laughs; far fewer are able to use it as an extended metaphor about romantic disillusionment and a fear of intimacy.
Built on twangy guitar leads befitting an alt-country record, "Pets" expands and shrinks at Maguire's will, never settling on anything resembling a chorus while still packing in loads of melody. During the song's combustive coda, when Maguire finally declares, "I shoot at only things that would smile down on me / Just to see if they will move / So at least I'll know," the song's absurdity is all but forgotten. The only thing left is the raw feeling. And when it's stripped down to just Maguire and a guitar, it's downright chilling.
"[Magic Isn't Real] really floored me, right from the first time I heard it," says Dan Goldin, who, along with Dave Spak, started Exploding In Sound Records partly out of a desire to release Pile albums. "I quickly became very obsessed with the band, and I always wanted to start a label. Once they came around, it became apparent that if I'm going to do this, now's the time." In getting Exploding In Sound off the ground, Goldin and Spak first worked with Pile on 2012's Dripping, the record that, for many people, was their proper introduction to the Boston band.
"Dripping is more of—in Pile's sense, at least—more of a commercial record," says Goldin. If "Pets" gave Pile the illusion of a scene-wide hit, Dripping gave the band the underground music equivalent of a chart-topping single. "Prom Song" isn't exactly straightforward—not much in Pile's world is—but it's about as digestible as Maguire's songwriting had been up to that point. Not only that, it has a guitar solo for the ages, the kind that inspired people to make homemade T-shirts that read "Prom Song Solo :)" and stage-dive wildly when Maguire first bends his strings toward the sky during a live show. It'd be proof of the passionate response Pile was evoking in fans, but it'd do the same for the band's peers. At the very least, it did that for Krill's Jonah Furman.
"It was ambitious, thoughtful, aggressive music," says Furman, claiming that Pile's music is "brutal" without evoking the traditional brutality of something like death metal. "It's kind of horrifying music," Furman continues, "and the content is very much graphic and violent, but also just extreme in these ways that even conventionally extreme music is not." Krill soon joined Exploding In Sound, and with a new label supporting his band, Furman approached Goldin with an outlandish idea: Krill was going to write a record about Pile. Or at least try to.
Much is made of Krill's Steve Hears Pile In Malden And Bursts Into Tears as being a failed, Pile-focused concept record, with only the first song directly mentioning the band or Maguire, but that doesn't undermine the impact of the 2014 EP. The title track taps into the influence Pile had in Boston, as well as Furman's belief that "part of making real, honest work is to not pretend you're not a person who lives in the same world as people."
While Goldin was game to release the EP, the fact that Krill and Pile were suddenly labelmates, with the former writing love letters about the latter, came as a shock for Maguire. "I didn't really know them personally at the time. Jonah had introduced himself to me, and he didn't say what band he was in, but he was like, 'Oh, my band is putting out a record that is sort of based around one of your songs.' And I was like, 'Wow, that's really cool. Thanks.' And then I found out it was that band and they were being signed to the same label as us."
Things got even stranger when Maguire first heard the EP's title track, which references an email exchange that, according to Maguire, never actually happened. "I was watching them play the song, and that was when I was like, 'I feel like there's going to be a camera that comes out of the bathroom and everyone is going to start laughing and pointing at me.' Like, my life has been a joke up to this point. It was really strange."
With the cult of Pile firmly in place, the band released You're Better Than This in early 2015. It's a record that touches on every piece of the band's history without kowtowing to fan expectations. In fact, Maguire pushed against them. On the quasi-hidden track "Rock And Roll Forever With The Customer In Mind," the band refused its own success, expressing frustration at its newfound popularity and all the affinity "Prom Song" garnered. "You're Better Than This, as a record, was sort of a reaction on their part to the praise and love that people had for Dripping," says Goldin. "[It's] as aggressively non-commercial as they could make it."
It's coincidental, then, that, while supporting the band's most alienating, uncommercial work, Maguire gave up everything he'd built in order to make Pile his only focus. Following the release of You're Better Than This, Maguire quit his job working at a grocery store and moved out of his apartment, turning the band's practice space into his new bedroom. But the rehearsal space's heat was oppressive, and before long he found himself living in the band's tour van. When the Boston winters rolled in, he'd head south, though he'd never stay in one location for extended periods of time. "He's been living in the South, just kind of bouncing around," says Goldin. And while Maguire's had stable residences here and there, most of his life has been committed to touring, be it as Pile or under his no-nonsense solo moniker Rick From Pile.
It's his nomadic nature that brought about this year's A Hairshirt Of Purpose (due March 31), an album that forgoes the characters found on previous Pile records—the ailing "Mr. Fish," the grape-juice-guzzling vagrant of "Baby Boy," or even the ape-lover in "Pets"—for detailed looks at Maguire's inner workings. His constant motion has made him embrace solitude, and it shows in the final product. But it's also forced him to acknowledge that those characters who people fell in love with were merely parts of his personality all along.
"These characters are, the majority of the time, they're actually me," said Maguire, "It's something I'd like to maybe take ownership of." And while it'd be easy to infer that this means the overarching weirdness of Pile may fall by the wayside, Maguire knows it's all part of him. "Interacting with the world through my own lens is always… it's sort of odd."
A Hairshirt Of Purpose may be the softest album in the band's catalog since Jerk Routine, its first full-band affair, but it's hardly regressive. Maguire's time spent alone makes for an album that aches with every movement. The subtle twang in his voice evokes more than it ever has before, foregoing his big, hearty bellow for something subdued but no less expressive. While it could read as Pile's attempt to cross over by removing its stranger tendencies, those off-kilter sparks remain; they're just a bit more understated.
There's the shambolic piano waltz of "I Don't Want To Do This Anymore" and the recurring drumroll that intros "Worms," "Hissing For Peace," and "Fingers," each time serving as a cunning misdirection on the part of Kuss. But beyond all that, Hairshirt removes the artistic distance Maguire has spent a decade establishing. With those walls down, it's easy to take Pile in, accepting its refined, delicate songs alongside its unnerving inventiveness. It's rare to say those things about a rock band in 2017, but that's because you can only really say them about this one.