Today in "this would be pretty hard to explain to your grandparents" news: Current political artist/former Cable Guy Jim Carrey is now apparently in an internet feud with the granddaughter of reviled Italian dictator Benito Mussolini. Carrey earned the ire of Alessandra Mussolini—a member of the European Parliament, and strong contender for a "World's Best/Most Fervently Dedicated Granddaughter" mug—by painting a picture of her grandfather and one of his mistresses, Clara Petacci, being executed in 1945. And say what you like about the intensity of the younger Mussolini's anger: At least she keeps the tweets running on time.
G/O Media may get a commission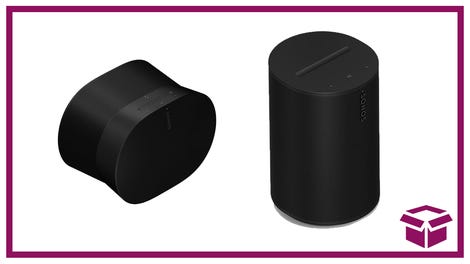 Sonos
Sonos Era 300 + Sonos Era 100
(She also fired back at people making fun of her on Twitter, suggesting that their families probably had just as many skeletons in their closet, which is almost certainly not actually the case.)
The feud is, sadly, one-sided so far, as Carrey has yet to respond to Mussolini's authoritarian demands that he also draw her pictures of mushroom clouds, Rosa Parks, or Native American leaders standing in front of Mount Rushmore—all of which are apparently linked in her mind to a drawing of her dead Fascist grandpa. (Actually, Carrey's official Twitter only follows a single account: His daughter, Jane, which is a much less creepy show of internet familial affection.) In the end, Mussolini dismissed Carrey's work as merely "dirty paper," which is a relatively sick burn, we guess. We're just saying, though: You never see Beth Hitler pulling this kind of shit.
Correction: A previous version of this article listed Mussolini as a member of Italy's parliament, a position she previously held, instead of her current position as a member of the European Parliament. We regret the error.