After 17 years of professional music-reviewing, Noel Murray is taking time off from all new music, and is revisiting his record collection in alphabetical order, to take stock of what he's amassed, and consider what he still needs.
Audiophiles can bicker all day about whether vinyl sounds "warmer" than CDs, or whether MP3s are inferior to both because of "loss," but I confess that most of those discussions go over my head. I can tell the difference between good sound and crappy sound, but my ears aren't trained enough to pick up the difference between good sound and great sound. My biggest complaint about CDs is that a lot of the discs I bought in the '90s sound tinny and punchless, and my biggest complaint about MP3s is that when I convert those old CDs and dump them on my iPod, they sound distractingly soft compared to most of what's on there (even with "sound check" turned on). But then I've heard skilled sound engineers complain about the '00s trend toward boosting the levels on everything, so what the hell do I know?
For me, most everything I miss about vinyl is purely experiential, not sonic. Last year I dug out my old stereo system, hooked it up in my front room, and started relaxing with the family after dinner by putting on some of my dad's old records—some bluegrass, some piano jazz, a whole lot of Hawaiian slack-key guitar—while my kids played games. It was like spending a summer night at my grandparents' house, only with me in the granddad role (minus the ubiquitous highball). And I found that more than the music, I enjoyed pulling the records out of their cardboard jackets and paper sleeves, giving them a cursory swipe with my shirt, and hearing the loud thunk and quiet crackle when I lowered the tone arm. I started thinking back about all the things I missed about the media formats I rarely use anymore. For example:
-Cueing up a song. It may not have been a user-friendly method, but there was something satisfying about trying to place the needle precisely on, say, the third song on side one of a record—especially if the songs didn't have a lot of space between them, and the cue-groove was small. If I was making a mix-tape, I'd go the extra step of waiting until the song started and then putting my hand on the record and manually winding it back before taking my finger off the recorder's pause button, so I could minimize dead space. (That way I could also check the incoming audio levels.) If I was recording tape-to-tape, I'd do something similar, ejecting the source tape right after the song started and manually rewinding it a few turns with my index finger. I can still recall how the tiny tape-spokes felt against my fingertip.
G/O Media may get a commission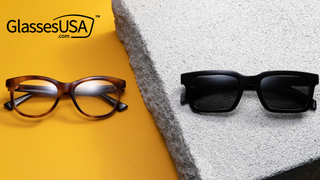 60% off frames
GlassesUSA.com Back to School Sales
-Stacking double LPs. My dad used to put about six records on the living room stereo before he went to bed at night, and would let the machine play one after another until he fell asleep. I usually only stacked records if they were doubles, and if they were thoughtfully arranged by the record company so that Side One and Side Four were on one disc, and Side Two and Side Three on the other. For that matter, I kind of miss the idea of "sides." Some of my favorite bands used to think about their albums in terms of two 20-minute sets, and would try to arrange them so that each side was practically an album to itself. It wasn't until they came out on CD that I even know which was supposed to be the first side of R.E.M.'s Reckoning or Fables Of The Reconstruction. (Or was that Reconstruction Of The Fables?)
-Messages scratched in the lead-out. This was more of a thing that college-rock and post-hardcore bands did, though some of the big-timers too were known to etch a little cryptic message into the vinyl, right next to the label.
-The 8-track fade. My family never had an 8-track player, but I bought one at a garage sale when I was in high school and hooked it up in our basement, where I'd listen to the handful of 8-tracks I could find—including Rickie Lee Jones' first album, a personal favorite—while playing pool or riding my skateboard in tight circles around the table. That's how I became familiar with songs that start fading early at the end of a program, only to fade back up on the next program, after that hard "ka-chunk" so familiar to 8-track owners.
-That new cassette smell. I can't remember which tape I noticed this on, but shortly after the introduction of clear cassette shells, it was hard not to be somewhat overwhelmed by the fruity aroma that wafted up after peeling off the plastic and opening the case. I want to say the first tape with that smell was Prince's Around The World In A Day, but that's probably wishful thinking. I do recall though that Madonna's Like A Prayer smelled like patchouli instead of strawberries. Or maybe I just imagined that too.
Of course there are plenty of aspects of old media that I don't miss, too. Such as:
-Skips. When I listen to "The E Street Shuffle" on CD or MP3, I still expect it to skip abruptly from horns to guitar, just the way it did on my vinyl copy throughout my youth.
-Filler. I've probably listened to more crappy songs buried in the middle of a record than I'd care to recall. (On the other hand, being forced by technology to slog my way through the entirety of something like The Who's Face Dances also led me to appreciate some of my favorite artists' weakest material.) But at least vinyl LPs and cassettes were relatively short, and crafted with some care and understanding of the formats' inherent limitations. Pretty soon after the introduction of the CD, artists went filler-crazy, padding out 40 minutes of good material with an extra 30 minutes or so of sludge and goof-offs. If nothing else, the emergence of song-by-song downloading seems to be serving as a filler-killer.
-Multimedia features. Staying in the CD realm, remember 10 years ago when you'd pop a new CD into your computer and suddenly you'd lose control of your machine for a few minutes while the disc's embedded CD-Rom features sprang to life? Did anybody ever actually enjoy those special features?
-Hidden tracks. It was cute at first to get to the end of a CD, notice that the last track kept going after the final note of the final song, and then wait a few minutes until another song showed up. Ha ha! Surprise! In the MP3 era though, hidden tracks serve mainly to make two songs virtually unusable. Either you go through the painstaking process of cutting and duping in order to reclaim full use of the music you paid for, or you just suffer with a 15-minute track on your iPod that contains 8 minutes of dead space in the middle.
All of which raises a question: What is it about downloading and listening to music on MP3 players that we'll feel nostalgic about when the next technological advance comes along? And what will be glad to see go away? More to the point: Can you even imagine what's next? Most entertainment technology serves a specific need, but aside from some cosmetic improvements to the current tech, I can't even think of what we need anymore. Have we reached the limit? Are we looking at a future where storage and size issues improve, but the devices stay the same?
*****************
Pieces Of The Puzzle
Pet Shop Boys
Years Of Operation 1984-present
Fits Between Cole Porter and ABC
Personal Correspondence When "West End Girls" started getting airplay in the states in 1986, the song sounded like a premature throwback to a technopop era that had been, if not superseded, at least absorbed into the musical culture at large. (Once Trevor Horn added clanking metallic synth stings to Yes songs—and thus hit the Billboard Top 10—certain genre distinctions began to dissolve.) Pet Shop Boys' subsequent success has hinged on their ability to plug electronica into showstopping theatrically and dry social satire, creating a hybrid with multiple strands of crossover appeal. I've always been more into PSB's singles than their full albums, though I make an exception for the hybrid release Introspective, a quasi-anthology that combines extended versions of soon-to-be singles with reworked takes of past Pet Shop Boys songs. Though only six songs long, Introspective offers a full Pet Shop Boys experience, from semi-heartfelt covers of kitschy old pop songs ("Always On My Mind," "It's Alright") to purposefully contradictory portraits of the lives of urbane sophisticates ("Left To My Own Devices," "I Want A Dog"). I wish Pet Shop Boys had come along a coupe of years earlier, when technopop was still a commercially viable genre. I think their influence might've shaped dance music and electronica in some compelling ways—if only by bringing a touch of Broadway to swirling disco.
Enduring presence? My main problem with Pet Shop Boys is that while I find brief visits to their irony-rich world to be exciting and invigorating, it's a place too artificial for extended stays. But then, that artificiality is partly what the band is all about. My favorite Pet Shop Boys song, "Left To My Own Devices," attaches a double-meaning to the word "left," adding political will to one aesthete's to-do list. It's a fairly unsparing vision, yet also catchy, ebullient and fun. The listener can enjoy the song and feel chastened by it, all at once.
Pete Townshend
Years Of Operation 1972-present (solo)
Fits Between Eric Clapton and Paul Weller
Personal Correspondence My Who obsession will get a full airing towards the end of this year, but since Townshend's solo work is in some ways wildly different from his Who work, it deserves its own entry. Besides, the "Pieces Of The Puzzle" section is meant to house artists who strongly impacted the development of my musical taste—both positively and negatively—which means I can't leave out the solo Townshend, lest I ignore the hours I spent playing Empty Glass, All The Best Cowboys Have Chinese Eyes, Scoop and even White City over and over in the '80s, usually while reading old Rolling Stone interviews with Townshend. I'd get inordinately excited as he babbled incessantly about his grandiose vision for a unifying rock sound that would fuse his studies of the guru Meher Baba with the democratizing possibilities of synthesizers (all wrapped in highly personal stories of an aesthete growing up on the edges of the British working class). This fevered self-examination didn't manifest much in Townsend's Who songs, aside from the stark "I just vomited on myself" confessionals of Who By Numbers and Who Are You; but on his solo albums, Townshend made more ambitious swings at crafting a sort of straight-from-the-subconscious insta-pop, infused with elaborate sci-fi/fantasy metaphors and the plain talk of an exasperated everyman. Most of those solo albums are weighed down with self-indulgent filler, but they also contain more than a few of Townshend's best, most personal, and most endearingly quirky songs, carried by the unifying sound of his country-jazz-rock fusion guitar. The acknowledged classic is Empty Glass—sporting the popular "Let My Love Open The Door" and the how-come-we-didn't-realize-Townshend-was-gay-much-earlier?* anthem "Rough Boys," as well as beautiful-but-brittle self-examinations like "I Am An Animal"—but I've always had a soft spot for the frequently silly but just as frequently inspired All The Best Cowboys. Maybe that's because I got it for $1.99 from the back pages of the Columbia Record & Tape Club catalog, or maybe it's because what's always been attractive about Townshend is his wounded, warts-and-all persona, which makes his most embarrassing songs the ones that are ultimately the most meaningful, putting his rock masterpieces in their full context.
Enduring presence? When Townshend came up right after Pet Shop Boys during my weekend note-taking, my wife said, "Hey, it's Gay Week at Popless!" Over the past decade, Townshend may have been in the news more for coming out of the closet and being forced (by the discovery of child pornography on his computer) to reveal the sexual abuse in his past, but for me, I've been thinking a lot about Roger Daltrey's staunch, stand-up defense of his lifelong musical partner during all those incidents. Daltrey and Townshend are bound together despite their persistent personal differences, and I find it incredibly moving how they've continued to work together and support each other. That's probably because Daltrey realizes how lucky he's been—even given his own formidable talents as a vocalist—to have hooked up with one of rock's true visionaries. If anyone doubts Townshend's eccentric genius, I'd recommend picking up Scoop, a collection of Who and solo demos that hangs together well as an album in and of itself, and shows Townshend at his most relaxed, kicking around ideas that he'd later shape into songs that still devastate.
*Update: There is apparently some dispute over whether Townshend is actually gay, or whether his "I know what it feels like to be a woman; I am a woman" quotes from 10 years ago were taken out of context. And here I thought I'd finally found the key to unlock the sensuous melancholy of Empty Glass. [pagebreak]
Phoenix
Years Of Operation 1999-present
Fits Between Spoon and Starbuck
Personal Correspondence I heard Phoenix for the first time on the Lost In Translation soundtrack, and was knocked flat by their Pro Tools cool—all cut-and-paste synthesizers and choppy rhythms. The Paris quartet streak their sound with breathy warmth, provided mainly by Thomas Mars's foregrounded lead vocals and a lattice of analog instrumentation that draws on second-generation soul-jazz. At times they channel Stevie Wonder and Steely Dan by way of Michael McDonald, with a purposeful anonymity that has Mars expressing his feelings the way he's been taught to by pop songs. Phoenix's first two studio albums—2000's United and 2004's Alphabetical—were dotted with quick bursts of giddy, danceable music, but a lot of the songs sounded dryly conceptual, and Phoenix didn't come across as fully engaged until the rocked-up live album Thirty Days Ago. The band then stayed in flat-out mode for It's Never Been Like That, for which guitarists Laurent Brancowitz and Christian Mazzalai stagger rockabilly jangle, New Order tautness, and even the acoustic chug of George Michael's "Faith," creating a well-cushioned space for Mars to grapple with the ways nostalgia and lust cohere into the same frustration. Albums with this kind of thematic and stylistic unity can be hard to access, but It's Never Been Like That amplifies the undertones of yearning and escapism that have always been part of Phoenix's music. It has the necessary edge of real art, but it's approachable right down to breezy songs like "One Time Too Many, with their deep echo and thin lines.
Enduring presence? I think I mostly love It's Never Been Like That because it's nice to see a band balance theory and pleasure while coming out more strongly in favor of the latter. Can they top a record that's one of my favorites of the '00s so far? A new album is reportedly due later this year, though it hasn't been scheduled yet.
Pink Floyd
Years Of Operation 1964-85 (in essence)
Fits Between The Moody Blues and King Crimson
Personal Correspondence It's impossible to overstate how monolithic The Wall was when it was released in 1979. Coming from a band already responsible for one of the most popular rock albums of all time (The Dark Side Of The Moon), The Wall felt like the definitive statement from the band and maybe even from the genre, converting the baby boom generation's anxieties over war, drugs, madness, egomania and family ties into 90 minutes of bombast and blues. The album came out when I was 9, and despite its adult themes, it was fairly ubiquitous among my peers. I finally got my own copy when I was in high school, and I remember snapping at a friend once for calling me while I was in the middle of listening to "Comfortably Numb"—a ritual I considered practically religious. To be honest though, The Wall now is pretty far from my favorite Pink Floyd album. (I've only got about a half-dozen songs from it on my Pink Floyd playlist, and one of them is really a B-side from the same era.) I have a lot more affection for The Final Cut, where Roger Waters carries his World War II obsession to its logical end, and I think the monolithic Dark Side and Wish You Were Here are both pretty unimpeachable. I've also been getting into some of the pre-Dark Side records in recent years—especially Meddle. And I like the Syd Barrett stuff too, though I came to it backwards, starting with Barrett's solo albums (fodder for another Popless entry later on, surely), then moving back to the early Floyd. As fine as all the above is, though, my favorite Pink Floyd album is now—and always will be—Animals. Listening to "Dogs" one night when I was 17, I realized why I liked Pink Floyd more than any other prog-associated band (outside of maybe Yes): It's because for all of Waters' thematic ambition and lyrical pretension, Pink Floyd was first and foremost a good band, capable of performing 17-minute songs with real flow, that didn't sound like disjointed, overthought rock symphonies. David Gilmour's guitar solos weren't explosive displays of virtuosity; they were atmospheric, bluesy, and progressive in the best possible sense of the word. These boys could play, and to me, Animals is the album in which they give themselves the most room to do just that.
Enduring presence? In acknowledgement of last week's comment-section battle over which Floyd era is the best, I've got a song each from the Barrett bunch and the Waters run. (Nothing from the Gilmour-fronted era, which is fine in its way, but is a little too generic for me.) Funny enough, if you play these songs back-to-back; there's not an enormous amount of difference, aside from the passage of time and the changing state of the art.
Pixies
Years Of Operation 1986-1993
Fits Between Dick Dale and The Velvet Underground
Personal Correspondence So many bands—Nirvana most prominently—have appropriated the Pixies' style and attitude that I don't know if a neophyte today could listen to Surfer Rosa for the first time and get the same kick out of it that I did back in 1988. I'm kicking around a Popless mini-essay about the rare signs of originality and aliveness that emerged from the cultural darkness of the '80s, and Surfer Rosa was definitely one of those signposts: an indication that there were still artists out there trying to create something smart, insinuating, and even a little dangerous, to stand alongside the great works in both their own medium and others'. It was exciting to see the band rise to their own challenge with Doolittle, a stab at chart success that didn't sound like a compromise at all, since for every "Here Comes Your Man," Black Francis cooked up a "Debaser" (a song about Un Chien Andalou!) or "Tame." The band didn't exactly suffer a precipitous fall from the stunning one-two-three of Come On Pilgrim, Surfer Rosa and Doolittle—I thought Bossanova was a slight dip, but it's still a good record, and I've always thought that Trompe Le Monde is really underrated, even though it's essentially the first Frank Black solo album—but the blaze of creativity that marked their first four years of existence dimmed into something more workmanlike, and the surreal perversity of Black Francis' lyrics became more conventionally weird and even adolescent. One minute, he's singing about how he wants his lover to cut her hands, wipe them on her clothes, and send them along by mail; the next, he's ga-ga for UFOs. The muse can lead folks down some erratic paths at times.
Enduring presence? I worry a little that the Pixies reunion tours have dulled the band's mystique. I saw the band live twice during their first run, and neither were what I'd call great shows. I liked them best the first time, on the Doolittle tour, when they were still playing their songs in alphabetical order and seemed to have a sense of playfulness about them, even as they remained immobile on stage. On the Trompe Le Monde tour, the set was too short and the performance too flat; and in the footage I've seen of their recent shows, they don't seem much more dynamic. So they're not the best live act in the world. But the songs! Oh man, the songs….
The Pogues
Years Of Operation 1982-96
Fits Between The Chieftains and Dropkick Murphys
Personal Correspondence I didn't get a whole lot out of my first summer romance, outside of a stack of too-painful-to-read-again love letters and a tape that had They Might Be Giants' debut album on one side and The Pogues' Rum, Sodomy & The Lash on the other. I had to return the tape—though not, sadly, the letters—but I quickly bought the band's Red Roses For Me, which was the only one of their records I could find at the time. It's probably their most "trad" album, and though it's got a lot of terrific songs, it was clear to me right away that The Pogues lost a lot of their uniqueness the more they hewed to conventional Celtic music and pub shouters. Though there were a lot of talented musicians and songwriters in The Pogues, the band's mad genius was Shane McGowan, the snaggle-toothed drunk who'd somehow internalized what made ancient folk music so stirring and found ways to recreate it in a modern context. But McGowan was unreliable—a friend of mind saw the band live back in the late '80s and said it was one of the worst concerts he'd ever attended—and after he left The Pogues, they lost the wild, raging element that made them one of the best bands in the world for about a five-year stretch. I understand the McGowan has been touring with his old bandmates again off and on. But I doubt we'll be getting another Rum, Sodomy & The Lash anytime soon.
Enduring presence? I think If I Should Fall From Grace With God, Peace And Love and Hell's Ditch are all superb albums, but Rum, Sodomy & The Lash is like a rock 'n' roll version of James Joyce's Dubliners. (It even has 12 stories, and saves its epic for the end.) In between rowdy old traditional numbers like "Jesse James" and "The Gentleman Soldier," McGowan offers his own songs about homelessness, drunkenness and degradation, creating a vision of the universe in which people are born to be "spat on and shat on, raped and abused." Rum, Sodomy & The Lash is about as bleak a take on humanity as I can imagine. And you can dance a little jig to it, too.
The Police
Years Of Operation 1977-86
Fits Between The Pretenders and Men At Work
Personal Correspondence Because of Sting's persistent pomposity, The Police's reputation as one of the most exciting bands of the New Wave era has dimmed somewhat, but I'm still a huge fan of the first four Police albums, which—like Tom Petty's early records, and The Cars'—sound only lightly conformed to the sounds and trends of their time. Yes, they dabbed in reggae like every other British band of the late '70s, and yes they had stylish post-punk album covers. But otherwise, The Police looked and sounded exactly like The Police—for better and worse. So long as Sting's social conscience and literary pretensions were a small element in the band's whole polyrhythmic pop-rock mélange, they were tolerable—even quaint. When self-importance became the whole show on the blockbuster Synchronicity, they lost the fleetness that made albums like Regatta De Blanc so easy to enjoy. I once made a list of some of the worst rock lyrics of all time, and there's scarcely a song from Synchronicity that doesn't make the list. I mean, "You consider me the young apprentice / Caught between the Scylla and Charybdis?" Or "Hey mighty brontosaurus / Don't you have a lesson for us?" How did Stewart Copeland keep from flinging his sticks at Sting's head during rehearsals?
Enduring presence? My personal Police playlist contains nothing from Synchronicity—an album I honestly can't abide anymore, as much as I loved it at age 13—but it probably contains more of Ghost In The Machine than most reasonable people would include. Maybe it's because Ghost was one of my initial "10 albums for a penny" Columbia Record & Tape Club orders, and thus got a lot of play during my formative music-listening years, but there's something about the sound of that record—so muted, driven by rattling percussion and springy synthesizers—that makes me feel like it's pitch-black and stone-still outside, no matter what time of day it is.
[pagebreak]
Stray Tracks
From the fringes of the collection, a few songs to share….
Pete Yorn, "Life On A Chain"
I'd never heard Yorn until I taught a class on criticism a few years back and asked my students to bring in some of their favorite music, to defend in front of their peers. One bright young lad—and I mean that quite literally…he was accepted into Harvard Law a couple of years later—played "Life On A Chain," and though from what I'd read about Yorn, I expected him to be yet another wan singer-songwriter, those preconceived notions were immediately dispelled. "Life On A Chain" sounds more like Pearl Jam covering The Cure, and the way it starts with crackle and adds instrumentation is like a mini-history of the development of popular music. I immediately bought Music For The Morning After, and…well, I was let down by it, to be honest. I didn't hear anything else on it as immediate and vibrant as "Life On A Chain," and I found the two albums that followed to be a little muddled as well. This week though, revisiting my Yorn collection, I fully expected to cut most of it, and instead I found myself enjoying all three albums more than I ever have before—especially 2006's Nightcrawler, which shows Yorn experimenting with different sounds and styles far more fruitfully. He still hasn't recorded another "Life On A Chain" in my opinion, but after this week, I find I'm interested in Yorn again.
Peter Bjorn & John, "Paris 2004"
I assume no one needs to hear that song again anytime soon, so here's a reminder that PB&J;'s breakthrough album Writer's Block is rife with other indie-pop charmers. As likeable as quasi-retro folk-rock can be, it's essentially a sound for connoisseurs who get off on the evocation of once-fashionable musical moods. Writer's Block, though, rolls by like it's on its way from the past to the future, trailing a cloud of bongos and whistles. Peter Bjorn And John carve out a unique sonic space, simultaneously cavernous and intimate, and they don't overdecorate. There's not much to this song besides a simple sentiment, a hummable melody, and some snappy sonic window-dressing—but if you think about it, that's all pop music ever is.
Peter Case, "Horse & Crow"
The Plimsouls, "A Million Miles Away"
The heyday of The Plimsouls came about a two or three years before I started listening to college radio, so I didn't hear the band's should've-been-a-hit "A Million Miles Away"—an '80s teenflick staple—until well after I'd become a Peter Case fan. I heard Case's song "Satellite Beach" on college radio and subsequently recorded his eponymous solo debut from a friend; and even though the electronic drums and trippy guitars of "Satellite Beach" are pretty far removed from the rest of that record, it was smartly stuck towards the end of side two, which kept me captive on my first listen, and allowed me to hear the obvious quality of the other songs. Much like Marshall Crenshaw, I feel like Case has struggled to match the excellence of his debut, though unlike with Crenshaw, a lot of my problems with Case's subsequent albums have to do with how hard he's often tried to present himself in a number of neo-traditionalist guises, many of which work against his obvious gifts as a power-pop tunesmith. Even a rootsy number like "Horse & Crow" off Peter Case has a certain hooky jangle that puts it more in line with the car-stereo-ready shimmer of "A Million Miles Away" than the bleak troubadour songs Case has so often recorded since. I like Case a lot—and wish Rhino or somebody would put together a full Case box set, including material from The Plimsouls and The Nerves—but I feel like too much of the time, he's in denial about where his strengths lie.
Peter Gabriel, "San Jacinto"
There was a time—maybe around the release of So—when I would've counted Gabriel as among the artists I most respected and enjoyed, and while my respect hasn't dimmed much over the years, I find my actual enjoyment of Gabriel's music to be in a permanent state of flux. Sometimes I spin Security or So or Gabriel's third self-titled third album, and hear a song like "San Jacinto"—with its spooky abstractions of worldbeat and simple, powerful scene-setting—and I feel like I'm 16 again, when the scope, ambition and patient escalation of emotion of Gabriel's best songs left me feeling awed and even enlightened. And then other times I hear something like "The Rhythm Of The Heat" or "Biko"—songs that blew me away as a teen—and suddenly they sound overbearing, presumptuous, and very much of their time. (And I can't even approach the big pop anthems "Sledgehammer" or "Big Time" at all.) Either I've become disenchanted with Gabriel or I need to undergo a program of re-education next year.
Peter McCann, "Do You Want To Make Love"
Peter Sarstedt, "Where Do You Go To (My Lovely)"
The Phantom, "Love Me"
In preparation for "sex week" in Popless, here are three kinds of musical come-ons. The first arrives from the endearingly blunt '70s, when phrases like "make it with you" and "when we're doin' it" and "afternoon delight" were littered across Top 40 hits—when "Hey baby, let's screw!" was a perfectly legitimate thing to say in a million-selling pop single. In some ways I prefer Peter McCann's "sensuous male" persona to that of Peter Starstedt, a late '60s swingin' London sophisticate who sings about a jaded jet-setter with the kind of deep understanding that seems to imply that if she needed someone to share her big, lonely bed, well, he'd be the only one who knows her well enough to get the job done (so to speak). Ultimately though, I think I'll stick with The Phantom, who comes from the R&B;/rockabilly tradition of fucked-up dudes emitting carnal howls into the night, and seeing who answers. I'm betting The Phantom got more tail in his time than McCann and Starstedt combined.
Peter Murphy, "Cuts You Up"
I had a tough time reconciling the smooth pop version of Peter Murphy with the deep-voiced goth who led Bauhaus to cult glory, but it's hard to deny the wonders of this song, which translates Murphy's post-Bowie charisma for early '90s college radio, processing gloom into pop.
Pharcyde, "Runnin'"
Following up on what I wrote about P.M. Dawn last week, I want to say in my defense that the late '80s and early '90s were a tricky time for people trying to keep up with hip-hop—especially if, like me, they were trying to keep up with a half-dozen other genres at the same time. While gangsta rap was in its nascent stages, new acts more on the "alternative" side of hip-hop keep popping up as the genre's great hippie hope, only to fade quickly. It was hard to sort out who were the long-term players, and who just had a sound that was appealing strictly in contrast to the more hardcore folks. I'd argue that Pharcyde were pretty legit, in that they didn't seem to be interested in playing to or against any type, but instead just recorded songs that appealed to their own idiosyncratic tastes and personalities. But then, much the same could be said about Basehead or Digibale Planets—two acts I haven't listened to in over a decade.
Phil Ochs, "I Ain't Marching Anymore (Electric Folk Rock Version)"
I'm saving Pete Seeger until I get to The Weavers, but I couldn't pass by another member of protest folk's holy trinity (the third being Bob Dylan). I like Ochs, but I've never understood the die-hards who feel that Dylan essentially stole Ochs' shtick and popularized it, thereby assuming a mantle that rightfully should've been Ochs'. The genius of Dylan has always been his mercurial personality, and ability to adapt to (and even shape) his times. The genius of Ochs is that he preferred to document the world as he saw it rather than try to hit the charts. Dylan once famously said to Ochs, "You're not a folksinger; you're a journalist." But surely the musical landscape is wide enough to accommodate both? (That said, I think I like this rare electric version of one of Ochs' most well-known songs; it makes me wonder what Ochs would've sounded like if he had tried to be Dylan.)
Philip Glass, "Floe"
For a good long stretch when I was in high school, my afternoon routine—after being dropped off at home by the bus, because I was too lame to have a car—was to grab a Coke and a sleeve of saltines, watch JEM & The Holograms and Gidget on the local UHF station, then retire to my room for the hour before my parents got home and put on Glassworks, which I'd listen to while studying. Inevitably, somewhere around the middle of "Floe," I'd abandon all pretense of doing my homework and I'd just stare blankly at the ceiling, trying to see if I could adjust my eyes properly to make the shadows cast by the spackle look like tiny holes. And then I'd fall asleep until Mom called me for dinner. This kept up until I got a copy of Dinosaur Jr.'s You're Living All Over Me, which became my go-to afternoon zone-out music. The similarities between the two records are few, aside from the way both create clutter and then abruptly clear it away. But while I know that Glass has a somewhat limited and far too imitable style, it's hard not to be carried away when those chirping instruments start fluttering and swirling in ever-more-discernable patterns. One moment they look like bumps; the next like divots.
Pizzicato Five, "It's A Beautiful Day"
As with many ignorant American music-lovers, Pizzicato Five represented my first real exposure to J-Pop, aside from the odd Shonen Knife track. I think for a lot of us, our initial reaction to P5 was that they were "fun," in a silly way, but close listening and prolonged exposure revealed that the band was pretty far from a joke. I especially dug 1997's Happy End Of The World, the first P5 album to be released in its entirety in the U.S. The earlier Matador releases were compilations focusing on P5's kitschy, hyper-pop appeal, but Happy End Of The World found them picking away at the strands of their intricate sonic tapestry and presenting the resultant wad of loose strings. While "It's a Beautiful Day" is a typical P5 song—a gaggle of cheerleaders stomps the intro, leading to the goosed-up Nipponese equivalent of a Nancy Sinatra toe-tapper—other tracks like "My Baby Portable Player Sound" and "Collision and Improvisation" blend vocal excerpts with stop-start rhythms and what could pass for the backing track to a Saturday-morning cartoon show. It's tempting to hold Pizzicato Five as an example of Western culture's degrading influence on the East, but that's far too pat. They're commenting on the commercial sounds they borrow as much as they're reveling in how cool it all sounds.
[pagebreak]
PJ Harvey, "Sheela-Na-Gig"
PJ Harvey falls into the category of critically adored artists who've always left me comparatively cold. I liked a lot of her early work, when the songs had a more raucous punky edge, but right around the time of the acclaimed To Send You My Love—a record I found drone-y and dull—I began to realize that Harvey was obviously talented and persuasive, but just not for me. The only recent PJ Harvey album I've liked is Stories From The City, Stories From The Sea, though I listened to that again this week and was surprised to find it kind of flat too. I can understand what Harvey does as an artist on an abstract level, but unless she's rocking full-bore—as on this song—I can't connect to it.
Placebo, "36 Degrees"
I heard this song on the radio, and since I was unable to place its sound precisely, I picked up Placebo's debut album and tried to figure the band out by writing a review. I opined, "There's a speed at which rock 'n' roll music is no longer toe-tapping, or even head-banging. It just rushes, and the only feasible physical response is a kind of manic quiver. Placebo's sound—halfway between Fugazi and Smashing Pumpkins, with a little Rush mixed in—comes alive on songs like '36 Degrees,' which highlights singer/guitarist Brian Molko's high, quavering start-stop vocals, as well as his stunray guitar. Placebo's music is remarkably direct, with unstudied progressions and enigmatic yet strangely personal lyrics. The second half of their debut album overstays its welcome, even before the attention-sapping 14-minute instrumental that closes the proceedings. But in these days of flux, even half an album of good guitar-based rock is better than nothing. We fans of the guitar are fast becoming cultists, clinging to whatever obscure band can satisfy our desire before that band inevitably cashes in on electronica. So here's to Placebo, for working however briefly in a medium that, with a little practice and a little faith, they could master." As you can see, the concerns of rock critics were a little different a decade ago. As for Placebo, the proggier elements of their sound diminished over time, but the arena-filling ambition and the decadent posturing of Molko remained. They became a pretty big deal in the UK too, though here in the states, they generally only appealed to die-hards like me, who appreciated the polished pop-rock singles spit out by Placebo's gleaming ennui machine.
Poi Dog Pondering, "Pulling Touch"
This Austin hippie-dippy act came along between Camper Van Beethoven and the rise of the jam bands, and while Poi Dog Pondering had a little success on the jam band circuit later on, their sensibility was never fully attuned to the noodle-dancers. They had more in common with Jonathan Richman than Blues Traveler, and bandleader Frank Orrall's wide-eyed, uplifting approach rang maybe a bit too twee—then, and especially now. I first heard the band when they opened for Robyn Hitchcock at a UGA-sponsored gig in Athens, and I was so excited by their performance that I bought their two existing EPs on vinyl the next day, not realizing that they were both going to be combined on a single CD a year later. Poi Dog Pondering must've played Athens a half-dozen times over the next two years, and I think I saw every show, learning the songs that would soon pop up on their official major-label debut Wishing Like A Mountain And Thinking Like The Sea. But by the time I left college, I'd started to find the whole up-with-people aspect of PDP kind of naïve and even a little embarrassing, and I never followed the band into their subsequent experiments with dance music and the like. I was surprised this week to find that with a little distance, I could enjoy the songs from those first two EPs and debut LP again, even as I winced at Orral's lyrics about cutesy love stuff and one-world activism. Ultimately though, this is music for college kids, and like a lot of awkward phases, Poi Dog Pondering should probably stay in college.
The Pointer Sisters, "Automatic"
I'm fascinated by The Pointer Sisters, an ostensible R&B; act that hit the charts over and over in the late '70s and early '80s with songs that didn't strictly conform to their genre. They covered Bruce Springsteen's "Fire," had a massive hit with the semi-country ballad "Slow Hand," and were practically a techno-pop act by the time they recorded "I'm So Excited," "Jump (For My Love)" and "Automatic." The Pointers were like background singers that became best-selling frontwomen because they'd learned how to conform to whatever was expected of them. They produced well-built, professional-sounding pop hits. And did you know that before they recorded their first album, they provided the vocals for this?:
Polvo, "Enemy Insects"
Around the time Polvo wrapped their too-short career, there was a lot of buzz about "post-rock," which prompted me to write a whole column about what the genre might mean, incorporating reviews of about a half-dozen records. Here's the Polvo-related excerpt: "Polvo's Shapes, their most recent foray into oddly-tuned guitars, near-metallic riffs, and vacant vocalizing, finds the Chapel Hill, N.C., group's formula getting a little stale. To disguise their familiar tread, they experiment with different instrumentation, bringing oddly tuned acoustic guitars into the mix, though what makes Polvo still worth listening to, despite their approaching conceptual bankruptcy, is that they remain committed to making their music dive and swoop in ways that few bands this side of Built to Spill and Yes have dared. They were playing with sonic textures when John McEntire was still keeping 4/4 time." No one talks much about Polvo—or post-rock—anymore, but they were a good little indie band that made some mindbending music on a shoestring budget. And Shapes sounds a lot better now than I gave it credit for then, though all things being equal, the EP Celebrate The New Dark Age is the record to start with—not just for Polvo, but maybe even for the genre they helped pioneer.
*****************
Regrettably unremarked upon: Pete Seeger, Peter Frampton, Peter & Gordon, Peter Wolf, Peter Paul & Mary, Petra Haden, Phil Collins, Phish, Pinback, Pinetop Seven, Pino Donaggio, The Pipettes and The Platters
Also listened to: Persephone's Bees, Pete Huttlinger, Pete Miser, Peter And The Wolf, Peter C. Johnson, Peter Cook & Dudley Moore, Peter Garland, Peter Himmelman, Peter Holsapple, Peter Jeffries, Peter Lewis, Peter McCann, Peter Searcy, Peter Starstedt, Peter Walker, Petey Pablo, The Phantom Family Halo, Phantom Planet, Pheromone, Phil Boroff, Philip Aaberg, Philip E. Karnats, The Phoenix Foundation, Phonograph, Phosphorescent, Photek, Phreek, Phyllis Boyens, Piece Of Peace, Pieta Brown, The Pietasters, Pilot, Pilot Round The Sun, Pilot To Gunner, Pinebender, Pink Fairies, Pink Nasty, Pink Razors, Pinkeye D'gekko, Pinmonkey, Pip Skid, The Pips, Pitchblende, Pitty Sing, Pivitplex, The Places, Plainsong, The Planet The, Plastic Bertrand, The Plastic Constellations, Plat, Platinum Pied Pipers, Player, Playgroup, Pleasant, The Plugz, PMD and Po' Girl
*****************
Next week: From The Polyphonic Spree to Queen, plus a few words on sex