Primer is The A.V. Club's ongoing series of beginners' guides to pop culture's most notable subjects: filmmakers, music styles, literary genres, and whatever else interests us—and hopefully you. This week: Neil Young, broken down by 20 songs that define his themes and styles, and five albums that every serious rock fan should own. Young's latest album, Chrome Dreams II, will be released next week.
Neil Young 101:
Raised in rural Ontario and suburban Winnipeg, Neil Young played in various small-time rock bands—idolizing The Guess Who's Randy Bachman and befriending future stars Joni Mitchell and Rick James along the way—before moving to Los Angeles in 1966. Within a year, he was a star himself: His band Buffalo Springfield was riding on the massive success of the anthemic "For What It's Worth," in spite of much internecine tension. Barely in his 20s, Young penned some of the group's most stunning album tracks before going solo in 1968. His self-titled debut came out later that year, and it became a sketchy template for the rest of his career by combining solemn folk-rock, symphonic pop, and fuzzed-out stompers with a stinging, adenoidal tenor full of sinewy vulnerability.
Neil Young flopped, but its 1969 follow-up, the Crazy Horse-backed Everybody Knows This Is Nowhere, fared better. While the album's single, "Cinnamon Girl," didn't quite reach the top 40, its sludgy, primal snarl and romantically hallucinogenic imagery was picked up by AOR radio—which was also responsible for the ubiquity of many of Young's longer and more challenging cuts throughout the '70s. Another boost to his career came when his former Buffalo Springfield bandmate Stephen Stills asked Young to join the successful supergroup Crosby, Stills & Nash. CSNY's 1970 hit "Ohio"—composed and sung by Young—became a rallying cry for the anti-war movement, but it also proved Young was growing in confidence and stature. Where his eponymous debut was timid and Nowhere was cryptic, "Ohio" was an enraged, incisive song that grounded CSNY's ballooning sophistication.
G/O Media may get a commission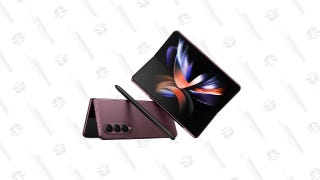 Save Up to $300
Galaxy Z Fold4
Young's gorgeous, absorbing After The Gold Rush followed soon after, becoming his bestselling solo album to date. "Southern Man" was the record's lightning rod: Along with its sister track, "Alabama" (from Harvest), its sneering condemnation of good-ol'-boy bigotry spit in the face of the emerging Southern-rock trend—although the feud sparked after Lynyrd Skynyrd retaliated with "Sweet Home Alabama" was mostly exaggerated. "Southern Man" also cemented Young's perspective as both an insider and an outsider; like his friends in The Band, he was a Canadian expatriate whose heart pumped pure, gritty Americana.
After two searing protest anthems, Young had the biggest hit of his career with the intimate, inward-looking "Heart Of Gold." The single hit number one in 1972 and propelled its album, Harvest, to the same spot. Like most overplayed classic-rock staples, "Heart Of Gold" can be hard to hear with fresh ears; nonetheless, it remains an eternally arresting chart-topper, an unguarded glimpse into a lonesome yet hopeful soul bursting with plainspoken melancholy. Young's fortunes wavered throughout the '70s as he released unsettling, disjointed albums like On The Beach and Tonight's The Night. At this point, his discography starts to become ingrown and convoluted. Records like 1977's scattered American Stars 'N Bars were pieced together from old recording sessions, and the album's crunchiest track, "Like A Hurricane," became a surprise FM hit. It's Neil Young at his most languidly forceful. Young exited the '70s with a much-needed bang in the shape of Comes A Time and Rust Never Sleeps, two superlative, strong-selling albums, but that would be the last truly great material he'd release for a while. Rust's calling card is "Hey Hey, My My (Into The Black)," Young's most sonically bruising FM hit. The song's chafing distortion and portrait of Johnny Rotten as a folk hero edged Young further from the mainstream—which didn't seem to bother him.
Like many hippie-era rock stars approaching middle age, Young didn't jell too well with the '80s. A string of disastrous experiments and flip-flopping political stances exhausted his relationships with fans and the music industry alike, and his increasingly rare radio singles sounded strained, if not plain strange. (Although 1993's Lucky Thirteen collection gathers some of the highlights of the decade.) As the '80s faded, however, so did some of its glitz—and Young was ready to reclaim his warmth and broken-in sound. Between 1989 and 1992, he released three records that amounted to a slow-burning comeback: Freedom, Ragged Glory, and Harvest Moon. "Rockin' In The Free World" was Freedom's tattered triumph; reigniting the ire and urgency of his prime, the song's almost apocalyptic fury still scorches. As alternative rock made a big noise and Young got hung with the tag "the godfather of grunge," he responded perversely with the hushed, haunted "Harvest Moon," one of the sweetest and sparsest hits in his canon—and one that drew hosts of disenfranchised followers back into the fold.
Intermediate work:
"Tough prairie stock" was how Joni Mitchell described Young's mother Rassy in Jimmy McDonough's biography Shakey. The same could be said of her son: A tumultuous family life and a childhood fight with polio left Young wobbly and scarred at an early age, but he turned his shyness into strength. Although sung in the third person, "The Loner"—the lush, ambitious standout track on his debut album—was clearly autobiographical. It was also one of Young's first truly heavy songs; throughout his career, he's steeped loud and quiet tunes alike in overwhelming emotion and heady concept. By the time of 1970's CSNY album Déjà Vu, Neil wasn't putting a mask on his sadness—"Helpless" is a heart-stopping specter of abstract, trance-like gloom in which feverish memories of his childhood morph into nightmares.
Young, no stranger to drugs during the late '60s and early '70s, was never exactly psychedelic, though his imagination was definitely left on a long leash during "After The Gold Rush." Driven by a mournful horn, piano, and his quaking voice, the song skips from medieval imagery to a vague plea for ecological consciousness to some stoner science-fiction scenario that comes off deep rather than comedic. Drugs played a much stronger, more tragic role on Harvest's "The Needle And The Damage Done." A harrowing, poetic document of the heroin addiction and 1972 death of Crazy Horse guitarist Danny Whitten, the song contains the famous line "Every junkie's like a setting sun." Young carried that cloud of doom to 1975's "Tonight's The Night." Reprise originally rejected the album of the same name as too dour and uncommercial; in truth, it's a wreck, and its title song no less so: A slinking, shadowy paean to Whitten and former Young roadie Bruce Berry, who also died of a heroin overdose, "Tonight's The Night" practically disintegrates as it plays.
Wedged between "The Needle And The Damage Done" and "Tonight's The Night" is 1974's "On The Beach," the title track of one of Young's minor opuses. Perhaps even more challenging than the other two discs, "Beach" is a seven-minute shambles of twitchy strumming and haphazard percussion over which Young flinchingly sums up the paradox and narcotized paranoia of his life: "I need a crowd of people / but I can't face them day to day." Much more coherent, but just as painful, is "Lotta Love," an ostensibly lightweight tune from 1978's Comes A Time. Nicolette Larson sang backup throughout the album, and though her version of "Lotta Love" become a hit the following year, she doesn't appear on the original. But the absence of a female harmony—and the song's sour aftertaste in comparison to Larson's icing-smooth version—only makes Young's sketch of crooked love and suffocating insecurity that much more fragile.
While Young's emotionally heavy songs strike inward, his conceptually heavy ones spiral outward, and sometimes out of control. 2003's Greendale is his first bona fide rock opera, and in spite of its faults, it has some high points. The chunky opener "Falling From Above" outlines most of the remainder of the disc while rendering it irrelevant, but it also preemptively disarms any would-be detractors with the lines "Seems like that guy singin' this song / been doin' it for a long time / Is there anything he knows that he ain't said?" "Ordinary People," the focal point of Young's new Chrome Dreams II, is even more rambling. Although the 18-minute song dates back to the '80s—hence the cringe-eliciting references to "Lee Iacocca people"—it tries to reduce contemporary class relations to a struggle between decent, blue-collar joes and Rolls Royce-driving plutocrats. The song itself could've used some merciless editing and a mute button on the horns; still, it reaffirms just how zealous and un-self-conscious the once skittish songwriter has become over the decades.
[pagebreak]
Advanced studies:
After a 1964 recording session with Young's high-school band The Squires, engineer Harry Taylor told the aspiring rocker, "You're a good guitar player, kid, but you'll never make it as a singer." Turns out, Young wound up getting far more credit as a singer-songwriter than as a guitarist. It took him a long time to live down his one-note solo in "Cinnamon Girl"—even though the flipside of Everybody Knows This Nowhere boasts "Down By The River," Young's first epic, explosive guitar workout. Throughout the song's nine-plus minutes, the interplay between Young and Whitten rides on telepathy and nuance rather than fret acrobatics; choppy and jarring, the guitars carve skeletal chords and piercing leads out of Young's bleak, fatalistic atmosphere. Such workouts have since become staples in his albums and concerts—especially those with Crazy Horse—but calling them jams is a bit off the mark: His distended solos often unravel in crude, organically lyrical, and stupefying ways.
Young took a break from such guitar demolition for much of the early '70s, and it seemed like Whitten's death marked the end of that era, until 1975's Zuma yielded "Cortez The Killer." With new Crazy Horse member Frank Sampedro on rhythm, Young delicately crafted (or drunkenly stumbled through) the most gorgeous guitar meltdown of his career. From then on, he returned to such primal chaos every few years, and almost always with Crazy Horse: 1981's underrated Re-act-or, 1995's superb Pearl Jam-backed Mirror Ball, and 1996's sprawling Broken Arrow all contain moments of Young's scrambled six-string genius. 1990's Ragged Glory, however, is his finest latter-day grunge-fest, thanks to tracks like "Over And Over." A year from releasing the experimental noise-collage Arc, he imbued "Over And Over" with eroded, bowel-thudding leads that still managed to drift and chime alongside the song's sweet, love-affirming sentiments. Rarely had Young used bludgeoning heaviness to underscore his uplifting songs, and this reconciliation of extremes resulted in a punchy exultation that he's carried in his work ever since.
The essentials:
1. Everybody Knows This Is Nowhere (1969)
Young and producer David Briggs fired up pure alchemy with Everybody Knows This Is Nowhere, the first of many classic collaborations between the two friends. Their work on Young's debut is halting and uneven, but Nowhere captures easygoing grace and roiling mystique with equal ease: Whittled to the marrow, "Cinnamon Girl" injects subliminal twang and a primordial pulse into hard rock, while the title track and "Losing End (When You're On)" are nuggets of gritty, intimate country-rock that manage to keep one foot free of the cornfield. "Running Dry (Requiem For The Rockets)" is slashed with reverb and violin, while "Round & Round (It Won't Be Long)" lopes along despondently—but both the acoustic-based dirges balance the ominous, heart-gulping enormity of "Down By The River" and "Cowgirl In The Sand." Young's voice is cut glass throughout, and the album's jagged harmonies foretell his aversion to the requisite slickness of the '70s.
2. After The Gold Rush (1970)
Arguably Young's best album, After The Gold Rush is short on distortion and long on sterling folk-rock, bucolic meditation, and dark fantasy—topped off with a devastating overhaul of Don Gibson's jaunty country chestnut "Oh, Lonesome Me." Gold Rush's two official singles, "Only Love Can Break Your Heart" and "When You Dance You Can Really Love," weren't as popular as "Southern Man" or the title track, but they still harnessed Young's love of immaculate pop songcraft (aided by frequent Young cohort Jack Nitzsche) and heavy, dusky rock. Both halves of the album conclude with short, sweet songs that scan like vignettes: "Till The Morning Comes" is a sugary, harmony-rich trifle, while "Cripple Creek Ferry" sends the album off on a wave of shuffling, frumpy roots-rock that The Band must have envied. Spiked with the serendipitous piano of a young Nils Lofgren, "Birds" remains one of Young's most elegantly depressing moments.
3. Harvest (1972)
In The Dark Stuff, Nick Kent quotes Bob Dylan as saying this of "Heart Of Gold": "Shit, that's me. If it sounds like me, it should as well be me." Funnily enough, Harvest's (and Young's) biggest hit doesn't really sound anything like Dylan—on the contrary, it's the tune that codified Young's singularly hangdog, old-before-his-time persona. But there's more to Harvest than cozy classic rock: Plummeting from rarified orchestration to twangy grit, the album covers almost every base Young would touch again throughout his career. "Old Man" was written for a groundskeeper on Young's ranch, and its bare-bones sentiment—along with subtle accompaniment from James Taylor on banjo and Linda Ronstadt on vocals—is as appropriately timeless. The soaring, symphonic "There's A World" and "A Man Needs A Maid" offset Young's dusty aura, but the contrast between majestic bombast and plainspoken grace is breathtaking.
4. Zuma (1975)
Not usually lumped in with Young's upper tier, Zuma is a crystalline yet gloriously muddy masterpiece. Introducing the new Crazy Horse lineup, the record feels like a rebirth: Beneath the stark, scribbled cover art is a clutch of roughhewn cuts that collectively feel more solid and lucid than any Young disc since Everybody Knows This Is Nowhere. Blunt and raw—although it has tender stretches in "Pardon My Heart" and the Crosby, Stills & Nash-backed "Through My Sails"—Zuma sports mythic, guitar-charred numbers like "Danger Bird" and "Cortez The Killer" alongside the confessional, heart-worn simplicity of "Lookin' For A Love": "I hope I treat her kind / and don't mess with her mind / when she starts to see the darker side of me." Wrapping up all Young's storytelling verve is "Barstool Blues," a paean to inebriation and loss that shifts perspectives and mood while circling a core of coarse, elemental country-rock.
5. Harvest Moon (1992)
Often downplayed as a comeback bid or a pale echo of Harvest, Harvest Moon is one of Young's richest, most resonant albums. While he's known for his nakedness, he goes beyond the call of duty on "One Of These Days"—a ruddy, achingly sincere apology to old friends and bandmates he's drifted away from over the years—and "Natural Beauty," one of his few epic-length songs that coasts on billowing acoustics rather than blistering lead-work. Even potentially embarrassing tracks like "From Hank To Hendrix" and "Old King"—the latter an ode to his dog—are pulled off with sureness and spirit. The title track, however, is his greatest, purest love song. It's the sound of Young's soul, voice, public image, and place in rock history finally bedding down in peace.
[pagebreak]
Miscellany:
Buffalo Springfield's biggest hit, "For What It's Worth," was a showcase of Stephen Stills' emerging talent, but the band recorded a grip of excellent Young songs, as well, many of which wound up on his 1977 anthology, Decade. "Mr. Soul" is one, and it's a blatant but thrilling "Satisfaction" rip-off that nonetheless helped establish Young as a creative force with a strong stage presence.
Decade was much more than a best-of collection; for many, it was the first panoramic view of Young's scattered discography between 1966 and 1977, featuring Springfield album cuts, CSNY smashes, and previously unreleased recordings along with solo favorites like "The Old Laughing Lady"—a stunning rendition of which would close Jonathan Demme's 2006 concert film Neil Young: Heart Of Gold.
Young has been the subject of films as well as a director, but his definitive concert film is 1979's Rust Never Sleeps, released in conjunction with the album of the same name and a modified set titled Live Rust. Amid its infamous Jawa-costumed stagehands and reggae breakdown in "Cortez The Killer," Rust features "Powderfinger" unleashed in all its plodding, scuzzy magnificence.
Besides all of Young's aborted studio albums over the decades—which he sporadically cannibalizes, most recently on Chrome Dreams II—he's amassed a body of live material that's undergone numerous plans for release. In 2006, Live At The Fillmore East, the first installment of his Archive Performance Series, finally saw the light of day. Some fans instantly complained about the ostensibly stingy, six-song track list, but the savage 1970 set with Crazy Horse wound up being well worth the wait. It was followed this year by the far more extensive and subdued Live At Massey Hall. Capturing Young in his Toronto birthplace during a 1971 solo acoustic show, the grainy, dreamy DVD half of the package—especially during eerily prescient classics like "Old Man"—draws his legendary career full circle.