Primer is The A.V. Club's ongoing series of beginners' guides to pop culture's most notable subjects: filmmakers, music styles, literary genres, and whatever else interests us—and hopefully you. This week: The Rolling Stones, broken down by 20 songs that define their themes and styles, and five albums that every serious rock fan should own. The Rolling Stones appear in the new concert film Shine A Light, directed by Martin Scorsese.
The Rolling Stones 101:
Unlike their classic rival, The Beatles, The Rolling Stones aren't frozen in time. Their body of work spans several decades, covers numerous musical eras, and varies widely in quality as the band aged, changed members, and attained incredible wealth. Exactly when and where you come at The Stones will define how you see the band. If you were born in the '80s or '90s, Mick Jagger has always been a preening, somewhat ridiculous dinosaur, shaking his wrinkled ass for graying baby boomers at $200 a ticket. It isn't a pretty picture, nor wholly representative of a band that's been making records for nearly 45 years.
Like the American bluesmen they emulated, The Stones have continued making music well into their 60s. They've been pilloried as much as praised for sticking together, but that's nothing new. As early as 1969, in the middle of the band's prime, people railed against The Stones for not breaking up already. (Rock writer Nik Cohn famously wished the band members would die in a plane crash before their 30th birthdays, so they could stay forever young.) It's a silly argument, because the greatness of what The Rolling Stones created could never be overshadowed, even by a hundred late-career cash-in tours. Any statement to the contrary is quickly refuted by the first 10 seconds of "Jumpin' Jack Flash," which still are as hard, exciting, and vital as any moments in rock 'n' roll.
G/O Media may get a commission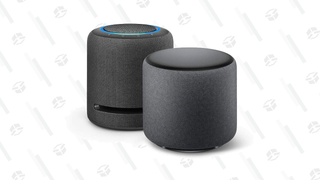 25% off - Prime Exclusive
Echo Studio + Echo Sub Bundle
Simply put, The Rolling Stones defined how a rock band is supposed to sound, look, fight, and fuck. The swaggering lead singer; the guitarist/sidekick "with mystique"; the wild, drug-fueled and sex-drenched escapades on the road; the arrogant disregard for authority; the grungy fashion sense—all the rock-band clichés can be traced back to here. Whenever a new rock band is supposedly bringing the music "back to basics," it often sounds like something off of 1972's Exile On Main St., considered by many to be the definitive Stones album—maybe even the definitive rock 'n' roll album, even though it doesn't contain any well-known singles. (The swinging "Tumbling Dice" comes closest.) Exile touches on a variety of American music styles, from blues to soul to gospel to country, sometimes in the space of a single song like "Loving Cup," a lilting Southern-soul ballad straight out of a prairie church, but played like a straight-up rocker. By this time, just eight years after their debut album, The Stones had so completely absorbed and perfected the earthy roots music they grew up on that it no longer seemed strange for pishy Brits to be playing around with music forms created by black Americans decades earlier.
That wasn't the case when Jagger, Keith Richards, and Brian Jones palled around London's blues scene in the early '60s. While their love and knowledge of greats like Muddy Waters and Howlin' Wolf was real and deep, bringing blues back home in a mutated, updated form—even in the wake of The Beatles' incredible overseas success—was a dream only the most wildly ambitious British musicians dared ponder. But while The Beatles and the clean-cut British Invasion pop-rock bands that followed were a far cry from the Stones' hip, bohemian aesthetic, they did create a goody-goody center so ubiquitous that an alternative quickly became inevitable. Crafted with the help of media-savvy manager Andrew Loog Oldham, The Stones' bad-boy image was apparent from their first album cover, which pictured the decidedly unphotogenic group lined up menacingly like a gang of sociopathic schoolboys. The Beatles just wanted to hold your hand, the press breathlessly reported, but on their debut, England's Newest Hitmakers, The Stones covered Willie Dixon's "I Just Want To Make Love To You," a randy blues classic popularized by Muddy Waters. The Stones' image must have been scary to parents, but the music itself sounds precious today. Compared with Waters' version, which still sounds filthy in the best possible way, The Stones' cover sounds like young kids pretending to be grown-ups.
The band's grasp of blues and R&B; quickly grew more assured, as hit cover versions of The Valentinos' "It's All Over Now" and Irma Thomas' "Time Is On My Side" (both collected on the band's second album, 12X5) brilliantly show. By the time of 1965's The Rolling Stones, Now!—a go-to party record in the band's catalog—they were the baddest white boys on the planet, taking on the heady likes of Chuck Berry and Solomon Burke, and providing a sturdy, blues-punk blueprint for countless American bands just starting to bash away on Bo Diddley riffs in their garages.
As good as the early, blues-based Stones albums are, the band was still tethered to its larger-than-life influences. It wasn't until 1968's Beggars Banquet that The Stones showed they could make American music truly their own. Released during one of the most tumultuous years in modern history, Beggars Banquet summed up the fear and uncertainty of a time rife with political assassinations and street riots by reaching back to the haunted, desolate country blues of the Mississippi Delta. There was nothing precious about the apocalyptic cover of Rev. Robert Wilkins' "Prodigal Son," a positively evil-sounding gospel song for what must have seemed to some like the end of the world. And while the rest of the rock world was preaching the joys of free love and copious drug use, "Jigsaw Puzzle" vividly portrayed the seamy, paranoid underbelly of the hippie dream that was just starting to rise to the surface.
The blues—or, more accurately, a hard-rocking British version of the blues—form the foundation of the Stones' sound, and the band usually was at its best creatively, the closer it stayed to those roots. Commercially, however, the Stones' strength was in their ability to zero in on the most exciting trends of the time and infuse their music with the new energy. Early on, The Beatles and Bob Dylan were important contemporary influences. When The Beatles used a sitar on "Norwegian Wood," The Stones were inspired to use Eastern sounds on "Paint It Black." (The Sgt. Pepper rip-off Their Satanic Majesties Request was less successful.) When the "thin wild mercury" folk-rock sound of Bob Dylan's Blonde On Blonde became the rage, The Stones responded with 1967's Between The Buttons, which includes Dylan-esque tracks like "Who's Been Sleeping Here?" The Stones weren't originators, they were synthesizers, taking what they liked (or what was popular) from various corners of the musical universe and integrating it into their sound. The ideas were borrowed, but the execution was wholly original and unmistakably "Stonesy."
The best example of this is 1978's Some Girls, the band's best-regarded album from outside its "glory years" period in the late '60s and early '70s. Some Girls is an unabashed "New York" album, drawing on the city's nascent punk and disco scenes to breath some fresh life into the band's standard blues-rock attack. The Stones might have been another one of Johnny Rotten's "boring old farts" (he's said he wished the band had broken up in 1965), but none of rock's old guard confronted the present as forcefully or credibly as The Stones did on Some Girls. The album's rockers hit with an aggressive punk edge, and the disco track "Miss You" became a No. 1 hit. While some hardcore fans groaned that The Stones sold out, "Miss You" is rightfully considered one of the best disco singles of the era.
[pagebreak]
Intermediate work:
While John Lennon and Paul McCartney formed a songwriting partnership long before The Beatles made them multimillionaires, Jagger and Richards were encouraged to become songwriters just as The Stones became famous. The early Stones albums lean heavily on covers of blues and rock standards and current R&B; hits, reflecting the purist leanings of then-leader Brian Jones, who founded the band. But as Jagger and Richards, at Oldham's urging, because the main creative forces in The Stones, Jones became the group's ace multi-instrumentalist, introducing exotic new sounds on the band's records.
After refining their songwriting on two near-classics from 1965, Out Of Our Heads and December's Children (And Everybody's), Jagger and Richards produced their first album of all-original material with 1966's Aftermath, also their first full-fledged masterpiece and a template for every classic Stones album that came afterward. It was here that Jagger—always an underrated lyricist—established the themes he would ruminate on throughout his career: sex as pleasure, sex as power, love disguised as hate, and hate disguised as love. The songs were sarcastic, dark, and casually shocking. They were also misogynistic, though "Stupid Girl" and especially "Under My Thumb" could also be heard as disturbing portraits of their hatefully macho protagonists. Still, Jagger made sure to blur the line between critique and celebration. It was part of a complex, slippery persona that let Jagger have it both ways. He could be good and evil, man and woman, tough and tender, victim and victimizer. It was a confounding, complicated image, and willfully constructed to be misunderstood and even alienating, but it made Jagger one of rock's most compelling frontmen.
Three years after Aftermath, The Stones were making the best albums of their career. Starting with Beggars Banquet in 1968 and ending with Exile On Main St. in 1972, The Stones enjoyed arguably the greatest creative period for any rock band, also releasing the masterpieces Let It Bleed in 1969 and Sticky Fingers in 1971. (There's also a wonderful live album recorded during the triumphant '69 tour, Get Yer Ya-Yas Out!) This is unquestionably the band's hardest-rocking period, and its most scandalous. The '69 American tour, the Stones' first in three years, ended in tragedy at a free concert held that December (the day after Let It Bleed was released) at California's Altamont Speedway, where four people died, including Meredith Hunter, an 18-year-old fan who was stabbed to death by Hells Angels bikers hired to work security. (They were paid $500 and given all the free beer they could drink.) The murder was filmed by documenatarians Albert and David Maysles and Charlotte Zwerin, and featured in their movie Gimme Shelter.
Altamont is often referred to as "the end of the '60s," a description that could also apply to Let It Bleed. While the band paid lip service to Woodstock Nation before Altamont (disastrously, as it turned out), Let It Bleed was far more cynical about the so-called youth "revolution." The record's first and last songs tell the story: "Gimme Shelter" is an emotionally violent rocker featuring a memorable backing vocal by Merry Clayton, who screamed lines in the chorus that predicted Altamont: "Rape, murder, it's just a shot away, it's just a shot away." The album-closing "You Can't Always Get What You Want" was more accepting of an uncertain future, and it became a fitting epitaph for Jones, who was fired from the band during the Let It Bleed sessions after chronic drug abuse (and drug-related convictions) made it impossible for him to play adequately or tour with the band once the record was released. Jones died less than a month later, in July 1969. He was 27.
A 21-year-old blonde-haired wunderkind named Mick Taylor, a former member of John Mayall's Bluesbreakers, replaced Jones. A dazzling guitar player with a smooth style reminiscent of another former Bluesbreaker, Eric Clapton, Taylor spent just five years in The Stones, but he's one of the great unsung contributors to the band's rich legacy. The Stones, arguably, never sounded as good as they did with Taylor. Sticky Fingers, for one, is aided tremendously by Taylor's technical proficiency, which helped raise the musicianship of the rest of the band. "Can't You Hear Me Knocking" begins as a typical Stones rocker, riding a chunky Richards riff and Charlie Watts' reliably funky backbeat. But after two and a half minutes, it turns into a Santana-style scorcher, with Taylor turning out solos that Richards (or Jones) could never touch. Taylor could keep it simple and rockin', too—on "Sway," he rubs up against Richards' churning rhythm guitar in the verse, then tears out a soaring solo in the outro, quietly showing off without ruining the gut-level sleaze that makes the song so terrific. Taylor's last album with The Stones was 1974's It's Only Rock 'N' Roll, for which he co-wrote two of the better songs, the ballads "Till The Next Goodbye" and "Time Waits For No One." But Taylor wasn't given a songwriting credit, and while he said the slight didn't play a part in his decision, he left the band later that year, just a few months before The Stones were set to make another record.
Advanced Studies:
With 1973's Goats Head Soup, image and lifestyle moved ahead of music for The Rolling Stones, and while the band continued to make good records, music took a backseat to the Stones "myth" from here on out. Recorded in Jamaica because, according to Richards, it was one of the few countries that would take them (Keef's drug-arrest sheet was already pretty long, and it only got longer in the '70s), Goats Head Soup garnered a mixed reaction upon release, mostly because it doesn't hold up to the incredibly high standard of what came before. Like the rest of the band's post-Exile On Main St. work (save Some Girls), Goats Head Soup is best appreciated when not compared to The Stones' classic output. It's an album that once again finds The Stones changing capably with the times, embracing a glam look and a funk groove, along with some terrific ballads for the pop charts. "Angie" was the hit, but the moving "Winter" is one of the great lost Stones slow songs. Ballads frequently are the strongest tracks on late-period Stones albums, from "Waiting On A Friend" (Tattoo You) to "Almost Hear You Sigh" (Steel Wheels) to "Out Of Tears" (Voodoo Lounge).
Jagger claimed he "really put all I had into" Goats Head Soup, but neither he nor the other Stones could honestly claim to care much about 1976's Black And Blue, which was recorded while the band was auditioning replacements for Mick Taylor. In fact, Black And Blue is virtually an audition tape, with new Stone Ron Wood sharing time with unsuccessful applicants like Wayne Perkins and Harvey Mandel on the album's jam-oriented tracks. 1981's Tattoo You was similarly slapped together, collecting outtakes from the previous 10 years and overdubbing new vocals. But at least the material on Tattoo You was stronger, with one side featuring decent-to-splendid fast numbers (including the band's last classic rocker, "Start Me Up") and the other side centered on ballads.
Tattoo You was one of the bestselling records of the band's career, and it proved to be the last time an album of original Stones material was received so warmly commercially and critically. Once The Stones became a stadium act, spectacle became their main focus. Records increasingly seemed like an excuse to launch another highly lucrative, globetrotting tour. Still, while the post-Tattoo You output displays little of the fire or inspiration of the group's classic period, The Stones still made good records that can be appreciated on their own terms. Perhaps the most underappreciated (and strangest) entry in the Stones catalog is 1983's Undercover, which chucked the standard-issue hard rock of Tattoo You for a wildly experimental mélange of new wave, dub, pop, and reggae. Lyrically, Undercover is almost comically violent, with songs like the serial-killer portrait "Too Much Blood" (with its references to The Texas Chain Saw Massacre) delivered with tongue firmly planted in cheek. Undercover isn't an entirely successful record—the slick, danceable textures don't quite make up for the lack of songs—but it's certainly more interesting than the solid but too-safe "comeback" record Steel Wheels, released in 1989 after Jagger and Richards spent a few years sniping at each other and pursuing solo careers.
[pagebreak]
From the '90s onward, The Stones made a concerted effort to "be like The Stones," releasing albums every five years or so that self-consciously tried to recall the band's '60s and '70s prime. The best Stones album from this period is 1994's Voodoo Lounge, which plays like a survey of the band's various guises from 1964 to 1972, from the folky chamber-pop of "New Faces" to the dark blues of "Thru And Thru" to the straightforward rock of "Sparks Will Fly." It's a pretty good record, though it's occasionally forced. (When Jagger sings "I wanna fuck your sweet ass" on "Sparks Will Fly," he's asserting his fiftysomething sexuality a little too strongly.) While it isn't technically a Stones record, Jagger's 1993 solo effort Wandering Spirit is the best Stones-related release since Tattoo You. Working with professional late-career rehabber Rick Rubin, Jagger pushed himself beyond the conservatism of late-period Stones albums on rubbery dance tracks ("Sweet Thing") and gorgeous country numbers ("Evening Gown") that spotlighted his still-powerful vocals well. Wandering Spirit also rocks more convincingly than any recent Stones record. "I'm as hard as a brick, I hope I never go limp," Jagger sings on "Wired All Night," a defiant, tour-'til-we-drop mission statement for The Stones as they approach 50 years in rock.
The essentials:
1. Singles Collection: The London Years
The Rolling Stones didn't make a bad album in the '60s—even the maligned Their Satanic Majesties Request has more good songs than terrible ones—but for most of the decade, the group hit hardest on its singles, which are collected (both A- and B-sides) on this three-disc collection. A reading of the track list tells you all you need to know about how essential The London Years is: "Tell Me," "The Last Time," "Heart Of Stone," "Satisfaction," "19th Nervous Breakdown," "Play With Fire," "Get Off Of My Cloud," "Let's Spend The Night Together," "Ruby Tuesday," "Honky Tonk Women," "Jumpin' Jack Flash," and dozens of other indispensable classics. Taken together, these singles tell the story of how a British blues group called The Rolling Stones because the world's greatest rock 'n' roll band.
2. Exile On Main St.
Often called the best Stones album, Exile On Main St. best distills in a single package what made the Stones great. There's all kinds of songs—blues standards, country songs about black angels, gospel hollers haunted by voodoo spirits—but it all sounds like rock 'n' roll. And make no mistake, this is the most desperate rock 'n' roll of the band's career. Exile is the sound of a band trying not to fall down; soon afterward, The Stones would succumb to creative (if not necessarily physical) exhaustion after maxing out its capabilities in every possible way for a decade.
3. Sticky Fingers
If The Stones fretted about their reputation after the Altamont tragedy, they didn't show it on 1971's Sticky Fingers, the most overtly sexual and druggy album of their career. (Which is saying a lot.) With its Andy Warhol-designed "crotch" cover brazenly hinting at the sleaze contained within, Sticky Fingers is an in-your-face desecration of all that is good and decent in the world, and (not coincidentally) one of the great "rock 'n' roll" rock 'n' roll albums. Kicking off with "Brown Sugar," a still-scandalous song about a white English slavemaster having sex with a comely slave, Sticky Fingers is the seven deadly sins set to a killer riff and a danceable beat, though the slow songs ("I Got The Blues" and the epic "Moonlight Mile") hit the hardest.
4. Beggars Banquet
Bob Dylan once said that he could have written "Satisfaction," but Mick Jagger couldn't have written "Mr. Tambourine Man." Maybe so, but Dylan would have killed to write an opening line as memorable as "Please allow me to introduce myself, I'm a man of wealth and taste." The sinister salutation opens "Sympathy For The Devil," which opens 1968's Beggar Banquet on an appropriately foreboding note. The band's commitment to stripped-down country blues was commendable at a time when the jammy psychedelia of Cream reigned supreme, but this record belongs to Jagger, who committed some of his most unsettling, disturbing, and darkly funny lyrics to this scathing collection of songs documenting the sad degradation of so many hopes and dreams as the '60s came to a close.
5. Some Girls
Most of the big '60s rock bands either ignored punk or denigrated it for the lack of musicianship, playing directly into the hands of the "keep it simple, stupid" crowd. Never ones to shy away from aggression, The Stones were invigorated by the chesty upstarts and responded with Some Girls, the band's nastiest, most energetic record in years, and its last indisputable masterpiece. Jagger proved he could be as provocative as any punk on the title track, where he talked about the attributes of bedding women of various races, while "Shattered" was a paranoid nightmare set in New York City, and powered by mounds of cocaine. On the pop charts, The Stones scored another No. 1 with "Miss You," which was danceable enough for disco fans, and rocking enough for disco haters not to notice.
Miscellany
Martin Scorsese isn't the first A-list director to document The Rolling Stones at work. That distinction goes to French New Wave master Jean-Luc Godard, who filmed the band recording "Sympathy For The Devil" for his arty, disjointed, '60s counterculture treatise Sympathy For The Devil, released in 1970. Also from 1970 is the Maysles brothers' Gimme Shelter, still the definitive Stones movie, and one of the great films about the 1960s. Hal Ashby's Let's Spend The Night Together from 1983 isn't even close to being in the same league, though the Stones weren't in their old league, either, at this point. Filmed during the stadium tour for Tattoo You, The Stones play their old songs poorly and way too fast, and Ashby films the band to accentuate its distance from the audience. It's an accurate depiction of the band at the time, perhaps, but pretty uninvolving as a viewing experience nonetheless.
The most infamous Stones film is the toughest to see: Robert Frank's Cocksucker Blues. A lurid, cinéma vérité, black-and-white documentary about the 1972 North American tour in support of Exile On Main St., Cocksucker Blues is full of scenes depicting drug use, orgies, heavy drinking, and other (probably staged) acts of rock 'n' roll awesomeness by The Stones and their depressing cloud of hangers-on. Except Cocksucker Blues isn't all that awesome or exciting to watch; it's intentionally dull and monotonous, proving once and for all that even the most disgusting acts of debauchery become no more dangerous than taking out the garbage once you have license to commit them. The Stones filed a court order to block the film's release, though it can still be screened if Frank is present. Otherwise, Stones fans have had to track down bootleg copies to see scintillating footage like this:
Along with numerous concert films, The Rolling Stones have released nine live albums, from 1966's no-fi Got Live If You Want It! up through this year's soundtrack for Shine A Light. Most are of interest only to diehards and completists, but three are worth a listen for casual-to-committed fans: 1970's Get Yer Ya-Yas Out!, an absolutely essential document of the band at its live peak, recorded at Madison Square Garden in 1969; 1977's Love You Live, if only for the side of smoky blues covers recorded at Toronto's El Mocambo club; and 1995's Stripped, which offers likeably intimate versions of some lesser-known cuts from the band's catalog.