There is nothing novel about The Happytime Murders. Puppets have come on screen before, puppets have killed, puppets have cursed, puppets have dropped their wholesome showbiz façades to display the all-too-human ugliness beneath. The knowing handling of noir conventions and clever metaphor for race relations of Brian Henson's R-rated fluff bath were all treated with greater grace and more panache 31 years ago in Who Framed Roger Rabbit. There's not even anything radical about the pornographic habits of characters with the round, friendly, squishy look of the Henson family's signature creations, not when Avenue Q was already gobbling up Tonys four years before The Happytime Murders was first announced. The film could still succeed in the absence of those intangibles, with the right jokes, solid storytelling, or memorable characters. Unfortunately, on those counts, The Happytime Murders comes up as empty as the innards of its felt-and-foam cast members.
The victims of the titular homicides are the former stars of The Happytime Gang, a nostalgic TV favorite in a world where puppets live side by side with people, eking out an existence as second-class citizens. Rumpled private dick Phil Philips (Bill Barretta) is the brother of a Happytime alum and former flame of the show's token human, so he has a personal connection to the case well before he's pulled onto it by his old employers at the Los Angeles Police Department. Phil was the force's first puppet patrolman, and his proximity to the murders—biologically as well as physically—gets him re-teamed with his ex-partner, Det. Connie Edwards (Melissa McCarthy), who still holds a grudge over the incident that got Phil fired.
It'd be an intriguing premise—if, again, it weren't so nearly identical to Roger Rabbit, right down to the inevitable frame job. Also: If The Happytime Murders had taken a few more cues from that film and focused less on the rote whodunit and more on the funhouse-mirror L.A. where it takes place. There are times when The Happytime Murders feels less like a crime comedy starring puppets and more like one where puppets just happen to be standing around in the background. The investigation leads the detectives into various dens of hand-controlled inequity, but those detours are too brief and treat the fact that the structures aren't built for someone of Edwards' height as an afterthought. Human vices get puppet equivalents—primarily sugar, blown in rails or guzzled in maple syrup—but Phil also keeps a bottle of bourbon in his desk drawer. The internal logic is more than a little fuzzy.
G/O Media may get a commission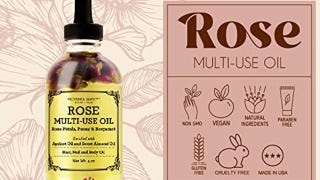 Provence Beauty Rose Multi-Use Oil
Predictably, most of the creative and joke-telling energies have been channeled into answering questions about how Phil and friends fuck, and what comes out of them when they fuck. A sequence in the PI's office manages to kill two Team America birds with one stone, containing both gratuitous puppet humping and a bodily fluid gag that seeks laughs based on shock value as well as length. Horny rabbits engage in carrot play; an octopus engages all eight of its tentacles in the act of milking a cow. Considering the precedents, the film's re-creation of the Basic Instinct interrogation is tame stuff, no more scandalous than a 12-year-old scribbling pubes onto a picture of Miss Piggy.

Which is enervating, because there are gags in The Happytime Murders that genuinely land, even at their most puerile: While checking in with a porno-peddling contact, Phil comes across the extremely literal titles Puppet Pussy Party and Chicks With Big Asses. The murder scenes mostly get their jollies by tossing cotton around, but a mid-movie drowning presents the opportunity for some inspired postmortem silliness. That silliness—the seltzer-down-the-pants disruption of human gravitas that drives so much of Henson's father's best work—is the fundamental divide between The Happytime Murders' two worlds, and the film is at its best when it manages to make that connection. Especially if it's a flesh-and-blood actor doing so, be it Maya Rudolph going googly-eyed in her portrayal of Phil's assistant, Bubbles, or McCarthy indulging her taste for big, broad physical comedy. They deserve better than The Happytime Murders, and so does the manually expressive, vocally dextrous Barretta.
The Happytime Murders premieres after being shelved and un-shelved for most of a decade, the Edwards role having passed from Cameron Diaz to Katherine Heigl, to Jamie Foxx before McCarthy signed on. The final cut fails to obscure how many hands have been inside this thing since 2008: Portions that hammer home the "We're really talking about racism here, folks" angle bristle against the zanier Zucker-Abrahams-Zucker send-up that Rudolph and Leslie David Baker (the latter playing Phil's short-fused former commanding officer) are acting in, and there's at least one bit of slapstick that hints at how the project may have been tailored for its ultimate star. From the director's chair, Henson strains to unite all these threads and tones, without distinguishing the look of the film beyond that of actors interacting with puppets. But as the behind-the-scenes montage that plays over the credits reminds us, with this type of movie, it's really about what you're not seeing. And with The Happytime Murders, what you're not seeing is a concept worth chasing for 10 years.