The wiry, Russian-American Anton Yelchin, whose knack for playing relatably frazzled and anxious characters made him one of the most promising, subtle, and consistently interesting young film actors, has died in a freak accident at his home in the San Fernando Valley. According to TMZ, Yelchin was struck and pinned against a security gate by his own car after it rolled down his driveway. The actor was 27.
Russell Crowe is pretty chill about not being in that "Gladiator" sequel
Born in what was then the Soviet Union into a Jewish family, Yelchin emigrated with his parents, both accomplished professional figure skaters, to the United States when he was only 6 months old. Starting out as a child actor, Yelchin landed his first roles in independent films and on TV while still in middle school, getting his big break in 2001's sentimental Stephen King adaptation Hearts In Atlantis, where he played opposite Anthony Hopkins.
It was years later, in playing a teenager at the center of a kidnapping gone wrong in Alpha Dog and a self-assured high school drug dealer in Charlie Bartlett, that Yelchin began to attract attention as an actor. With his small frame, distinctive hoarse voice, and big, moody eyes, Yelchin made for a striking screen presence, though Hollywood seemed at a loss as to what to do with his talents. Mostly, he was tasked with rebooting established characters, playing the younger Kyle Reese to Christian Bale's John Connor in Terminator: Salvation, co-starring in the remake of Fright Night, and adopting an exaggerated Russian accent as Pavel Chekov in recent Star Trek films, which gave him his biggest exposure.
But the hardworking actor did his best work in smaller indie and genre films. Yelchin's soulful stare sometimes brought to mind a stoned Elijah Wood, but with a neurotic edge that made him a perfect fit for everything from rom-com leads with relationship woes (Like Crazy) to victims of life-or-death circumstance (this year's superb Green Room) to combinations of the two (Joe Dante's Burying The Ex), as well as roles that allowed him to showcase his range. Inhabiting roles effortlessly, he had a way of locating how a character would believably express uncertainties and anxieties.
G/O Media may get a commission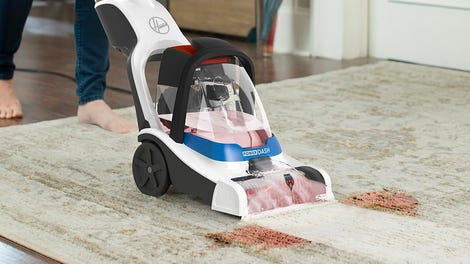 26% Off
Hoover PowerDash Pet Compact Carpet Cleaner
Very prolific—at the time of his death, he had six films in post-production—Yelchin seemed to gravitate toward eccentric filmmakers and projects. He worked with off-beat indie godfathers Jim Jarmusch (on Only Lovers Left Alive) and Michael Almereyda (on Cymbeline and Experimenter); appeared in Paul Schrader's troubled, disowned Dying Of The Light; and in Jodie Foster's Mel Gibson-starring oddity The Beaver.