British-born actor Sir Christopher Lee, whose career may be one of the most prolific and diverse in film history, has died. Lee reportedly died on Sunday, June 7 after being admitted to a London hospital for respiratory problems and heart failure. He was 93.
Lee first truly rose to fame in the 1958 Hammer Films production of Dracula (a.k.a. Horror Of Dracula). His performance as the legendary count reinvigorated the role that Bela Lugosi had popularized in 1931, infusing it with a different, more seductive energy that would become entwined with every onscreen vampire to appear in his wake.

When he donned the black cape for Hammer, Lee had already been acting for years, and would go on to act in a great variety of films every year until the end of his life. In a 2013 interview, Lee stated that he never once thought about retiring from show business. "Making films has never just been a job to me, it is my life. I have some interests outside of acting – I sing and I've written books, for instance – but acting is what keeps me going, it's what I do, it gives life purpose," he said.
Lee was born on May 27, 1922 in Belgravia, London to decorated war hero Lieutenant Colonel Geoffrey Trollope Lee and renowned Edwardian beauty Contessa Estelle Marie (née Carandini di Sarzano). In 1939, a 17-year-old Lee ended his education at Wellington College. That same year—the year World War II broke out—Lee volunteered to fight. He eventually joined the Royal Air Force (R.A.F.) in 1941, where he would serve until 1946. During that time, an optic nerve condition prevented him from flying. Unable to remain idle, Lee volunteered with R.A.F. Intelligence, and he remained embedded there until his 1946 retirement. During his wartime career, he assisted in operations in Egypt, Libya, and Tunisia; contracted malaria at least six times; was almost killed by bombs on multiple occasions; and, after the war's end, helped track down Nazi war criminals.
Following the war, Lee was uncertain what career to pursue. An offhand remark from a cousin (Nicolò Carandini, now the Italian Ambassador to Britain) led him to give acting a try. He eventually landed a contract with the Rank Organisation, and spent ten years playing bit roles. During this time, he was often considered too tall to act, a criticism Lee recalled with contempt in a 2005 interview. "That's a quite fatuous remark to make. It's like saying you're too short to play the piano. I thought, 'Right, I'll show you…'".
G/O Media may get a commission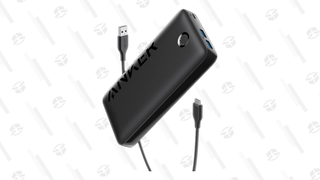 20% Off
Anker 335 Power Bank
His big break came when he was cast to play Frankenstein's in Hammer Film's Curse Of Frankenstein (1957). It was the first time he appeared onscreen alongside Peter Cushing, and marked the start of an enduring friendship between the two men that lasted until Cushing's death in 1994. Lee's success with Hammer continued, most notably in 1958's Dracula—although Lee had only 13 speaking lines in the entire film, his performance redefined the character of Dracula as earthly and erotic. As book critic Matthew Sweet wrote for The Guardian in 2007, "Lee's performance convinced a generation of scholars that Dracula was a book about sex, and not about vampires."
Lee's partnership with Hammer, as well as his onscreen relationship with Cushing, persisted for many years; although he reprised the role of Dracula seven times, he was increasingly unhappy in the vampire's shoes, and has recounted that he was emotionally blackmailed into repeat performances. By the '70s, Lee yearned to take on more interesting and varied roles. One of his most notable performances came in the form of Lord Summerisle, a pagan island leader, in 1973's The Wicker Man. In Lee's autobiography, he stated that The Wicker Man was the best film he's ever made.
From the mid-'70s onward, Lee made a concerted effort to avoid being typecast as a horror villain. In 1974, he was cast as Bond villain Francisco Scaramanga in The Man With The Golden Gun; acting in a Bond film had long been an aspiration of Lee's, as Ian Fleming, the author of the Bond novels, was his stepcousin. In 1977, fleeing further typecasting, Lee moved to America. There he put in a wide variety of film and television appearances, from disaster films and comedy (including a notable SNL appearance) to sweeping biopics.
Lee's career was given a second wind in the early 2000s, when he was cast to play Saruman in Peter Jackson's Lord Of The Rings trilogy. As mentioned in Lee's autobiography and in the DVD commentary, Lee was the only person involved in the production to have ever met J.R.R. Tolkien, and he made reading the books an annual tradition. In 2005, Lee stated: "I always dreamed that [the Lord of the Rings trilogy] would one day be made and I always dreamed I'd be in it. Sometimes dreams do come true."
With his career as strong as it had ever been, Lee took on more roles in the 2000s and 2010s, including as Count Dooku in Star Wars Episode II: Attack Of The Clones and Star Wars Episode III: Revenge Of The Sith, roles for which he did much of his own stunt work. He also appeared in numerous Tim Burton films. He was knighted by Prince Charles in 2009 and won the "Spirit of Metal" award at the 2010 Metal Hammer Golden Gods awards (on top of everything else, he made a habit of releasing symphonic metal recordings). In 2011, he reconnected with his past, appearing in a Hammer film, The Resident, and putting in a cameo in a Wicker Man sequel called The Wicker Tree. He also returned to the role of Sarumon briefly in 2014's The Hobbit. At the time of his death, Lee was in pre-production on one film, The 11th, and had just completed another, Angels In Notting Hill.
Lee is survived by his wife, former Danish model Birgit "Gitte" Kroencke Lee, who he married in 1961, and their daughter, Christina Erika Lee.