Writer Katherine Dunn died on Thursday at the age of 70 due to complications from lung cancer, the Los Angeles Times is reporting. Dunn's career saw the publication of multiple fiction novels, as well as a collection of her columns for the Willamette Week. She went on to devote years to writing about boxing, for which she earned a Lange-Taylor prize. Dunn also wrote a regular column on the sport for a Portland newspaper, eventually publishing the anthology, One Ring Circus: Dispatches From The World Of Boxing.
Aside from her award-winning work as a boxing writer, Dunn was best known for her audacious and bizarre 1989 novel Geek Love, the strange story of a family of sideshow freaks, their internal power struggles, and the alarming cult that arises around one family member in particular. Back in 2009, that book, a bestseller and National Book Award nominee, was thoroughly discussed and dissected in a series of A.V. Club articles as part of the Wrapped Up In Books series. It was the first book so honored. To conclude its series on Geek Love, The A.V. Club presented an interview with the author. In it, Dunn discussed her feelings about cults and whether or not the Jonestown massacre was a direct influence on Geek Love.
As I define cults, I have been quite fascinated by them, and fascinated also by the structures in normal society that seem to replicate some of the functions of cults. But the Jonestown massacre in Guyana was a very, very potent event in my life. I had no personal connection with it, except to read the headlines like everyone else. But it was extremely powerful to me, and very, very scary.
Dunn also weighed on her assessment of humanity as a species.
My perception of the human animal is as an extremely dangerous predator. That's who I perceive us to be as a species. Maybe the most dangerous predator on the planet, with the exception of a few microbes. And so I'm really grateful for the degree of socialization that prevents us, most of the time, from killing and eating each other.
G/O Media may get a commission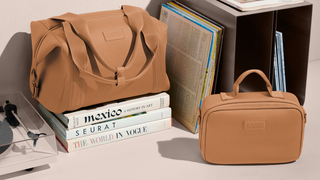 15% off
Dagne Dover Travel Kits
Those assumptions underlie all of Dunn's work. They are the connection between Geek Love and her writing on sports and crime. The L.A. Times piece on Dunn and Geek Love is well worth reading, as it reprints a vintage article about the author and her highly unusual work. A choice quote: "My typist was horrified by it!"