In 2003, Chapelle's Show was must-see TV. By the time the tenth episode of its first season hit Comedy Central, the world had already been treated to "The Mad Real World", "Ask A Black Dude", "Wu-Tang Financial," and the instantly iconic "Clayton Bigsby."
Chappelle and his team of writers, headed by comedian and co-creator Neal Brennan, made it clear that they were not there to skirt around the controversial topics of the day. So when the sketch lampooning R Kelly's infamous sex tape, "Piss on You,"aired, its subject matter was par for the course for the show:
Now, since the airing of Lifetime's Surviving R. Kelly docuseries, history has its eyes on who knew what and when they knew it. And Neal Brennan is being asked to explain himself more than 15 years later. During a recent stop at The Breakfast Club, Brennan—there to promote the Comedians of the World Netflix specials—addressed how some people were upset the show made light of a very serious case.
"I don't think people understand what comedy is supposed to do," Brennan said about the bit. "We will observe things, we will make fun of things. Did people want us to round up a posse and go arrest R. Kelly? Like, what were we supposed to do?" As it turns out, R. Kelly was the one to round up a posse, as the disgraced singer and self-professed "Pied Piper" did not find the sketch funny. "R. Kelly wanted to fight Dave," Brennan claims. "His goons stepped to Dave in Chicago, and Dave's goons intervened. The goons negotiated."


G/O Media may get a commission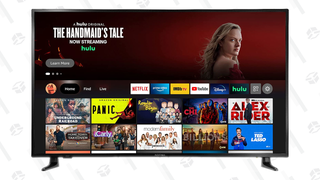 38% Off
Insignia 50" 4K UHD Smart TV
Chappelle himself has addressed Kelly's reaction to the sketch in a video shared by TMZ, saying, "The week that sketch came out, we were in Chicago at a Common show, and his dude busts in my room. He said, 'How are you gonna do the video of me peeing on (girls) like that?' and I said, 'How are you gonna do the video?'"
In 2016, Kelly told GQ that he'd never seen the skit, and acted as if he'd never heard of Chappelle. But a few hours after that piece was published, an image of Kelly from the 2005 VMA's surfaced on Twitter. In it, the singer is wearing a T-shirt with the catchphrase from one of the show's most enduring sketches - the Rick James episode of "Charlie Murphy's True Hollywood Stories."

Make of that what you will.

As for R. Kelly, between reported panic attacks, a criminal investigation, and run-ins with the police, he has a lot more to worry about than an old comedy sketch.
(Full disclosure: This author has interviewed Brennan herself, and appears with her high school concert orchestra in the "I Believe I Can Fly" video.)