This week, The A.V. Club introduces a new occasional feature, Random Rules, in which we ask our favorite rockers, writers, comedians, or whatevers to set their MP3 players to "shuffle" and comment on the first few tracks that come up. No faking us out with cool playlists or skipping embarrassing tracks is allowed, so you, the reader, will be given access into the uncensored, private world of someone else's music library. Can you handle that much truth?
The shuffler: David Berman of Silver Jews. Berman's song "Random Rules" inspired the name of this feature, but he doesn't own his own iPod, so The A.V. Club let him bend the rules slightly by using his wife Cassie's instead. Though he notes, "I've had a real influence on her, so I think this'll work out fine. Do you want me to just, like… say the song to you and then free-associate?" Exactly.
Don Williams, "Amanda"
David Berman: Cassie likes Don Williams a lot. To me, he's very much of a lullaby-singer-type guy. When Will Oldham was down here doing Greatest Palace Music, he wanted to get Don Williams to sing on it, and we tried and we tried… And then we were trying for Dolly Parton. We went over to her studio complex and threw a penny over the wall. We couldn't get through to either one of them.
Phil Lee, "You Should Have Known Me Then"
DB: Phil Lee is this local guy who's like 52 that Cassie and I really love. He's not very well known, but he has this record—this isn't on that record—The Mighty King Of Love, which is just a great country-rock record. It was his first record, like, four years ago. He drummed on one of those very late concoctions of the Burrito Brothers that only included the janitor from the original band. But he's amazing, and he has this kind of spirit that reminds me of David Yow [of The Jesus Lizard]; he kind of looks like David Yow, and he has long hair. He has this amazing voice that is just so… the best.
G/O Media may get a commission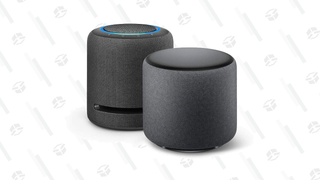 25% off - Prime Exclusive
Echo Studio + Echo Sub Bundle
The White Stripes, "Offend In Every Way"
DB: I love this song, I think. Bob [Nastanovich] told me about them years ago when they opened for Pavement, and I remember I was at his house and he put the record on really loud—the first record—and then I didn't hear about them until this record came out. I think that the character that Jack White puts on, the bitchy guy in the pince-nez from the old films, is hilarious. A lot of his character takes—which is all I assume that he's doing; I don't feel like I had a meeting with the man behind the voice when I hear his songs—are amazing. They're like these clueless, kind of obtuse wizards, and they're very bitchy and extremely interesting.
Lee Ann Womack, "I Hope You Dance"
DB: I really think Lee Ann Womack has an amazing voice, and I was really disappointed when I found out she was a Republican. I saw her once in the lobby of the Hermitage Hotel here [in Nashville]. I really love this song. There was a country version, I guess, and a pop version. I think they both have background vocals by this kind of also-ran country threesome called Sons Of The Desert. It's really cool. They sang, "Time is a wheel in constant motion." I can't remember the next word, but they sing it in counterpoint to her in this really interesting way. To me, it seems like a waterwheel going backward, but…
The A.V. Club: Was there more to that story about seeing her at the hotel?
DB: It was a party for Loretta Lynn's Van Lear Rose album. I just was interested that she was sitting by herself in this huge, crowded lobby with, like 300 people. There was another time with Reba McEntire in the gym… I'd gone swimming, and I think she was waiting for her kids to come out of hockey practice. I've always been attracted to cross-eyed women, and I figured out years ago that it had to do with some childhood belief that cross-eyed women got that way from giving a lot of oral sex. Anyway, she was in the gym that day, and… This story's going nowhere. I just sat on a bench across the way and felt really creepy.
AVC: You didn't approach her at all?
DB: No. I should've. But Ginger, of Gilligan's Island… When I was a guard at the Whitney Museum, there was a party, and Tina Louise was there, and I was on duty by the elevators, and maybe she was just bored or whatever, but I felt like there was a real chemical attraction between us, and she pretty much sat next to me for the whole party.
Shania Twain, "Come On Over"
DB: I love Shania. Shania Twain's singles on that Come On Over record influenced my own playing, as far as emphasis and stuff. She's not here in town very much; they stay up on this mountain in Switzerland. I just see [Twain and producer/husband "Mutt" Lange] on top of the world on this mountain, making this pretty great music. I like that song, "That Don't Impress Me Much." She kinda does these talking parts in the middle, and I think of it as, like, this place where music bumped up against Hollywood romantic comedies.
Aztec Camera, "The Crying Scene"
DB: I actually asked Cassie to download this song, because I really liked Aztec Camera when their first record came out. Roddy Frame was famous at 16, and writing heart-on-his-sleeve poetry, you know, written to girls in berets, and it's very overflowing and somewhat embarrassing to listen to. I was thinking about them, so I bought their greatest hits, and "The Crying Scene," the comeback song for them—which I thought was an amazing song—wasn't on the greatest hits. And I just thought, "No one even cares. No one probably even knows that this song isn't on it." And then I listened to the rest of the songs and I realized why. So I said, "Will you go fetch this song off the computer? Will you go to the music well?"