The great podcast Sklarbro Country recently has been playing tracks from a wonderful compilation from Light In The Attic Records called Country Funk 1969-1975, whose title may shock listeners. Over the years, country music has earned an unfortunate reputation as one of the whitest and unfunkiest of genres—or worse, as the official music of rednecks, xenophobes, conservatives, and truck-driving suburbanites.
This reputation isn't unfounded. Reactionary dinosaurs like Toby Keith, Lee Greenwood, and Ray Stevens embody the lazy stereotype of jingoistic, flag-waving, lily-white phonies. And don't forget the country-music establishment relentlessly hounded the Dixie Chicks for having the gall to publicly scorn President Bush.
But this reading of country is both reductive and untrue. It's rooted in a narrow conception of country history that connects the polished countrypolitan sounds of the '50s to the whitewashed pop-country of Olivia Newton-John (Top Female Vocalist at the 1974 Academy Of Country Music Awards), to the over-produced slop of the '80s, the inexorable rise of Garth Brooks, and the soullessness that characterizes much of contemporary country.
After delving deep into country's roots via my Nashville Or Bust column, I've come to see the genre, and particularly its racial history, much differently. To me, country is a glorious mutt of a genre that mirrors the eclecticism and disorder of the nation that berthed it. It's telling that Jimmie Rodgers, the man heralded as "The Father of Country Music," was a pot-smoking, hard-living bluesman with an inexplicable (and influential) fondness for yodeling, and whose music and persona were deeply linked to black music and culture at a time when the whole nation, not just radio, was segregated.
Rodgers was a primitive American original who paved the way for similarly complicated, contradictory figures like Hank Williams, who famously learned how to play guitar from a black street musician nicknamed Tee Tot and howled the blues with feverish intensity, and Bob Wills, a charismatic bandleader, fiddler, and proto-hype man who perfected a frisky, dance-friendly fusion of country and jazz called western swing. From Willie Nelson (who recorded a reggae album, for God's sake) to Johnny Cash to Townes Van Zandt, many country icons revered black music and incorporated those influences into their own work.
G/O Media may get a commission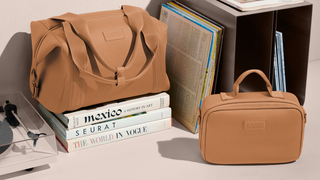 15% off
Dagne Dover Travel Kits
That was the tradition Gram Parsons embraced when he conceived of "Cosmic American Music," a polyglot style that seemingly encompassed the sum of American music. In the albums he released between The Byrds' 1968 masterpiece Sweetheart Of The Rodeo (which he masterminded during his brief but influential stint with the folk-rock super-group) and his 1974 solo swan song, Grievous Angel, Parsons brilliantly nullified the lines separating genres, subcultures, and races. It didn't matter if music were based in soul, funk, or jazz, the lowest honky-tonk or Carnegie Hall: It was all part of the same cosmic American trip for Parsons.
The riotous good-time music of Country Funk 1969-1975 is a product of this curious, glorious moment in musical history when dirty, long-haired country-rockers reclaimed hillbilly music from the slicksters who dominated mainstream country, refashioning the music in their own defiant image. It is a product of the same outpouring of ideas and originality that birthed the outlaw-country movement and the honky-tonk revival of the early '70s fueled by idiosyncratic geniuses like Gary Stewart and Merle Haggard.
Country Funk 1969-1975 captures country as it loosened up and channeled some of the raucous energy and groovy vibes of '60s counterculture. Dale Hawkins' "L.A. Memphis Tyler Texas" gets the album off to an appropriately thunderous start. Its virtuoso Southern-fried soul finds Hawkins playing the buoyant master of ceremonies, à la Bob Wills, as he pays tribute to the three cities where the song was recorded. "L.A. Memphis Tyler Texas" radiates infectious joy: Hawkins delivers every lyric with a big smile, positively purring, "Ain't no bum trip, man," as only a stone-cold square would mistake "L.A. Memphis Tyler Texas" for anything but a blast.
Geography is crucial to Country Funk. Like so much country music, it's obsessed with both the soul-nurturing comfort of home and the liberating freedom of the open road. "L.A. Memphis Tyler Texas" doesn't just rattle off the names of the cities and towns where it was recorded: It also roughly maps out the geographical parameters of country funk and cosmic American music: Los Angeles, the epicenter of country rock; big, weird Texas, a whole different kind of South than the states that border it; and Memphis, home of some of the South's most intense and inspired musical miscegenation. Note that Nashville is pointedly not one of the three cities listed and for good reason: It's synonymous with a rigid country-music establishment whose traditions these genre-hoppers were escaping.
The migration-versus-roots theme figures prominently in the next two songs, "Hello L.A. Bye-Bye Birmingham" and "Georgia Morning Dew," both of which pointedly contrast the earthy comforts of home with the exciting temptations of a Los Angeles that stood as a promised land for freaks, musicians, and musician-freaks, especially in the early '70s.
Country Funk delights in the earthy physicality that unites funk and country of the down and dirty, honky-tonk variety found here, from the full-throated adult sexuality of Bobbie Gentry's "He Made A Woman Out Of Me" to Jim Ford's ferociously committed "I'm Gonna Make Her Love Me." Country Funk reflects the tenor of the times in sociologically minded character studies like Mac Davis' "Lucas Was A Redneck," a vitriolic attack on small-town ignorance and bigotry, and Bobby Charles' "Street People," a guileless celebration of life on the fringes of a society held the counterculture in suspicion, if not outright contempt.
It's hard to pin down the particulars of country-funk because it's less a subgenre than a vibe, an adventurous spirit that saw connections and openings where others saw barriers and divides. Johnny Jenkins' fire-breathing, downright apocalyptic cover of Dr. John's "I Walk On Gilded Splinters" is so vast in its sound that it can hardly be confined to a subgenre even as slippery as country-funk. The song's malevolent majesty plays like the blustery bravado of Muddy Waters' "Mannish Boy" exploded to surrealistic levels.
"I Walk On Gilded Splinters" doesn't just mix country and funk: It mixes country, funk, psychedelic rock, dub, Eastern music, blues, and just about every other genre imaginable. It contains worlds in its thundering groove and earth-shaking intensity, but most people know it as one of the songs Beck sampled on "Loser," the breakout hit from 1994's genre-mashing Mellow Gold. That album proved that the wild spirit that pervades Country Funk 1969-1975 never died; it just mutated into weird new forms.
The only real problem with Country Funk is that there's only one volume, but that can be remedied. Surely there's at least a box set's worth of awesomeness in this overlooked subgenre. Country Funk unforgettably chronicles a moment and a movement long overdue for a revival while highlighting the furtively multi-cultural, freewheeling, and loose roots of a quintessentially American art form.