Sometimes, even The A.V. Club isn't impervious to the sexy allure of ostensible cultural garbage. Which is why there's I Watched This On Purpose, our feature exploring the impulse to spend time with trashy-looking yet in some way irresistible entertainments, playing the long odds in hopes of a real reward. And a good time.
Cultural infamy: A crime drama starring Robert De Niro and Al Pacino is predisposed to having a mammoth impact on pop culture, but Righteous Kill didn't exactly spawn quotable catchphrases and popular dorm-room posters when it was in theaters last year. That likely won't change now that the film is on DVD, though if "She's got my sperm level so low, I have to sit down to take a piss" turns up in a rap song, I'll stand corrected. As it is, Righteous Kill will likely be remembered as the forgettably mediocre third wheel to the other two unrelated De Niro/Pacino movies, The Godfather Part II and Heat. Our own Keith Phipps (whose ho-hum C- review was relatively kind, compared to the film's paltry Metacritic score of 36) rightly called Righteous Kill "a thriller that would have felt warmed over in 1988."
Curiosity factor: I was 99 percent sure going in that Righteous Kill was going to suck, based on the nearly unanimously bad reviews. (According to the Righteous Kill DVD box, only notorious pushover Larry King went against the grain, giving it "Four stars!") And yet, as soon as I saw this trailer, I knew I wanted to see it.
Note to America's ad wizards: If you want to sell your movie to Steven Hyden, include the following things in your trailer: Robert De Niro, Al Pacino, guns, and The Rolling Stones. Intellectually, I knew this trailer wasn't really selling me Righteous Kill, it was selling me my memories of Heat, Goodfellas, and The Departed. But I have really, really good memories of those films, and since 90 percent of movies are rehashes of other movies anyway, I'll gladly watch a rehash of some of my favorite flicks ever. Because, in spite of all the "Hoo-ahs!" and Meet The Parents movies and countless other embarrassments since the close of the 1970s, I'm still a sucker for De Niro and Pacino. I figured Righteous Kill wouldn't compare to the duo's towering classics—what does?—but if I liked City By The Sea and freakin' Two For The Money, I had a decent chance of enjoying Righteous Kill.
G/O Media may get a commission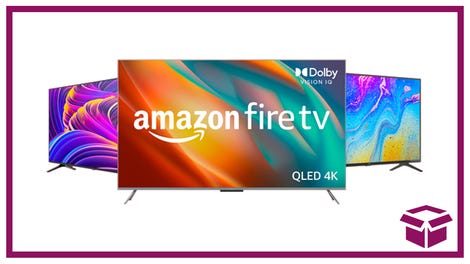 Ooh. stunning.
New Amazon Fire TVs
The viewing experience: Restless. The best part of Righteous Kill occurs before the title card, when we see close-ups of De Niro and Pacino shooting off big-ass guns at a firing range. That's three out of the four things I loved from the trailer, right there. Unfortunately, the rest of the movie is a slog. In case you hadn't noticed, Bob and Al are getting pretty old—65 and 68, respectively—and they probably would have gotten the gold-watch treatment in a real police department at least 10 years ago. Watching Righteous Kill felt a lot like working out with senior citizens—you see the beads of sweat on the leads' tanned, leathery faces, but for you, the experience is about half as energetic as it should be. What makes Righteous Kill seem even more geriatric is how hard it works to show how virile De Niro still is, whether he's running over whippersnapper John Leguizamo at the plate during an NYPD softball game, or banging Carla Gugino so much that he has to pee sitting down. The only thing keeping Righteous Kill from being the most expensive Viagra commercial ever is the missing scene where De Niro and Pacino sit side-by-side in matching bathtubs.
Righteous Kill begins with De Niro confessing to 14 vigilante murders committed by the "Poetry Killer," so named because he leaves poems describing his actions at the scene of the crime. As if killing people with a gimmicky flourish borrowed from a Morgan Freeman/Ashley Judd serial-killer movie wasn't bad enough, it's immediately obvious that De Niro isn't really guilty, which sets up Righteous Kill as a 100-minute guessing game where the only logical answer to "Who is the Poetry Killer?" is "Who cares?"
Righteous Kill takes place in the stock cop-movie universe where creeps and lowlifes beat the rap because of lenient, loophole-loving judges, forcing rogue lawmen to subvert the system in order to save it. This movie has been made a million times, but it still can be done well, with the kind of creativity and invention that Righteous Kill is sorely lacking. Instead, we get tired clichés that wouldn't make it past the first draft of a Law & Order script. Take this scene where a foxy lawyer is sent undercover to "score" some "primo" cocaine from a drug dealer named Spider, played by Curtis "50 Cent" Jackson. (Spider, as you may remember from Goodfellas, later gets shot to death after telling Joe Pesci to go fuck himself.) Nothing here feels authentic; the dialogue could have been lifted from any number of straight-to-video thrillers, including De Niro and Pacino's lame bantering about Underdog.
Screenwriter Russell Gewirtz also wrote Inside Man, a movie whose greatness I now credit solely to director Spike Lee. Inside Man works both as a clever genre film about a bank robbery, and as a funny human drama about how various ethnic groups come together to make New York City run more or less smoothly. The details Lee likely added to make Inside Man feel like it takes place in the real world are completely absent from Righteous Kill, which was directed by "I Watched This On Purpose" regular Jon Avnet. Instead of doing the necessary homework to make Righteous Kill feel genuinely gritty, Avnet assumes the audience isn't smart enough to see through the script's generic cop-speak and lazily sketched characters. So he presents us with another move from the cop-movie playbook, the "Boss calls the heroes on the carpet so they can crack wise" scene.
By the way [spoiler alert!], Brian Dennehy's line about the killer "standing right in front of you" is what your English teacher used to call foreshadowing.
Ultimately, the most disappointing thing about Righteous Kill is how utterly exhausted the stars seem. I expected the story and execution to be shopworn, but I hoped De Niro and Pacino would salvage the operation by indulging in some good old-fashioned scenery-chewing. Think of how much more entertaining that last scene would have been had Pacino jumped to his feet and said, "Brian Dennehy, you've got a GRRREAT ASS! AND YOU GOT YOUR HEAD ALL THE WAY UP IT!" Sadly, it seems like De Niro and Pacino were merely killing time between naps while making Righteous Kill.
How much of the experience wasn't a total waste of time? About 20 percent. I can't imagine De Niro or Pacino playing a cop again after Righteous Kill, so I was glad to witness the death rattle, no matter how boring it was.