There's a real overlap in sensibility between director and subject in the new documentary about the Fab Four. Ron Howard is a studio craftsman who specializes in crowd-pleasing entertainment, and his new film The Beatles: Eight Days A Week focuses on the band during their crowd-pleasing years: the era between 1962 and 1966 when they toured the world, delivering smiling and effervescent performances to throngs of shrieking fans. John, Paul, George, and Ringo had yet to rebel against the cheeky and appealing let's-put-on-a-show vibe of their public image, and that sense of upbeat energy fuses ideally with Howard's enthusiastic fan-service approach to the material. It's a testament to the buoyancy of the film that such exhausted, well-trod material can still feel fresh.
And make no mistake, there is absolutely nothing new under the British sun here, which isn't surprising for a Beatles documentary in 2016. This story has been told countless times, and Howard is smarter than to attempt anything but the lightest of dives into waters outside the chaos of the young musicians' lives during these hectic years. Instead, he's focused on crafting a fleet and bubbly portrayal of what it was like being the biggest band in history, and the near-religious levels of attachment engendered in fans, both for the music and the lads who created it. Again, this has been done before, and to greater depth, in film and literature alike. (The Maysles' What's Happening! The Beatles In The U.S.A. covers similar ground, with those masters of the form capturing little moments and minutiae with which Howard dispenses.) So the In The Heart Of The Sea director plays to his strengths, and fashions a documentary intent on rivaling the ebullient fizz of the fictional A Hard Day's Night—more rollicking travelogue than a thoughtful nonfiction examination of his subjects.
Some devoted fans may roll their eyes at yet another portrayal of the wild-and-crazy lifestyle and cultural upheaval that engulfed the band during this period, but part of the movie's crafty ploy is how it offers up something for everyone. For casual Beatles fans (or those younger viewers who may not know much about either the group or its history), Eight Days A Week provides a compelling and often infectiously fun journey, watching as the band explodes in popularity, first in its native continent, and then America soon after. All the expected shots are there, with generic footage of early '60s Americana—all sun-dappled beaches and booming adolescent population—paired with the mania that greeted the guys everywhere they went: screaming girls, hapless security, and mad dashes to and from cars, hotel rooms, and press conferences. The movie makes a good case for being the cinematic equivalent of the band's first Capitol Records American release: Meet The Beatles!
But more experienced and knowledgeable devotees will still find pleasures both expected and surprising. For the die-hards, there's a wealth of rare and unseen concert footage on display, from rough clips of the group's earliest days in sweat-drenched Liverpool clubs, to grainy shots of them performing in Australia, Sweden, and elsewhere. Unless you're academic in your study of them, it's hard to know which of these live videos is new, and it doesn't matter much, anyway; the fun lies in Howard's assured interlacing of the hothouse atmosphere of these shows with interviews, both of the surviving members and older footage of John and George. (This might be the only Beatles doc in history to give John Lennon the least screen time.) Other first-person accounts range from longtime Beatles aficionado Larry Kane, whom the group's manager Brian Epstein invited on tour with them in 1964, to fan-only recollections from people like Whoopi Goldberg, who describes the impact the band had not just on music, but her worldview ("I felt I could be friends with them… and I'm black!") And even these stories contain jolts of the unexpected: One of Howard's most delightful coups is managing to dig up a very particular shot from the band's Hollywood Bowl performance, in 1964, so that when Sigourney Weaver finishes telling of her obsession with the group during that time, the film cuts perfectly to a clip of her as another anonymous screaming fan at the concert.
G/O Media may get a commission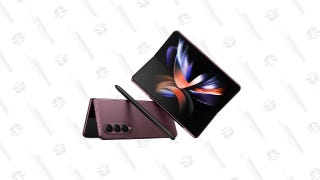 Save Up to $300
Galaxy Z Fold4
In keeping with his frothy focus on the band's golden years of sunny outlooks and madcap adventures, the camera and narrative never dig much below the surface, until The Beatles' pent-up frustration with life on the road finally reached its apogee in 1966, during the band's final tour. Small glimpses of darkness behind the scenes pop up sporadically—Kane notes that when he visited the band during the filming of Help!, they were already heavily into marijuana—but these detours from the chaos and youthful freneticism of their all-for-one attitude at the time are minimal. Howard wants to evoke a mood, not unearth a story, and his film does an excellent job of pulling the audience into that moment in time, capturing the freewheeling sense of abandon that greeted four young men who didn't yet realize how much of the world culture they had conquered, nor just how legendary they would become.
(The film is paired with a 30-minute remastered version of The Beatles' 1965 Shea Stadium performance, a long out-of-print concert documentary that captures the group struggling to overcome the enormity of the physical space while still delivering an energetic concert. It makes for a charming—albeit unnecessary—coda.)