Of all of the staple maxi challenges on Drag Race, the makeover is the one with the greatest potential for emotion, fun, and discovery. It centers on transformation and connection, the contestants showing their non-drag-queen partners a new side of themselves and sharing with them a taste of what it means to walk in their stilettos. The trouble is that, with all 10 previous seasons of Drag Race and three of the four All Stars seasons featuring a makeover challenge, it's easy for these episodes to get repetitive. In the past, RuPaul and the producers have tried to shake things up by getting creative with the normie casting—the crew makeover in season nine worked brilliantly—or by throwing other gimmicks in with the makeovers, like the season seven conjoined/returning queen makeover. This season, they once again bring back eliminated queens to be made over. Though this sacrifices the element of discovery or introduction, there's promise in the idea, zooming in to highlight various styles of drag and just how different a queen can look, depending on who's making them up. Unfortunately, the episode doesn't particularly explore this, focusing instead on rehashing tired workroom drama and ultimately delivering the least engaging, least satisfying makeover so far.

The episode begins as the queens return from Vanjie's lip-sync against Shuga. Vanjie's trying to shake off being in the bottom again, but it's Silky who gets the most screen time. A'keria asks how she's feeling after being read by the judges, and for the first time, Silky seems to be really taking in what the judges are saying. For once the confident Silky is embarrassed, and she knows she's in a precarious position. Nina, on the other hand, is on cloud nine after her much-deserved win. She's reveling in the emotion of the moment, but also focused on making it to the finale. There are still a few episodes to go, and as Nina says, each of the top six are ready to fight for their spot in the top four.
The next day, after everyone (except Yvie) prances into the workroom, Ru comes in to announce the return of recent fan-favorite mini-challenge Slap Out Of It. Ru has learned from her accidental actual physical contact with Asia in season 10 and will not be participating, so instead the queens will fake slap each other. Each queen will take a turn as the slapper, with their fellow competitors coming up one at a time to improvise a read or otherwise provoking them, and then sell their slap. The queen with the best reaction—whether as slapper or slappee is not specified—will win. Slap Out Of It was a hoot in season 10, and it's just as fun here. The queens go for it, and many of the reads that make the final edit are better than what the queens pulled out for the Reading Is Fundamental mini challenge. The queens all do well, but Brooke is particularly entertaining and Ru declares her the winner.
It's time for the maxi challenge. This season, the queens will be making over six of the previously eliminated queens in their personal house styles. Unlike in season seven, the eliminated queens will not be rejoining the competition, and they are not there to help sew or paint. The top six need to do all the work themselves. As the winner of the mini challenge, Ru tasks Brooke with pairing the queens, and she mostly puts queens together that have at least one or two touchpoints. Brooke chooses fellow pageant queen Plastique for herself, then puts Shuga with Nina, Scarlet with Yvie, Honey with A'keria, Soju with Silky, and Ariel with Vanjie. Shuga and Nina have worked together well in the past, Scarlet and Yvie are both tall and slender, Honey and A'keria are drag cousins already, and Ariel and Vanjie have a similar confident, bold energy to their drag. The one oddball pairing is Silky and Soju. Silky, A'keria, and even Ru call shade, but Soju's drag isn't particularly similar to any of the remaining queens' aesthetics, and Ru knew that when choosing which queens to invite back. It's no coincidence that Soju is back to be paired with the pageant-heavy lineup of the top six and not Kahanna, Mercedes, or Ra'Jah.
G/O Media may get a commission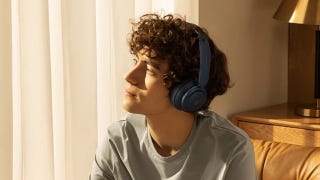 30% off
Soundcore Headphones and Earbuds
Right from the jump, Ariel asks after the wigs she left behind, explaining why viewers were treated to so much wig drama earlier this season. Vanjie tries to steer Ariel back on track, but this is not the last the audience will hear about Wig-gate 2019. Scarlet is back to strutting around the workroom, working Yvie's denim headpiece and being her goofy, entertaining self, but the main narrative threads are Vanjie putting her head down and doing the work, tailoring Ariel's dress and making sure she does right by her drag sister, and Silky reacting to Soju. This is the most relatable Silky has been in a long time, her underdog edit getting a strong assist from Vanjie's terrific talking heads and reactions. Thankfully, Soju gets a moment of relatability herself, as she reacts to finding out she'll be getting the Sharpie treatment from Silky.
Soon it's time for Ru's walkthrough. We're down to a top six, but even in an episode as padded as this one, only four of the six queens' interactions make the cut. Ru stops by A'keria and Honey's station first, curious how their two branches of the Davenport drag family tree are related. Then he moves over to Brooke and Plastique, focusing their discussion on Brooke's pairing of Silky and Soju. Silky and Soju are up next, and Ru continues the thread from the opening scenes of the episode, asking how Silky will respond to the critiques she's been getting. She seems to not understand or process what Ru's saying, and Ru is shocked that Silky doesn't have a stronger grasp on what she needs to fix—layering more tights to smooth out her pads. Last are Nina and Shuga. Nina has brought pride-themed looks for the makeover, putting herself in a rainbow flag-inspired ensemble, and Shuga in the trans flag. The description doesn't sound all that promising, but Nina is confident and for once, Ru and the producers hold back. They let A'keria's talking head guide the audience reaction to Nina's concept, instead of having Ru underline the looks' potential issues.
The next day is when the episode pivots from middling to frustrating. Day one had some fun moments, the mini challenge was a blast, and it's always nice to see eliminated queens return. Day two is something else entirely, and it begins with A'keria stirring the pot—or as she prefers, clearing the air. She brings up Ariel's wigs, looking for a final verdict on whether Ariel left the wigs specifically for Plastique, as Plastique had assumed. Ariel clarifies that it was a mistake, but that Plastique was her best friend in the competition. That's not enough for some of the queens, though, who seem intent on embarrassing Ariel and Plastique. Of course Ariel wants her wigs back. They're expensive, and everyone there knows it. And making her spell out that she didn't leave the wigs as a present and gesture of solidarity with Plastique is harsh, to say the least. Instead of letting Ariel and Plastique back out of the wig drama gracefully, they're dragged through it again, and it's not a good look for the other queens.
Then there's Scarlet's comment from the previous day that she was most surprised to see Silky and Vanjie still in the competition. When A'keria asks her about it, Scarlet cops to what she said, and unsurprisingly, Silky is upset. Vanjie's not thrilled either and she gets her two cents in, but it's Silky who pushes Scarlet to elaborate on why she expected Silky to have been eliminated by now. The whole exchange is tiresome and goes on far too long. After a while, Yvie steps in to defend her partner Scarlet and that only escalates things. The camera cuts from one irritated and awkward reaction to another; the other queens are over this and would like to move on. Eventually, Shuga chimes in and diffuses the situation, delivering another quality talking head, but it takes what feels like ages to get there, weighing down the entire middle section of the episode.
At long last, it's time for the runway. Category is: Drag Family Values. Yvie and Scarlet come out first, wearing denim ensembles, denim wigs, and even denim nails. Scarlet does well mimicking Yvie's energy, Yvie did a good job with Scarlet's makeup, and the pair look pretty good. Next are Nina and Shuga, and they are loud. In Nina's defense, they are both very Nina West—Shuga does a terrific, loving impression—but the outfits don't look particularly great, Shuga's makeup is only okay, and the wigs are bad. A'keria and Honey walk next, and while they're not particularly inspiring, they look good. There's a definite family resemblance, but as is always disappointing in these makeover challenges, A'keria looks decidedly better than Honey. The next pair is Silky and Soju, and they are immediately the bottom pair. Silky took the design element of the challenge to heart and sewed new looks for both herself and her partner, but that wasn't a required aspect of the challenge, and her time would have been better spent tailoring pieces that were more finished. Soju's makeup is rough and Silky's padding is again lumpy. It's a poor showing. Vanjie and Ariel, on the other hand, look fantastic. More than anyone else, Vanjie nailed her partner's makeup and created a distinct, House of Vanjie look completely different than the face Ariel would have painted for herself. Last are Brooke and Plastique, who look impeccable in matching gowns. Brooke also nailed Plastique's makeup, and they include a comedic bit in their walk that the judges eat up.
After going down the line and giving their critiques, Ru asks that dreaded question: Who should go home? The runway is split between two choices, Yvie and Silky, with most of the queens choosing Silky. Both Yvie and Silky take this like champs on the runway, though they're clearly affected, but after the judges deliberate, it's not Yvie who winds up in the bottom with Silky. Brooke gets the win, A'keria and Vanjie are safe, and Yvie is towards the bottom, but it's Nina who will be lip-syncing against Silky. As the returning queens comment, watching on a TV in the back, neither Nina nor Silky have lip-synced yet on the show. The previous pair of first-time lip-syncers this season were Yvie and Brooke, and they tore down the house.
Alas, Nina and Silky do not repeat their performance. Their take on TLC's "No Scrubs" is, well, it's just bad. The energy is all wrong. Nina looks awkward, though she's trying. Silky does a completely random wig reveal as well as a poorly conceived and ill-timed split, before completely covering her face with her long ponytail. This could have been a double sashay, and it would have been deserved. Based on their makeovers, Nina should be safe, but Ru is the arbiter of who stays and goes, and she still sees star quality in Silky, so it's Nina who's sent packing. This is the second shaky episode in a row, and one of the least inspiring lip-syncs of the season. A handful of episodes remain, but these queens need to step up their game for the season to regain its momentum. For now, we bid a fond farewell to Nina West, a charming, talented queen who will hopefully be back for All Stars soon.
Stray observations
One of the least satisfying aspects of this episode is Ru's decision to give Brooke the win over Vanjie. The queens in the back weren't the only ones who expected Vanjie to get her first win. Vanjie deserved it, but even just narratively, it would have been far more impactful to see her hard work pay off with a win after being in the bottom the last three episodes, and lip-syncing in the last two. Brooke's been high or won most of this season. She doesn't need another win yet.
Lena Waithe and Wanda Sykes are fun guest judges and Wanda in particular hands out some strong critiques.
We're down to our final five: A'keria, Brooke, Silky, Vanjie, and Yvie. Have there ever been three pageant queens in the top five before?
Apparently Anne Hathaway is a Drag Race super-fan. Maybe she'll pop up as a guest judge next season.