Shows like Saturday Night Live sometimes pay a steep price for access to top newsmakers and super-duper big-name celebrities. When I interviewed Colin Quinn a while back he groused that the star-crazy comic institution's habit of inviting the people they spoof on for silly little meta-cameos was proof of Saturday Night Live's satirical toothlessness. In Quinn's mind it was a way of saying, "Just fooling. No harm intended. We're just a bunch of joke monkeys makin' mischief. Don't take us seriously."
Yet Saturday Night Live can surprise us with unexpected displays of testicular fortitude. I feared the worst when it was announced that Sarah Palin would be appearing on Saturday Night Live but watching the cold open for last weeks' show again I was impressed by its ballsiness.
Tina Fey and the show's writers didn't pull any punches in portraying Palin as an arctic ditz way out of her league and John McCain as a crabby old troll. I loved the incredibly venomous way Alec Baldwin spat out the words "that horrible woman" to describe Palin with her standing a mere foot away. But the most damning line in the entire sketch was given to Palin herself when she guilelessly offered that Stephen "The dumb crazy Bio-Dome one" was her favorite Baldwin. Criminy, Stephen isn't even Jesus' favorite Baldwin, and those two are best buds. I'm not even sure Stephen is even Stephen Baldwin's favorite Baldwin and that guy has quite the ego.
G/O Media may get a commission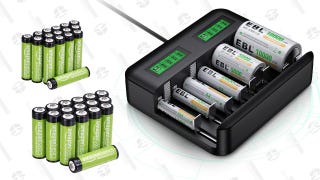 I think it's safe to assume that Stephen Colbert raised the stakes for close-combat satirical warfare with his legendary performance at the White House Correspondents Association Dinner. After Colbert tore the President a new asshole while standing a foot away from the leader of the free world the whole, "I had to go easy on the guy, he was sitting right there. Besides, he's the President, for Chrissakes" copout rationale just didn't cut it anymore.
What does any of this have to do with the Hugh Hefner-hosted third episode of Saturday Night Live's third season, beyond a transparent desire on my behalf to drive up the comment count by referencing folks readers actually care about? Good question. With today's episode of Saturday Night Live, I was hoping that the show would satirize Hefner the way it did Palin, that it would mercilessly lampoon the legendary pajamas enthusiast as a lecherous sexist horndog callously exploiting women.
Ah, but Saturday Night Live came not to bury Hefner but to praise him. The show's attitude was less stinging and trenchant than respectful to the point of fandom/idol worship. In his opening monologue Hefner sings the eternally creepy "Thank Heaven For Little Girls" while a crawl limply argues that Hefner is actually a very religious man and could very well have become a missionary, a position he knows all about. Later, a short film argues that all Hefner wanted to do was be a normal guy leading a conventional life but was tragically trapped in a libidinous lifestyle of non-stop sex, fame and incredible wealth. The whole "poor Hef, he gets laid all the time and is rich beyond his wildest dreams" gag is as spineless as it is unfunny.
A sketch called "Planet of the Men Vs. Planet of the Women", meanwhile, coasted on an endless parade of double entendres and winking innuendos. Not surprisingly, Hefner didn't figure prominently in the show's funniest sketches. In a subversively feminist sketch chockablock with the incisive social commentary sadly missing from the "Ain't Hef great?" portions of the show, a wonderfully narcotized Jane Curtin shilled for a product called Angora Bouquet, a soap with hundreds of tiny tranquilizers that leave women beautiful, docile and devoid of depth or substance, because "good looks and complex human emotions just don't mix".
Later, Bill Murray played a gloriously smarmy mourner who transforms a eulogy for a dear, dead friend into a hilariously cheesy magic routine in "Magical Eulogy", John Belushi transformed a tranquil music-appreciation lesson into a ranting, raving, over-the-top master class in go-for-broke physical comedy in "Listening to Great Music" and Dan Aykroyd and Murray busted heads as "X-Cops", Dirty Harry types who kill pot-smoker Belushi and frame his girlfriend (Curtin) for his murder.
Andy Kaufman returned triumphantly to 30 Rock to perform three of his classic bits. He began by channeling his inner child with an exuberantly awful performance of "Oklahoma" augmented by "tap-dancing" that amounted to little more than awkwardly shuffling his feet in place. He segued to an audience sing-along to an old children's song, a bit he started doing while playing children's birthday parties as a teenager and topped it off with some Elvis. So there was a lot of great stuff in today's episode, even if the host was dead weight. It wasn't great satire, necessarily, but then funny forgives an awful lot and there was an awful lot of great material in today's show.
Grade: B Stray Observations– –Tonight's musical guest, Libby Titus, is totally married to Steely Dan's Donald Fagen. I so totally did not know that –I liked the bit on "Weekend Update" where an NBC tour is led through the set and one of the tourists asks where Chevy Chase is. –Is it just me or does Hugh Hefner seem strangely timeless? –Next week: Grodin!