Yesterday the Trump administration's Muslim ban was delivered a heavy blow as a federal appeals panel unanimously rejected its reinstatement. This inspired the inevitable stupid tweet from the commander in chief, and sets the stage for the sort of climactic battle that is the reason he applied for this stupid job in the first place. (It is also a moment for which the ACLU has been duly prepared.)
Echo Kellum on "Grand Crew," "The Rehearsal," and more
The crucial first interview after this ruling with White House Press Secretary Sean Spicer was given to the glorious official news outlet of the Trump administration, Breitbart News. Conducted by a boy in a suit named Charlie Spiering, it is a glorious two-minute comedy of errors, with production qualities rivaling the cringe-inducing crap cinema of Fateful Findings, A Talking Cat!?!, and even The Room. It is worth discussing in its entirety.
The film begins with several seconds of dead air. Spiering's got some jitters—that's fine, it happens—and he fumbles the first question, which is this hardball: "Sean, what can you tell us about this." Spicer proceeds to answer in his usual tone of "your friend's dad with the stressful job," but the immediate star is the cameraman. The interview is shot first with a fish-eye GoPro seemingly set 15 feet from the table where the subjects are sitting. The focus is as much on the empty chairs and the window drapes as it is Spicer and Spiering.
There is a second camera set up to capture both of them for close-ups, but it appears to have been split in two to give each reaction shots. They're too close together to pull this off, though, so even when it's Spiering's close-up, Spicer appears in frame, creating a hallucinatory doubling of his face.
G/O Media may get a commission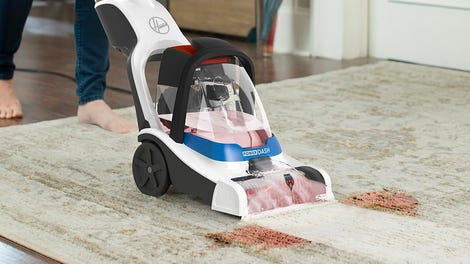 26% Off
Hoover PowerDash Pet Compact Carpet Cleaner
The camera lingers on Spiering, as if asking the viewer to dwell in his nervous moment. The two are barely audible, but even if you turn your speakers up to full blast they're drowned out by the room sound, an ominous drone presumably created by the large vat of fuchsia liquid in which Steve Bannon is lowered, fully nude, each night.
Then shit gets extremely real. Perhaps because of this audio problem, the camera is picked up and shoved directly in Spiering's face. Gizmodo's Ashley Feinberg captured the moment in a helpful GIF.
This is also when Spiering asks his second question, the Murrow-esque, "And looking back do you feel like possibly the administration should have waited before they implemented this executive order, or—?" Perhaps this piqued Spicer's always-nimble outrage generator system, or perhaps it is just because the camera is now shoved in his goddamn face, or perhaps it is just time for his nightly gumming, but Spicer at this juncture rounds into his petulant "this interview is over" tone, exhausted at Spiering's insolent follow-up. Spiering nods enthusiastically as he is yelled at.
The final three shots will be puzzled over by scholars: Spiering gazing into the camera, half of Spicer's face, and then a chilling final image as Spiering gazes into some far-off abyss. Again, a helpful GIF:
That midnight nowhere in his eye is called the future, and we are tumbling toward it.