Kenneth Branagh has dedicated so much of his career to Shakespeare—directing and/or starring in adaptations of Henry V, Much Ado About Nothing, Othello, Hamlet, Love's Labour's Lost, and As You Like It (and that's just on screen)—that his decision to play the man himself feels not just right but inevitable. Of course, we already have an Oscar-winning drama imagining the Bard's personal and professional life, so there was little point in rehashing the early years; plus, Branagh, who was still under 30 when he took on the mantle of The New Olivier, is now 58, which is six years older than Shakespeare lived to be. The only practical option was Shakespeare In Retirement, though Branagh and screenwriter Ben Elton chose to borrow Henry VIII's alternate title, All Is True. Is it all true? Almost certainly not, but the story conforms reasonably well to the few known facts, and—more important—generally feels like a plausible account of what might happen when a man who's spent most of his life away from his family finally returns to them.
Well, to most of them, anyway. Shakespeare's only son, Hamnet (yes, Hamnet), died in 1596, at age 11; nothing whatsoever is known about the circumstances, but All Is True hypothesizes that a playwright as celebrated and busy as Shakespeare, effectively living alone in London at the time, would have chosen to bury himself in work. Now, arriving home in Stratford following the destruction of the Globe Theatre (which burned to the ground in 1613, three years before Shakespeare's death; that's also the last possible date for any of his plays), he's finally ready to mourn Hamnet's loss. Understandably, his wife, Anne (Judi Dench), and his surviving children, Susanna (Lydia Wilson) and Judith (Kathryn Wilder)—the latter was Hamnet's twin—aren't thrilled with the idea of Dad selfishly dredging up their grief 17 years later. On top of which, both daughters become enmeshed in present-tense scandals, with Susanna publicly accused of adultery and Judith's new husband discovered to have fathered a child by another woman. (All is true!)
That's more than enough intrigue to ensure that this film doesn't seem as strangely pointless as The Happy Prince, last year's depressive dramatization of Oscar Wilde's final years. Though Elton is best known as a titan of British comedy (The Young Ones, Blackadder), he's also written over a dozen novels, in various genres; here, he fashions a surprisingly potent melodrama about the lingering resentments of multiple women who've had to fend for themselves most of their lives while their celebrity husband/father was elsewhere. Relative newcomer Kathryn Wilder gives an especially fiery performance as Judith, who's been permanently wounded by how little attention Dad paid to her (especially compared to Hamnet), and now speaks exclusively in an acid tongue. Some of the film's heated arguments come across as anachronistic—there probably wasn't quite this much overt proto-feminism in 17th-century England—but the emotional dynamic is nonetheless both credible and engrossing. Elton even invents a satisfying solution to the famous mystery of Shakespeare's will, in which he cryptically bequeathed to Anne his "second-best bed."

G/O Media may get a commission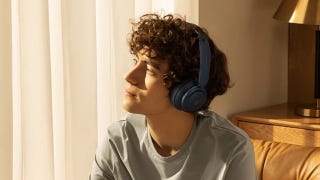 30% off
Soundcore Headphones and Earbuds
As for Branagh, his Shakespeare comes most fully to life when he's quoting himself, which seems apropos. Elton wisely doesn't attempt to write Elizabethan dialogue, which could only have suffered by comparison to the original; the characters instead sound as if they inhabit the early 20th century, as memorialized by its wittiest authors. Branagh has always suffered from a tendency to mug when playing comedy (his performance in Peter's Friends should really have been credited to "Kenny Branagh"—he acts like a Kenny in it), and there's a fair bit of that broadness in his Bard. Midway through the film, however, Shakespeare receives a visit from his patron, the Earl of Southampton (Ian McKellen), and All Is True briefly ascends to a higher level. It's long been speculated that the Earl is the "fair youth" mentioned in Shakespeare's sonnets, with some suggesting a love affair between the two, or perhaps unrequited love on Shakespeare's part. Elton embraces this theory, and the moment in which Shakespeare declares himself by reciting one of the sonnets aloud, with burning intensity, serves as a welcome reminder of Branagh's uncanny ability to make iambic pentameter sound extemporaneous, even as he retains all of its poetic grandeur. This duet is so gorgeously ardent, in fact, that it threatens to undermine the movie's emphasis on Shakespeare's forgotten family. Solid, creative melodrama is nothing to sneeze at, but it can't compete with enduring genius.