Here's what's happening in the world of television for Sunday, January 28. All times are Eastern.

Top pick
Shameless (Showtime, 9 p.m.): Last week, reviewer Myles McNutt despaired, "Look, we don't know what the hell Shameless is doing either." His reviews for season eight have hovered in the B/C range, so he'll likely find this finale a bit of a relief. After all, he called last week's episode "an hour of television that frustrated me immensely… Rather than looking forward to how these stories will resolve next week, I will be tuning in wondering if they will ever get around to justifying the existence of about 90 percent of what the show has been doing in the back half of this season." Myles is a trooper, so join him tonight for a hopefully more positive rant about Shameless' last episode of the season.
Regular coverage
Star Trek: Discovery (CBS All Access, 8:30 p.m.)
The Chi (Showtime, 10 p.m.)
Divorce (HBO, 10 p.m.)
G/O Media may get a commission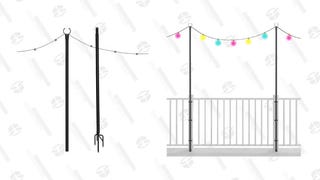 Up To 49% Off
Holiday Styling String Light Poles
Wild card
The Grammys (CBS, 7:30 p.m.): Sure, James Corden is hosting, so that's hard to get past. But with performances scheduled for multiple nominee Kendrick Lamar, Lady Gaga, Pink, and Sting, as well as matchups like Miley Cyrus and Elton John, Bruno Mars and Cardi B., and Emmylou Harris and Chris Stapleton, as well as tributes to Chuck Berry, Fats Domino, Leonard Bernstein, and Andrew Lloyd Webber, fans of any and all musical genres should find something worthwhile to check out in the 60th Grammys broadcast. The A.V. CLub's intrepid Sam Barsanti will be keeping track of all the winners and show-stoppers.