Visiting Nashville as the climax of my two-year "Nashville Or Bust" journey, I oscillated between reverence and irreverence, and between wide-eyed wonder at the country's legendary past and vague embarrassment at the kitschy excess of its present. Depending on the block and your disposition, Nashville is either sacred ground consecrated by sanctified sufferers like Johnny Cash and Hank Williams, or Nash-Vegas, a glitzy tourist trap peddling a cartoon caricature of country as the exclusive domain of moonshine-swilling hillbillies.
Two years ago, I came to country music as an enthusiastic outsider hunting for the music's immortal soul. It's been a long, bumpy, circuitous trek that took twice as long as I had anticipated. But by the time I touched down in Nashville in mid-March, I had made a remarkable, even miraculous transformation from enthusiastic outsider to enthusiastic outsider in love with country music.
I would like to think I went to Nashville as a pilgrim on a holy mission, but I was really there as a fan, and have the cheesy souvenir photographs of myself to prove it. There's something strangely liberating about just being a fan. The Internet tends creates hierarchies of acolytes, with obsessives and experts on the top and dilettantes at the bottom. But I wasn't in Nashville as a pop guru; I was there as a wide-eyed tourist.
There are at least two Nashvilles: the Nashville of the past, a realm populated by ghosts and steel-willed survivors who take to the stage at the Opry deep into their seventies and eighties (or, in the case of "Little" Jimmy Dickens, nineties), and the Nashville of the present, a company town devoted to churning out an endless stream of clean-cut instant superstars with blinding smiles and publicist-crafted personas. Sometimes these two Nashvilles collide in ways that border on surreal, as when the aw-shucks announcer at the Grand Ole Opry stops performing live commercials for Bass Pro Shops to announce that the Opry is proud to unveil its first iPhone app, or when a trip through the hallowed halls of the Country Music Hall Of Fame ends with a video showing how Taylor Swift used the editing software on her laptop to make a homemade music video in which she and her band dressed like Kiss.
There's the dusty, musty, weather-beaten old Nashville of legend and the antiseptic new Nashville of today, so perhaps it's fitting that upon touching down in the Holy Land, I visited two very different incarnations of a Nashville institution: Tootsie's Orchid Lounge. At the airport, I ordered a screwdriver at a blindingly shiny franchise of the nightclub where Roger Miller, Willie Nelson, Tom T. Hall, and Kris Kristofferson all downed uppers and whiskey and wrote songs that would resonate through the ages while serving rough-hewn apprenticeships as starving singer-songwriters. The airport location was Tootsie's in name only, a generic bar that could just as easily have been a Hooters or Jimmy Buffett's Margaritaville outlet.
G/O Media may get a commission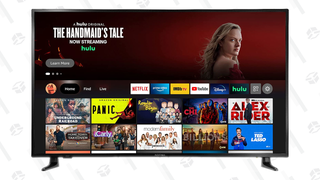 38% Off
Insignia 50" 4K UHD Smart TV
I was relieved to discover that the actual Tootsie's remains a bona fide shithole honky-tonk, the walls festooned with the headshots of the legends who worked, lived, and loved between its walls. It was a Thursday night, and there were two bands playing primarily covers simultaneously at opposite ends of the two-story bar as drunken middle-aged women wearing way too much make-up and way too few clothes gyrated drunkenly on top of speakers and the female lead singer drawled, "Do y'all like Carrie Underwood?" to inebriated woops. Tootsie's Orchid Lounge may be a brand name at this point, one of the most potent in Nashville, but it's good to see it's still one associated with dreamers trying to make their way in a fiercely competitive business against long odds.
The relentless professional striving upward of the folks onstage at Tootsie's and off gives Nashville a simultaneously hopeful and poignant energy. The air is thick with ambition, along with ambition's running buddy, crushing disappointment. Just outside Tootsie's the next day, a towheaded 10-year-old with haunted eyes sang Jimmie Rodgers songs and accompanied himself on fiddle while an older gentleman—whom I hope was his father and not some sort of sinister Fagin-like exploiter—smiled indulgently. It was child labor at its most adorable.
The next day, I visited the Country Music Hall Of Fame, where T-shirts, signs, and hats commanded pilgrimourists to "Honor Thy Music" as they walked through exhibits commemorating country's ancient roots in the folk-music traditions of the American South and its tumultuous history. It's a lovely museum that captures country's hardscrabble substance and blinding style. As in hip-hop, country's glorification of both early poverty and later wealth are inextricably intertwined: It's all about commemorating the dirt-poor-to-filthy-rich trajectory as dramatically and flamboyantly as possible. Country's preeminent icons have such strong personas that they're recognizable from their clothes alone: No one could possibly confuse one of Hank Williams' long, tall suits with one of Porter Wagoner's rhinestone-studded Nudie monstrosities, or Minnie Pearl's thrift-store chic with Dolly Parton's drag-queen hyper-glam.
When it comes to mind-boggling displays of materialism, the Diddys and Kanye Wests of the world have nothing on Webb Pierce or Elvis Presley. It's one thing to read about Pierce having a custom-built convertible decorated with horns, pistols, holsters, little silver horses, and thousands of silver dollars in a book; it's another matter to contemplate such a gloriously preposterous creation in person. Pierce's vessel of ultimate awesomeness—the only way it could be cooler would be if Nicolas Cage had driven it in Drive Angry—accomplishes the formidable feat of completely upstaging Elvis' gold Cadillac and gold piano. (For that added touch of comically over-the-top excess, crushed diamonds were mixed in with the gold used to paint both the piano and car.) No small feat for a country boy.
But it isn't all pimped-out rides and gold-plated instruments at the Hall Of Fame. The museum does justice to country's roots as the white man's blues. I was particularly struck by a Merle Haggard quote that accompanied an exhibit on Jimmie Rodgers:
[Jimmie Rodgers'] music was newsworthy. It was about the depression. It was about the blues of the people that lived during that Dust Bowl. And I thought it was for me. Jimmie Rodgers was one of the best newscasters of all. He did it all in key.
Chuck D famously called hip-hop CNN for black people. For Merle Haggard, Jimmie Rodgers was Walter Cronkite.
There are many pictures of country singers with presidents, movie stars, and visiting dignitaries in the Country Hall of Fame. Hell, an exhibit on Tammy Wynette seemed to consist of nothing but pictures of her with presidents, movie stars, and visiting dignitaries, along with a recreation of her closet at the height of its Imelda Marcos-level glory. But for me, the genius of country is that it isn't for presidents or titans of industry. It exists so that a 15-year-old Merle Haggard might feel a little less alone in the world, so that he could be comforted and excited and exhilarated by the words, sounds, and ideas of a dead man he'd never meet from a time he'd never experience firsthand.
The next morning, I set out on a tour of Studio B, the recording studio that bills itself deservedly as "The House Of A Thousand Hits." The studio is most famous for playing host to some of Elvis' most famous sessions, but it's also seen the birth many other artists' hits. As part of a running quiz, our boundlessly enthusiastic guide asked if any of us could name the hit Gary Stewart had recorded at Studio B. When he announced, "She's Acting Single (I'm Drinking Doubles)" everyone started laughing uproariously. I wanted to shout out, "It's not funny! I don't care how amusing the title might be, that's the saddest fucking song in the world! The man who recorded it was in pain! Terrible, terrible pain! He shot himself in neck, for fuck's sakes!" but thought better of it.
I wanted to hear more about Gary Stewart, but we quickly made our way into a room where Elvis recorded "Are You Lonesome Tonight?" in a single take. The guide turned off the lights and put on the song and I got goosebumps. Hearing that song in such a hushed cathedral of sound was a spooky, overpowering experience. I wanted to live in that moment forever, to shut my eyes and collapse the world so that it was just me and that song, that sound, that feeling, but my reverie ended abruptly when the guide turned back on the lights, sending me hurtling back to earth.
On Saturday, I set out for the Grand Ole Opry. I wasn't sure exactly where it was, but I was disappointed that when I asked how to get to Grand Ole Opry, nobody took the bait and answered, "Practice, practice, practice!" At a restaurant that catered to "professional drivers" (y'all might know them as "truckers"), the nice fiftysomething woman behind the counter told me it was about eight miles away.
"So it's quite a schlep, it sounds like?" I responded. When she looked at me blankly, I clarified, "It sounds like it's still a whiles away, then. It sounds like it's pretty far," to which she nodded enthusiastically. I bring this up only because it's the only time the whole weekend where I felt even a little like a fish out of water. Otherwise, it didn't matter that I came to country as a middle-aged Jewish hip-hop critic from Chicago. Sure, I may have come to the genre with a different set of life experiences than most, but I fell in love with the genre for the same reasons everyone else does: I relate to it on a profound emotional level. Sure, it might speak to me with a slight twang, but it speaks to me all the same.   
For Nashville Or Bust's thrilling conclusion, I decided to embrace my inner tourist. So when my backstage tour of the Grand Ole Opry House began with an offer to pose for a cheesy souvenir photograph, I eagerly partook. Though the Opry now splits its time between the Opry House and Ryman Auditorium, Country's Mother Church, there was nevertheless a sacred feel to the building. After the photographs were snapped, we watched a video chronicling how the Grand Ole Opry House was restored to its former glory after a flood of appropriately biblical proportions devastated Nashville last summer. Of particular importance to the Opry was a wooden circle transported from the Ryman Auditorium and placed in the middle of the stage at the Opry House so that performers would literally still be performing on the sacred ground where Bob Wills and Hank Williams and Johnny Cash all performed before being kicked out of the Opry for drunkenness and bad behavior.
The tour climaxed with our Southern belle of a tour guide offering to take pictures of us on the sacred circle. I was so mesmerized by the experience that I lingered in a dream-like state, looking down at that wood, and accidentally ended up lurking in the background of someone else's family photograph.
The Grand Ole Opry is country music's ultimate clubhouse. Clubs exist primarily for two reasons: to include and exclude. At best, the Grand Ole Opry's old-school, conservative aesthetic helps preserve country's past and keep legends in the public eye long after their hit-making days draw to a close. At worst, Grand Ole Opry's old-school, conservative aesthetic discourages ambition, innovation, and progressive thinking. It's the reactionary mindset that freaked the fuck out when Bob Wills broke the Opry rules against allowing drums and led to Gram Parsons nearly getting his ass kicked by Tompall Glaser when The Byrds performed "Hickory Wind" instead of the promised "Life In Prison" during their notorious appearance at the Opry. The Opry has to be dragged kicking and screaming into the present and tends to look askance at the oddballs and iconoclasts who've tried to make it keep up with the times.
The live radio show that broadcasts from the Grand Ole Opry house takes an almost stubborn pride in not changing with the times, iPhone app aside. For starters, it's a fucking live radio show in 2011, complete with chummy, old-time live commercials pimping for Bass Pro Shops and Cracker Barrel. At first I thought, "Wow, live commercials! Just like in yesteryear! What a hoot!" After about the third plug for Bass Pro Shops, however, live commercials began to seem just as odious as the non-recorded variety. The bill at the Opry offered a Whitman's Sampler of trusty old warhorses like Connie Smith, Steve Wariner, Jeannie Seely, and Riders In The Sky, and newcomers like James Wesley, along with a bluegrass outfit called Bobby Osborne & The Rocky Top X-Press that performed an exhilarating version of "Rocky Top." The Grand Ole Opry is a gathering of equals, but some performers are more equal than others, and there was little doubt who the headliner was: Charlie Motherfucking Daniels. Daniels and his magical fiddle electrified the audience with a performance of "The Devil Went Down To Georgia" that ended, predictably enough, with Daniels triumphant. I was hoping the devil would be down in the front row with a new golden fiddle to challenge Daniels to a rematch, but it was not to be.
My big trip ended, appropriately enough, with a trip to the Ryman Auditorium. The Ryman housed the Grand Ole Opry until 1974 when it switched buildings to Opryland USA. Sin and salvation are part of building's DNA: The Ryman was created by a riverboat captain and prolific sinner named Tom Ryman as a home for the fiery sermons of Samuel Porter Jones, a famous preacher Ryman initially viewed as a powerful adversary before seeing the light and giving himself over to Christ. (Given Ryman's background, it's perfect that the building would later host the influential television show of Johnny Cash, who rivals Hank Williams as the genre's ultimate sinner-saint.)
I've never been to Jerusalem, but after writing Nashville Or Bust and visiting Music City, I know what it's like to visit sacred sites where dead voices gather and a great secular religion called country music sprang up to give hope to the hopeless and create an industry and a world out of dreams, hard work, and talent. Nashville, and particularly The Grand Ole Opry, represents the epicenter of the country music establishment and the country-music business. But the liberating spirit of country can never be confined to one geographic region or building, no matter how auspicious its past might be. The spirit of country is free-ranging and international. It stretches from the honky-tonks of Bakersfield to the cotton fields of Mississippi to the cowboy hangouts of Sweden. The only cost of entry is an open mind and a willingness to see beyond stereotypes and preconceptions.