After Stephen Malkmus put out his last record—the upbeat, Beck-produced Mirror Traffic—he moved from Portland to Berlin with his wife and daughters, settling down for a few years in a large English-speaking expatriate community in central Europe. The album that has emerged from that relocation, Wig Out At Jagbags, was recorded in a farmhouse near Amsterdam, with the change in scenery offering the possibility for more overt experimentation than Beck lightly nudging Malkmus toward a brighter, crisper sound. But despite the European setting, it's largely more of the same from Malkmus in his post-Pavement period: a catchy, noodling collection, with a few keepers and no outright clunkers.
Over the course of his five prior albums, Malkmus typically wavered between punchy concision and loose jams. Jagbags is his second straight in the former vein, with most of the songs clocking in at around three minutes, but leaving enough room for the requisite snaking guitar lines that hover over the vocals. "Lariat" is the one of the most approachable and bouncy songs Malkmus has written for a Jicks record, complete with a labyrinthine chorus ("You're not what you aren't, you aren't what you're not") and a humorous name-check of Tennyson and The Grateful Dead in the same line.
Two guitar and piano-driven crooners—"Houston Hades" and "Independence Street"—are standouts, with the rhythm section still chugging along underneath arcing mini-solos and highly referential lyrics. Malkmus saves the one song full of sudden sonic shifting for the record's end with the appropriately titled "Surreal Teenagers," alternating between laconic, Far East-influenced verses and barnburner mode on the wigged-out chorus. "J Smoov," a gentle strummer backed by soft string arrangements, blooms into a central horn solo that hits exactly the right so-bad-it's-good note, all courtesy of a trio of German dads Malkmus met through Fran Healy of Travis, his neighbor in Berlin.
"Cinnamon And Lesbians" floats along in an optimistic hippie daze, proclaiming, "Life should be free / Take what you need" while undercutting it with "I've been tripping my face off since breakfast." Malkmus knows how to craft a catchy tune, and his bizarre lyrics are fun to decipher—"Scattegories" is a delightful trifle in that regard—but Jagbags is another record that seems unburdened by ambition or the need to push the natural creative impulse into anything bigger. "Rumble At The Rainbo," the album's shortest track at less than two minutes, plays like a tongue-in-cheek sketch about aging rockers ("What generation of punk are we?"), but the chorus betrays a complacency behind the humor: "Can you remember / The thrill and the rush / You're not out of touch / Come tonight you'll see / No one here has changed / And no one ever will." Malkmus is content, and he's earned contentment, but it has imposed a limit on the potential for every Jicks record.
G/O Media may get a commission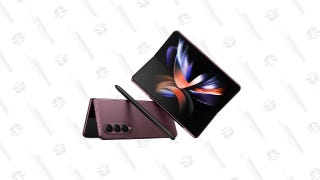 Save Up to $300
Galaxy Z Fold4
2014 marks 20 years since Pavement's Crooked Rain, Crooked Rain, the second in that group's trio of undeniable masterpieces. (Maybe it's a quartet, depending on how you feel about Brighten The Corners.) Wig Out At Jagbags is Malkmus' sixth record with The Jicks, one more than he made with Pavement. Malkmus hasn't put out an album that ranks with that band's output on his own, but he's not playing the game of past comparison. None of the pressure of his legacy has ever infected Malkmus' solo recordings, and though he hasn't equaled any of his '90s peaks over the past decade, he keeps putting out accomplished, pleasing records with occasional highlights.