Biographical documentaries should make a case for their central subjects that's capable of drawing in viewers beyond those already interested. Films like Errol Morris' The Fog Of War work as stories about the lives of the figures at their center, but they also tease out greater ideas and themes from those lives.
Six By Sondheim, HBO's new documentary chronicling the life of Stephen Sondheim—a figure 99 percent of musical-theater aficionados will be fans of—doesn't manage that feat, but it's not for lack of trying. Sondheim is a forthcoming figure on topics ranging from his own childhood and his songwriting to the nature of art; and the structure of the film, which builds a larger discussion of Sondheim's place in the American cultural sphere out of considerations of six of his most famous songs, is exactly the sort of thing that could provide the kind of structural storytelling rigor even the best nonfiction films need.
It's Sondheim's candor and that structure that save Six By Sondheim from slipping into bland hagiography at almost every turn. It's a film that will be a treat for fans, even as it never takes that step beyond the composer's pre-existing fanbase to become truly essential for anyone with even a passing interest in the subject matter. Fortunately, it's such a treat that it remains worth watching for those already inclined to do so.
The film is directed by Sondheim's longtime friend and collaborator James Lapine, who also co-produces with former theater critic Frank Rich, a longtime champion of Sondheim's work. At times, it seems to take the form of one long montage of the entirety of Sondheim's life and career. At first it seems like it's going to start with Sondheim's childhood and adolescence, then take a fairly straightforward path through the composer's life—starting with his early hits as a lyricist, moving on to the period in the '60s when he struggled to write material worthy of his ambitions, then lingering on the artistic breakthroughs of the '70s (chiefly Company and Sweeney Todd), before chronicling his more elliptical later work and briefly touching on recent struggles to get any productions together.
G/O Media may get a commission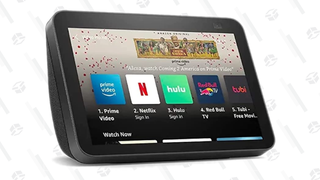 But while the film starts out that way, after covering Sondheim's first two Broadway hits (West Side Story and Gypsy, both of which he wrote the lyrics for), it takes a more thematic approach to his life, skipping all the way from there to 1981's Merrily We Roll Along, which Sondheim claims houses the only autobiographical song he ever wrote ("Opening Doors"). From there, Lapine bounces back and forth throughout the composer's history, looping around and back again to important parts of his career and only getting to, say, Company, in the film's final half hour. The film also touches very little on Sondheim's life post-Merrily, perhaps because Lapine is so bound up in much of it, as the man who collaborated with him on Sunday In The Park With George and Into The Woods, among others.
It's a challenging structural gambit, and it's not one Lapine is ultimately capable of pulling off. There are times when the film seems to be touching on things in Sondheim's career simply as if it's checking things off a list, as when the famously ambitious Follies gets wedged into the middle of a bunch of other stuff. Lapine also turns his film over to guest directors at several points for performances—some new, some archival—of the six songs of the film's title: West Side Story's "Something's Coming," Merrily We Roll Along's "Opening Doors," A Little Night Music's "Send In The Clowns," Follies' "I'm Still Here," Company's "Being Alive," and Sunday In The Park With George's "Sunday." These performances are all interesting in isolation—particularly "I'm Still Here," performed by Jarvis Cocker and directed by Todd Haynes—and all of the songs performed are beautiful. But the numbers often stop the film dead in its tracks, in ways it struggles to recover from.
Fortunately, Lapine can always come back to the man at the film's center, and often in ingenious ways. When he finally gets around to talking about the atomic bomb that Company was in the theatrical world, he pairs it with a discussion of Sondheim's own romantic history. And Sondheim's troubled relationship with his parents, the many composers he's mentored, and his never having had children even when he might have wanted to gets paired with "Sunday," which is all about the permanence of art. And Sondheim's incredibly smart about songwriting, dropping little tidbits throughout the film that burgeoning composers will surely scoop up as valuable crumbs of knowledge. Smart editing means many interviews with Sondheim over nearly 60 years become one interview, and Lapine even finds a way to work Sondheim into one of the performance segments, to lecture a proxy version of his younger self in a way that's quietly moving, considering all that's come before.
Lapine's also got a secret weapon in quietly structuring the film around Sondheim's relationship with surrogate father Oscar Hammerstein II, who took a potentially troubled product of a broken home under his wing and gave him the advice that led him to one of the great careers in American theater history. The film touches on Hammerstein throughout, and it's never clear just why until its end—when Lapine brings that particular thread to a graceful close. Six By Sondheim is just barely more than the sum of its parts, but when it finally adds up, it feels like many of the master's best songs and shows: a puzzle that assembles itself right in front of your eyes.
Debuts: Monday at 9 p.m. Eastern on HBO
Format: Biographical documentary