There's a certain amount of patience and withholding of narrative information that's inherent in any TV show with a relatively large scope. Snowfall is no exception. Its dramatization of, as every bit of marketing material will tell you, "how crack began," is certainly ambitious in how much it's looking to tackle. Not content to just tell the story of Franklin Saint and how a young, educated kid might get caught up in the business of dealing coke, Snowfall is hoping to add depth to that by drawing others into the story. Franklin's story might be the obvious, or at least most familiar, entry point into the rise of coke in 1980s Los Angeles, but there's so much more at play. This isn't just about a kid wanting to control his destiny and learning that it doesn't come without a cost; it's a story of how all sorts of systems and enablers, both unwilling and eager, play their part in the expansion of the coke trade.
This kind of wide-ranging scope has been Snowfall's greatest flaw so far this season. What started out as an intriguing look at various players in this game has quickly shifted to a dull slog through too much exposition and not enough moments of consequence. For every bit of compelling business involving the personal stakes of Franklin's search for something better for himself, and some sense of identity along with it, there's a more complacent and uninteresting counterpart, be it cliché drug lord subplots or halfhearted familial drama that fails to hit its mark. Only one week removed from an episode that saw each set of characters stagnating, "A Long Time Coming" continues the trend, moving each story forward with a complete absence of momentum despite the season's end getting ever closer.
Snowfall's major problem is that there's no sense of these character being challenged in any meaningful way, or in a way that will force them to confront their motivations and truly questions their stances, be it moral, personal, or familial. Take Franklin for instance. His increasingly perilous jump into the coke-dealing business has been met with its fair share of obstacles. He's keeping secrets from his mother, his uncle is advising him against dealing, his supplier is a unhinged dude prone to wearing Speedos, and he's watched his friend shoot a guy after witnessing a brutal rape. Every single sign from the universe is telling Franklin to get the hell out of this game before he gets killed, or before someone he loves pays the price for his recklessness. And yet he forges on, convinced that he's going to the be the outlier, the one that truly makes it through to the other side without a scratch.
Where Snowfall, and particularly "A Long Time Coming," fails is in exploring the motivations behind Franklin's persistence. What drives Franklin to keep selling keys despite the increased violence he's running up against? Here he nearly gets killed by the Mexican gang that controls pretty much all of the coke dealing in Los Angeles, and yet there's little doubt that he'll be back in that situation again sometime soon. What's feeding Franklin's stubbornness? That's a question that Snowfall is failing to answer, and the result is a character arc that's devoid of all tension, intrigue, and potential growth. There are hints here and there—Franklin's musings on the lives of his rich white friends from school, coupled with the mention that his father was a Black Panther and the aggressiveness he witnessed from white cops during a Fourth of July party suggest that Franklin is working against oppressive forces and a system that wants to keep him, and his family, down—but the sprawling narrative and bevy of characters means there's no real focus, robbing Franklin's arc of its potential impact.
G/O Media may get a commission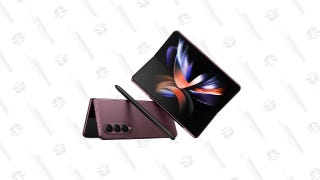 Save Up to $300
Galaxy Z Fold4
Unfortunately, that's where Snowfall seems to be as it crosses the season's halfway point; many of the stories are falling flat, and the show seems destined to spin its wheels. Teddy is once again trying to bring his family together, promising to distance himself from the operation with Alejandro, and yet it wasn't all that long ago that he'd re-committed himself to the project after leaving Alejandro stranded with a bevy of American weapons and a number of serial numbers that needed to be filed down. Again, what's Teddy's motivation here? Snowfall hasn't provided much insight into his relationship with Jules, and the lack of backstory when it comes to his dealings with the CIA mean that his work life, and larger purpose within U.S. foreign policy, lacks any sort of definition. Without clear motivation and an emerging clarity when it comes to narrative direction, we're left with episode after episode of complacent, no-stakes storytelling.
To be fair, there are signs in "A Long Time Coming" that things are starting to come together. When Gustavo steps in to save Franklin from getting killed by the Mexican's he himself has just secured a deal with, there's the promise that these characters are going to interact more in the future, which could create an interconnectedness that would benefit the show, forcing it to craft a more complete and focused story. Similarly, the tight spots that every character finds themselves in shows potential for meaningful conflict sometime soon. If Snowfall can pull all of these pieces together it can still forge a compelling final four episodes. Until then though, the show is stuck in neutral.
Stray observations
Claudia having no time for Leon and Kevin, aka. "these two clowns," is a thing of beauty.
Nice to see Bokeem Woodbine make an appearance in this episode, even if I still can't get his turn as Mike Milligan on Fargo out of my head.
Adding to the aura of Woodbine: him throwing darts at a poster of Ronald Reagan.
Snowfall keeps moving Gustavo and Lucia in a romantic direction, and it is beyond dull.
It was announced today that Snowfall is getting a second season.