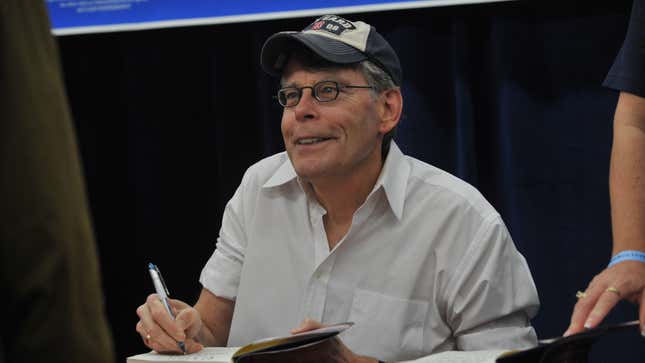 Stephen King is everywhere these days, at least in terms of books, movies, and TV, but now he'll be popping up in another popular entertainment medium: podcasts. He's not getting his own microphone and Blue Apron sponsorship deal, but according to Entertainment Weekly, he is going to be a guest on Mick Garris' Post Mortem show in May to discuss the 25th anniversary of the TV adaptation of The Stand—and possibly the fact that another adaptation is now in the works for CBS All Access. The original TV version starred Gary Sinise, Molly Ringwald, Rob Lowe, Miguel Ferrer, Laura San Giacomo, and Jamey Sheridan, and while the EW story doesn't spoil much of King's insight into the adaptation, it does share a fitting quote where he says he almost abandoned writing the book because it had too many characters:
I said, "This is getting too big, this is unwieldy." I almost ended the book right there, I almost left it in a drawer, because I said, "I don't know what to do with all these people, I've spread the thing too wide."
That's an interesting problem to have for a book about the vast majority of the human race getting wiped out by a superflu, but King ended up handling it pretty well… right up to the part where a lot of them got killed by the literal hand of God. King's episode of Post Mortem will be available on the Fangoria Podcast Network on May 8.