Former rap mogul and frequent suspect Suge Knight will stand trial on charges of murder, after a Los Angeles judge ruled that there was enough evidence to implicate him in the hit-and-run that killed one man and seriously injured another near the set of Straight Outta Compton. That evidence includes security camera footage showing Knight's truck hitting one man, Cle Sloan, while in reverse, then zooming forward to run over him again, while also hitting Heavyweight Records co-founder Terry Carter and killing him.
Knight faces one count of murder for Carter, one count of attempted murder for Sloan, and one count of hit-and-run. A second count of hit-and-run was dismissed, CNN says, as California law says only one charge should be brought per vehicle. So, small favors for Suge Knight.
Another small favor: Knight's bail has been reduced to $10 million from the "excessive" $25 million that caused him to collapse in court last month. According to TMZ, Knight's lawyer thinks his client could make bail "as early as today"—that is, once he's released from the hospital, where he was once again rushed after today's court appearance.
Knight has been struggling with these sorts of "medical emergencies" throughout the preliminary hearings, which we are setting apart as a direct quote, not a scare quote, as we would certainly never imply that Suge Knight is faking them. Knight has complained of stomach problems and other complications stemming from his being shot multiple times last year, as well as ongoing issues with diabetes and blood clots. He's also long used his ailments as a defense, painting a picture of himself as a frail man who could certainly never hurt someone.
"Suge Knight is a 45-year-old businessman with diabetes," his attorney said all the way back in 2010, when Knight was accused of brandishing a gun. Similarly, the now-49-year-old former businessman's diabetes has led to glaucoma, which Knight's attorney says has caused him to be legally blind in one eye—and that's why he hit Sloan and Carter. His lawyers have also presented the defense that Knight is so weakened by his many ongoing conditions, he feared for his life when he was confronted by Sloan and Carter, and therefore he was only acting in self-defense when he hit them with his automobile. Twice.
G/O Media may get a commission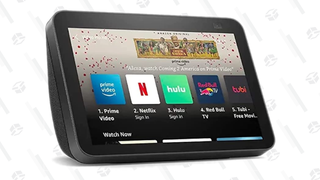 Those arguments will now be brought to trial—although they likely won't include the testimony of Sloan. Upon being brought to the stand, as the Los Angeles Times reports, Sloan—self-described as a "non-active gang member"—said he didn't want it to seem like he "told on" the man whose truck is seen on video running over him twice. "I'm no snitch," Sloan said. "I will not be used to send Suge Knight to prison."
In fact, Sloan's commitment to not being a snitch extended to his refusing to identify Suge Knight at all, even as he sat directly across from him in court. "Yes, I know Mr. Knight, but that does not look like Mr. Knight," Sloan said. He was subsequently presented with recorded audio and transcripts of himself telling detectives about his confrontation with Knight and the resulting accident. Sloan then reportedly "cried on the witness stand."
A trial date has not been set yet, but it promises to be fascinating.