In the Mom On Pop podcast, Bonney Teti—mother of A.V. Club senior editor John Teti—shares her unfiltered thoughts on the pop culture of the day.
Mom was in full binge-watch mode for this edition of Mom On Pop: She blazed through the first season of AMC's PC-revolution period piece, Halt And Catch Fire, to get ready for our review of Halt's second season, which kicked off a few weeks ago. On Halt, Mom finds Donna appealing, but she's confounded by the other main characters. That tepid enthusiasm is practically a rave, though, compared to Mom's disdain for the Netflix series Grace And Frankie—a star-packed dramedy about two retirement-age women whose husbands come out of the closet and declare their love for each other. Listen to find out which member of Grace's cast pissed Mom off the most.
As usual, there are other tangents, including Mom's quickie review of the Melissa McCarthy vehicle Spy, a surprise update on the ongoing post office saga, and a secret bonus for loyal listeners.
Mom On Pop is available on iTunes, and there's a podcast RSS feed if you want to subscribe to the show in other apps. Never miss an episode!
G/O Media may get a commission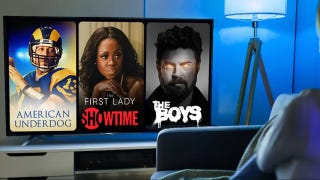 UNDER $1
99¢ Prime Video Channels