Thanos is so hot right now. His new movie, Avengers: Endgame, is set to make at least $200 million on its opening weekend and Twitterers are atwitter with fan theories about just how his diabolical plans could be thwarted. With this much buzz, there's only one logical career move for him to make: Hosting the not-so-estimable Saturday Night Live. Well, all Lorne Michaels needs to do it greenlight it, because comedy writer and Esquire video editor Dominick Nero already penned the episode's script. 
Clocking in at a tight 26 pages, this spec script has all the hallmarks of a modern-day SNL episode.There's a cold open featuring Alec Baldwin's bad Trump impression (he's orange and Thanos is purple—this thing writes itself!), a commercial for the "Dyson InfinityVacuum," and a musical guest that appeals to audiences young and old—Hoobastank! Of course, it's hard not to notice that, throughout the episode, various cast members disintegrate into dust, resulting in a chaotic breakdown of law and order during the episode's farewell. We're sure, however, that Thanos has the comedic chops to squeeze a few laughs out of that devastation.
So, the ball is in your court, Lorne. Do you want the biggest star in Hollywood to host your little sketch show or do you want him leapfrogging over you and into Kevin Hart comedies? It's your call.
G/O Media may get a commission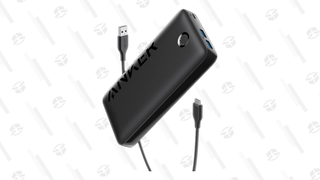 20% Off
Anker 335 Power Bank
Send Great Job, Internet tips to gji@theonion.com