In much the same way Farihah described her connection to 1994 Olympic Games—where things got tabloid-worthy between Nancy Kerrigan and Tonya Harding—my Olympic imprint was made the moment Bela Karolyi hoisted injured nubbin Kerri Strug into his arms like A Christmas Story's Tiny Tim and celebrated the Magnificent Seven's win in the 1996 Summer Olympics. Truth be told, it's made it almost impossible to find any other part of the Games nearly as riveting as women's gymnastics. I've tried to latch onto the fervor and participate in the international spectacle each time it comes around, only to find myself blind to anyone without a bedazzled unitard or shellacked ponytail. I confess this because I know there must be more of you out there like me, and I've been looking to break the cycle.
With the triumph of the women's gymnastics competition completed, I've had to find something to get my hooks into for the remainder of the competition. Thursday turned out to be a fine place to continue timidly venturing into viewing other sports, though I should admit I've enjoyed following several non-gymnastics competitions during these Games, including beach volleyball, rowing, and diving. I even caught that mighty Phelps fellow in all his glory and heard rumor that Ryan Lochte is a grill-wearing goof, so that's something!
The night's primetime coverage functioned as a carefully plotted ramp-up to the day's zenith, where Jamaican sprinter Usain Bolt earned the title "Fastest Man in the World." Technically, he's the fastest sprinter, but that's less snazzy sounding and also makes me think he's not a superhero, which there's a good chance he might be. It was an epic day for the charismatic runner, who took home his second gold medal after a stunning display of speed, making him a two-time 100m and 200m sprint champion. Speaking of charisma, the NBC commentators were really taken with the athlete's relaxed attitude pre-race, guffawing while repeatedly using the phrase "clowning around" to describe him smiling for the camera and mouthing "I'm gonna win" with thumbs up. It spotlights the sometimes stiff nature of the coverage and the disconnect it can create between these youthful athletes and those hired to interpret their incredible feats. While Usain is clearly not chewing his fingernails off in anticipation, he's also not pantsing his fellow competitors and throwing banana peels on the track.
All clowning aside, Bolt's win was a tremendous moment to witness, even for someone who has only a peripheral understanding of his running career. NBC continued its use of helpful infographics by throwing up a quick visual breakdown of Bolt's remarkable stride on the track, noting that he's able to take fewer steps than his competitors thanks to his nearly ten-foot stride. That very stride brought a gold medal the delightfully confident Bolt—who proudly said post-race "I am now a living legend."—while the silver and bronze went to his Jamaican teammates, Yohan Blake and Warren Weir respectfully.
G/O Media may get a commission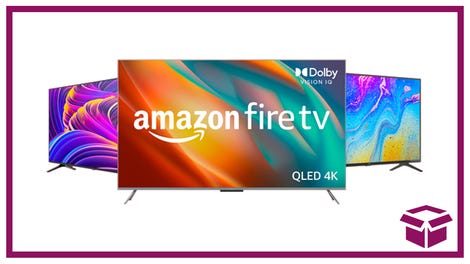 Ooh. stunning.
New Amazon Fire TVs
Coverage of Bolt's triumphant win aptly reflects the international buzz whipped up between his Beijing triumph in 2008 and Thursday's race. Even NBC's coverage of U.S. wins was overshadowed by Bolt, which says something given the 20 medals that Americans have nabbed over the past two days.
One of those wins came from the U.S. women's water polo team, who clinched an 8-5 victory over Spain. While the coverage was expectedly brief, there was at least a nod made to the standout player Maggie Steffens, who deftly knocked five of those eight goals into the net. After bringing home silver in 2000 and 2008, it was a rousing victory for the players, who yanked their coaches into the pool with them in post-game celebration.
The ladies kept racking up gold throughout the day as the U.S. women's soccer team won 2-1 over Japan in a game that certainly seemed riveting, though I can't be sure, given the quick snippets replayed for me. Instead, much of the night's non-Bolt coverage went to the women's 10m platform diving, which had moments of intensity scattered about but also lulled considerably. While Chinese competitor Chen Roulin's hunt for her fourth gold ate up a considerable amount of screen-time, the U.S. divers Brittany Viola and Katie Bell didn't fare so well, placing 15th and 16th respectively. While it might not have been America's winning night on the diving platform, NBC won me over temporarily with a detailed explanation of how the "dive-cam" works, which allows viewers to look down upon the 35mph speeds the divers can reach while headed toward the water.
I pinky promise I won't beat a dead horse by continuing to rag on NBC's choice of coverage for primetime but it was certainly disappointing to realize there would be no coverage of one of the day's crowning moments. Plenty of other media outlets managed to devote time to the incredible win by 17-year-old American boxer Claressa Shields, who took home the middleweight gold against Russian Nadezda Torlopova. What made the victory especially exciting was the fact it was the first-ever women's Olympic boxing event. It may not have been enough to warrant televised coverage but it did get Shields a tweet from boxing legend Sugar Ray Leonard, who tweeted "Your Jab is so solid use it more! Your Hook, wow (just like mine) win every round and bring home the Gold Claressa!" (sic)
There was another U.S. triumph in the men's decathlon, where Ashton Eaton grabbed gold and Trey Hardee took silver, giving the States a nice 1-2 finish for the event. While Eaton was the winner with 8,869 points (which is pretty nebulous to me, I'll admit), Hardee's win was especially notable given the fact he'd had just recovered from reconstructive surgery on his elbow last year in order to participate in the event. Oh, and if you were wondering about the tearjerker of the night, look no further than Eaton searching for and finding his mom moments after his win in order to hug and cry together like the two goddamned gorgeous humans they are.
Also, there was so much more, you guys! But it was all blips and snips and moments of snoozy. Some prolonged coverage of men's BMX quarter final number two showcased the promising American Conor Fields, who qualified for the semifinals alongside fellow U.S. bikers David Herman, Alise Post, and Brooke Crain. Given the fact most BMX racecourses look made of dusty dirt mountains, it should be noted how gorgeous the Olympic BMX course is with its manicured, green grass and rolling hills.
Lest you think things would end without a mention of the amazing Destinee Hooker, she and the rest of the U.S. indoor volleyball team beat Korea 3-0 in a high-intensity match that had the fierce team leader flying all over the court. Don't worry, though, her killer nails still looked great. I was peepin' on 'em and I maybe just found a few things outside of teensy gymnasts bouncing off balance beams to hold my attention for the foreseeable future.