The bad news about Mr. Sloane, up front: Sky Atlantic, the series' British broadcaster, has already declined to order a second series of the period dramedy starring Nick Frost, Olivia Colman, and Peter Serafinowicz. Currently rolling out in the U.S. via public broadcasters and a satellite-service marathon, the series' six episodes lead to an open door that someone else has already closed. It's an unfortunate fate for a show that displays such bright flashes of humanity, warmth, and cringe comedy during its brief lifespan. But it's also somewhat fitting for an eponymous character who's constantly correcting the spelling of his surname, a protagonist we first meet in the middle of a suicide attempt.
The Jeremy Sloane (Frost) of the show's title is an unemployed accountant with an estranged spouse (Colman) and pub-frequenting peers (Serafinowicz, Brendan Patricks, and Lawry Lewin) who've been his only friends since primary school. In his conservative suits, black-framed glasses, and close-cropped hair, his look is so quintessentially square that even drunken strangers sharing a train car with Sloane instantly peg the man's line of work. The '60s were supposed to be the decade for guys like Sloane, but the decade wound up being hijacked by people like Robin (Ophelia Lovibond), the flower child he meets while standing in the lingering stench of someone else's fart. This coincidence will come to define their nascent relationship, which unfolds across the final months of 1969. It's also the strongest statement of the show's ties to Curb Your Enthusiasm, on which Mr. Sloane creator Robert B. Weide has worked as a producer and director. (He was behind the camera for the series' classic "Palestinian Chicken" episode, for one.) The humor doesn't always square with the series' kitchen-sink melodrama, but it can provide tremendous catharsis in Sloane's lowest ebbs.
His struggles against restaurant plumbing and improperly punctuated menus connect Sloane to the lineage of fictionalized Larry David, but the character is a born loser born to be played by Nick Frost. He's the ideal vessel for Sloane, adept at reacting to his personal misfortunes and even more skilled at burying them deep within his psyche. Good natured in spite of it all, Frost ably embodies the type of post-war milquetoast who'd hear his show's own theme song—The Kinks' "A Well Respected Man"—and take it as a compliment. Even at the series' most farcical, the star's guilelessness grounds the tiny tragedies of Sloane's un-lived life.
A writerly affair (hence the many nods to Ray Davies), Mr. Sloane uses flashbacks and backstory to a degree unseen from most comedic fare, a narrative device neatly mimicking the buttoned-down ethos of Watford. What could be a cheap ploy in a different setting feeds the atmosphere of the series, in which characters with real problems and serious regrets corral their emotions in memories with no rose-tinted haze. It's a method of showing how Sloane got to his sorry state, wrapped up in an unhappy childhood, a marriage he couldn't account for on a ledger, and a fateful workplace mistake. (The good old days aren't always bad: The subway meet-cute between Sloane and ex-wife Janet makes winsome use of Frost, Colman, and a crossword puzzle.) Sloane's motto is "it's better to plan the future than regret the past," though a more fitting summation of the character's attitude arrives later in the game, when he admits to lying to himself and his neighbor because "it's far less embarrassing than the truth." This behavior—and its toxic byproducts—are baffling to American expat Robin, who cuts through the parochial grays-and-browns of the hour-long premiere in a frock the color of a Milton Glaser daydream. She's Swinging London-via-San Francisco, bringing the '60s (its permissiveness and its frankness) to Watford just as they're about to end—naturally, Sloane falls for her.
G/O Media may get a commission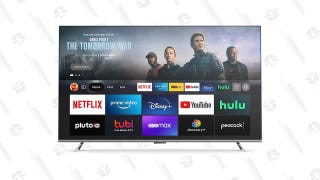 Save 46%
Fire TV 55" Omni Series 4K UHD Smart TV
Initially, Robin is Mr. Sloane's Manic Hippie Dream Girl, a vision in sky-high hair and knee-high boots who drops out of the sky to replace Sloane's Gilbert And Sullivan records with Hendrix and the Stones. But the show and Lovibond work to make her more than the sum of her free spirit and recreational drug use, a character conducting her own search for self that's as important as Sloane's. This culminates in episode four, which makes a lovely Christmas card out of the show's penchant for covering things up.
The loveliness of that chapter makes the show's abrupt ending sting all the more. It's clear that Weide and his team wanted to tie a bow on this chapter of their protagonist's life, but the finale feels like it's building to something beyond New Year's Eve 1969—something the show won't have the chance to portray. But to mourn the program's premature demise is to miss one of its primary points: Our lives rarely follow the the courses we plot for them. In their refusal to acknowledge this, in their belief that there's one big score waiting just over the horizon, the characters of Mr. Sloane sew themselves into a tragicomedy at the fringes of an eventful era. Serafinowicz's Ross is always talking about how close Watford is to the big happenings in London, but the sunrise he sees in that direction is merely the golden hue of another pint of beer. It's depressing, but honest, and a mindset that Frost's character may or may not escape from. Mr. Sloane may advise that we plan the future or regret the past; despite having no future, Mr. Sloane has very few reasons to regret its past.