"I know this is supposed to be the most dignified awards show of the season, but…" Newly anointed Tony winner James Monroe Iglehart has already thanked his wife, dance instructor, and his show's parent company in his acceptance speech. Minutes earlier, he performed his award-winning role as the Genie in Aladdin, merrily gamboling across the stage at Radio City Music Hall. But Iglehart breaks off his speech to do it again, delivering a "praise shout" of yelling and shuffling from side to side in the final seconds of his speech.

It was impossible to hear the reaction from inside Radio City, but in its way, this early-evening awardee puts his finger on the Tonys' constant struggle to get cooler, more relevant, and less buttoned-up without alienating its core audiences—primarily old people, the LGBT community and New Yorkers. It's here to speak earnestly about the need to protect live theatre, but also to hang out taking selfies backstage with Alan Cumming dressed as the Emcee from Cabaret. It's Hugh Jackman singing the nominees for Leading Actress in a Musical and then stage-whispering to them "After this, we're all going to be trending." The show is still in a tux, but now it's a cool tux.
In recent years, the Tony Awards have taken bigger risks than other shows of their ilk to attract younger and non-local audiences who may not have seen any of the nominated shows in a given year. The broadcast is constantly in danger of losing its own supposed purpose—to give out awards for the best performances and productions on Broadway—to make this happen, for the marriage of promotion and prizes doesn't always work, and the balance is dangerous. Last year's show felt like an extended commercial for musicals that would be likely to tour soon (Cinderella, Motown), and this year's performances from Aladdin (despite Iglehart, who was terrific) and Bullets Over Broadway felt like obligatory nods to the 2015-2016 lineups of performing arts centers nationwide.
Still, because the show has to take those risks and do so among a population of people known for creating live magic, occasionally they happen on something great. Deep into the evening, Jackman discusses the first show he ever tried out for, The Music Man, and fake-asks the audience if they want to hear him sing all eight parts to the show opener "Rock Island." After a few minutes, he compares Meredith Willson's talk-singing to rap, and then—as if they had been just hanging out backstage—invites LL Cool J and T.I. on to perform "Rock Island" with him. It should be cringeworthy enough to put all the lights out, but instead, it feels completely natural to the moment. Doesn't matter that the sound mixing ensures that half their verses are lost; the serious expression on T.I.'s face sells the performance completely.
G/O Media may get a commission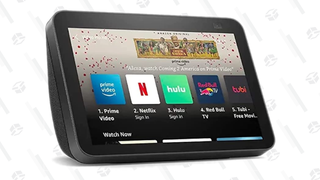 At its best, the Tony Awards broadcast can only provide a glimmer of the performances that happen eight times a week onstage—but boy, what a glimmer! For Hedwig And The Angry Inch, a show about an East German transsexual that probably won't be touring nationally any time soon, Neil Patrick Harris climbs a tower of speakers in a gravity-defyingly short skirt, chunky heels and a spun-gold wig without missing a beat. In a neat cutaway, Jessie Mueller of Beautiful: The Carole King Musical switches from Brill Building-era King to "I Feel The Earth Move" King—and then duets with King herself, who introduced it as the musical "about [her] life." (Mueller goes on to pick up the Tony for Leading Actress in a Musical later.) A thoroughly farcical number from A Gentleman's Guide To Love And Murder, the eventual Best Musical winner, showcases its cast's comedic timing and, thanks to a series of quick changes by Jefferson Mays, leaks just enough of the show's central conceit to bring viewers in. With her award for Best Actress for Lady Day At Emerson's Bar And Grill, Audra McDonald becomes the first person to win Tony Awards in all four acting categories, and Jackman ties Harris for the number of times hosted (but they both chase Angela Lansbury's record five appearances).

Opening the show with a Steadicam sequence featuring himself hopping from the red carpet to the stage, Jackman appears unfocused and overexcited, but settles in to a largely predictable rhythm of Wolverine jokes and suave leading-man antics. His bit of singing as the show returns from commercial fares less successfully, due in part to the Tonys' legendarily crappy sound design, but there's no forgetting the man can sing. Harris' long shadow doesn't prove to be much of a distraction, even when he, as Hedwig, works the crowd in a very hostish way. Handsome, theatrically knowledgeable and known off the Great White Way, these two could probably trade off hosting duties at least until the show switches to an all-Instagram format in 2017.

Stray Observations:
Jackman's hopping pays homage to the Bobby Van-starring 1953 movie musical Small Town Girl, and in the opening sequence, he pauses at a screen showing a clip from that movie. I missed this on first viewing, so I was waiting for an explanation for a long (long) time.
Mark Rylance (Best Featured Actor in a Play) is known for his eccentric acceptance speeches featuring lines of poetry from Louis Jenkins (here's 2011's) . This year, as part of a production originating at the restored Globe Theatre in London, he thanked American director Sam Wanamaker, who endured the Hollywood blacklist and spearheaded the rebuilding of the Globe.
Clint Eastwood presented two Tonys for directing and stuck extremely closely to script to promote his forthcoming adaptation of the Broadway smash Jersey Boys. Only in a pre-commercial cutaway was he shown glaring sternly at a chair, RNC-style, as Hugh Jackman attempted to pull him away.
Omissions: The recently closed The Bridges of Madison County saw two Tonys go to its creator, Jason Robert Brown, but none of them were shown on the broadcast. (Its early closing has been blamed on its failure to score a Best Musical nomination.) The In Memoriam montage was reportedly moved to a commercial break. (Initial Twitter reaction suggests the "Music Man" bit should have been cut to accommodate that.) Many of the technical awards such as choreography, costumes and set design share that fate, another example of how the Tony show can be at odds with the Tony awards.
At the beginning of the broadcast, I confidently stated "The Tonys doesn't play anyone off," but I was wrong. It happened first with Bryan Cranston (Best Leading Actor in a Play for taking the role of LBJ in All The Way) halfway through the broadcast. Harris and the apparently 80-deep cast and crew of A Gentleman's Guide… got the same treatment. Despite those efforts, the show oozed over by about eight minutes.

Another aspect of Jackman's Leading Actress song was perfoming a little dance with every nominee (except Idina Menzel, whose lap he crawled onto). If this category were determined purely by on-the-spot dance-off, Mueller would still have won, but Sutton Foster performed respectably.
The sole Adele Dazeem joke of the night belonged to former Tony nominee Jonathan Groff, who introduced Menzel performing from her new musical If/Then. The show is Menzel's highest profile role to date, and far more people know her lead roles in Rent or Wicked (which received a special 10-year-anniversary performance tonight) than her. Sure, kids love her from Frozen, but will they buy tickets?
It's only been a year since we lost Smash. Never forget.