Shutting down conspiracy theorists probably wasn't high on director Todd Douglas Miller's to-do list when he was making the documentary Apollo 11. So just consider it a bonus that his film about the first manned moon landing is so immersive that it feels like it's happening in real-time on screen—and definitively un-faked. Apollo 11 doesn't run through the usual grainy footage that has been recycled from doc to doc: those well-worn shots of a booster rocket falling to Earth, Neil Armstrong exiting the "Eagle" module, the American flag being planted, Buzz Aldrin hopping around on the lunar surface, and the big final splashdown. Instead, Miller and a team of editors, historians, and government archivists have dug deep into the NASA and broadcast news vaults, finding angles and audio that in some cases no one has seen or heard in 50 years, if at all. Everything looks strikingly fresh… and overwhelmingly so.
In fact what stands out most in this film is the sheer scale of NASA's Apollo operation. Its rockets were toweringly huge. ("Six-and-a-half million pounds," one TV reporter says.) The crowds watching the launch were enormous, gathering in J. C. Penney's parking lots and motels located across the water from the Kennedy Space Center. The trucks, the equipment, the engineers sitting behind beeping consoles at Mission Control… everything was so big, and so well-organized. To see this machine in action—with its many, many gears—defuses cynicism, and skepticism. This whole endeavor was an honest testament to human imagination, ingenuity, and will.

Given that there have been multiple documentaries and dramatizations of the Apollo project—from For All Mankind to From The Earth To The Moon to First Man—even NASA nerds may wonder whether the world needed another. But beyond the wealth of rare footage in Apollo 11, it's remarkable how well Miller and his crew have shaped it. Previously best-known for the 2014 paleontological true-crime doc Dinosaur 13, Miller has adjusted his style here not just to suit this material, but also to evoke the era in which it was originally shot.
G/O Media may get a commission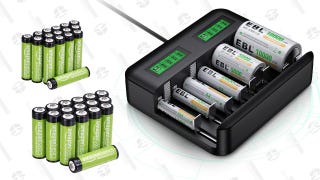 There are no new interviews in Apollo 11, no new narration, and only a minimum of onscreen text—mainly to identify who's who, and to provide some basic numerical data about time, distances, and astronaut vital signs. The audio in the film mostly comes from the original news coverage and the Mission Control tapes. The images (aside from some retro animation) come from the aforementioned archives, and look startlingly pristine. There's one sequence early in the film when shots of a contemplative flight crew—Armstrong, Aldrin, and Michael Collins—are intercut with a montage of their family photos, to give some sense of what might've been going through their minds as they strapped themselves onto a missile hurtling beyond the stratosphere.

But for the most part, Apollo 11 just lets 1969's pictures and sound tell the story. This movie about one of that year's biggest events looks like it was made in 1969, when the likes of D.A. Pennebaker, Frederick Wiseman, Charlotte Zwerin, and the Maysles brothers popularized a new kind of "fly on the wall" documentary filmmaking, more novelistic and less explanatory. This is what magazine and newspaper reporters at the time called "the new journalism," reimagined as cinema.
As such, Apollo 11 may not immediately grab audiences the way that RBG or Free Solo or some of the other more popular recent documentary hits have. But there are elements here that a lot of moviegoers are bound to find compelling, regardless of whether or not they already know who Gene Kranz is. The Matt Morton score, for example, is incredibly creative, shifting between meditative abstraction during the astronauts' calm journey through the stars to something more pulse-pounding when they're sweating over leaky valves or fuel shortages. (Morton only used instruments available in 1969 too, bolstering the movie's verité cred.) If the massive NASA hardware is the ultimate motion picture "practical effect," then the life-or-death situations that Armstrong and his fellow travelers faced are the ultimate "dramatic complication." Even knowing in advance that everyone will survive, it's still intense to hear their chatter, and to see the crucial numbers tick down.

Yet what really makes Apollo 11 work are all the details surrounding the flight itself: the souvenir plastic visors; the concession stands selling Krispy Kreme donuts and soda in small paper cups; and the undisguised wonder in the voices of network TV anchormen like Walter Cronkite. The movie expands the context of a well-scrutinized moment, looking beyond the usual handful of clips. It makes everyone who watches it a witness to history. It's a vital example of how the best way to understand our past is to preserve it well, and to revisit it often.