For our third year of rating the year's best podcasts, we revisited how we did it the first time around. That is, we nixed from contention any nationally syndicated radio programs and opened the floor to other podcasts we may enjoy personally but don't review in Podmass. (The former disqualified This American Life and Sound Opinions, but not The Best Show On WFMU or WTF, a few of whose episodes are distributed occasionally on public radio.)
Here's how voting worked: Reviewers had 50 points to distribute among five or more podcasts, with no one earning more than 15 points or less than one. All told, our reviewers voted for nearly 50 different podcasts, providing a snapshot of a thriving, vibrant medium.
10. Walking The Room (23 points, four votes)
Podcasts can be incredibly straightforward endeavors, and Walking The Room's bare-bones setup proves how little one needs to be successful. Hosts Greg Behrendt and Dave Anthony have an ability to turn the mundane into the transcendent, often expanding stories from each other's lives into hilariously compelling riffs that never stick too long on one point. The free-flowing Walking The Room bends to the will of the hosts, but that's what makes it so successful. Few episodes ever stagnate, proving that with comedians as solid as Anthony and Behrendt at the helm, outsiders often seem extraneous. Walking The Room feels like listening to two close friends chatting and giving each other shit, and its low learning curve makes it consistently enjoyable for fans as well as new listeners.
G/O Media may get a commission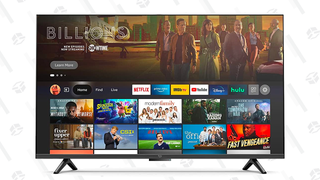 22% off
Amazon Fire TV - 50" Omni Series 4K - Early Access Deal
Check out: Walking The Room works best at its most basic, like episode #129, "Tiny Shirts And Sow's Ear," in which Anthony and Behrendt discuss the death of the white man after Barack Obama's re-election, turning their exhaustion into contemplative riffs.
9. Pop Culture Happy Hour (24 points, two votes)
The pop-culture panel discussion is one of the most popular podcast formats, but the unique chemistry among the four hosts of Pop Culture Happy Hour makes the NPR-produced show special. While guest co-hosts occasionally fill in, the core group of Linda Holmes, Trey Graham, former A.V. Club editor Stephen Thompson (hi Stephen!), and Glen Weldon have a special rapport that fuels two to three timely pop-culture discussions per episode, plus the always-welcome recommendation segment What's Making Us Happy. Striking the perfect balance of erudite and goofy, the four hosts share a massive combined knowledge of all things related to pop culture—from TV to sports to comics to opera—and the ability to take those topics in interesting, unexpected directions. The devastatingly wry Weldon, in particular, can reduce his co-hosts to tears with a perfectly worded observation, and Holmes' occasional TV Quiz segments are delightful for her hilarious, spot-on bogus answers. Throw in the show's evolving roster of in-jokes and the co-hosts' obvious affection for one another and their audience, and Pop Culture Happy Hour is an essential weekly hangout for entertainment lovers.
Check out: Most episodes of PCHH have a timely peg, so there aren't many "evergreen" options, though a good candidate for that title would be "How Long Is Too Long" from September. The central question of when entertainment begins to overstay its welcome is an interesting one, and the quiz Holmes contributes—Vegan Restaurant Or Perfume/Cologne?—is a fine example of the show at its silliest.
8. Nerdist (27 points, four votes)
Listeners would be hard-pressed to find a podcaster having more fun than Nerdist host Chris Hardwick. His enthusiasm never wanes, be it for an up-and-coming screenwriter or Tom Hanks. This glee propels Nerdist and makes it a genially fun listen from week to week. Balanced by co-hosts Matt Mira and Jonah Ray, Nerdist is at its best when the guests guide the conversation and the hosts offer incidental anecdotes and witty riffs, which is often the case. With a list of guests that spans the entertainment world and occasionally science and technology, Nerdist brings a lighthearted, fun focus to its topics. When the podcast does take a turn toward the serious—as in Maria Bamford's return and the Father's Day special with Hardwick's father, Billy—it can foster some of the most genuinely touching moments across the medium.
Check out: Nerdist's gleeful interview with Tom Hanks is one of the best moments in the podcast's history, but it was also in top form with Liam Lynch, Henry Rollins, and LeVar Burton.
7. Doug Loves Movies (28 points, four votes)
At 6 years old, Doug Loves Movies is an old-timer in podcast terms, but it's been at the top of its game lately. Due to the show's panel format, much of an episode's success depends on its guests, and host Doug Benson pulled some seriously excellent guests in 2012. Aside from always-welcome DLM all-stars like Paul F. Tompkins, Sarah Silverman, Edgar Wright, and Samm "The Ma'am" Levine, plus less-expected but welcome appearances from the likes of Ken Jennings and Leonard Maltin, Benson started experimenting with more gimmicky panels this year, like Tompkins' tour-de-force performance as Cake Boss, Ice-T, and himself, or the chaotic free-for-all of the show's triad of disruption, Pete Holmes, T.J. Miller, and Jeff Garlin. Benson also expanded the show's roster of games to four, rotating Build-A-Title, ABC Deez Nuts, and How Much Did This Shit Make? along with standby The Leonard Maltin Game, adding another element of surprise to a show that gets a lot of mileage out of its loose format. Sometimes, things can get a little too loose, despite—or because of—Benson's best efforts, but when it's on, DLM is very on, and in 2012, it was very on.
Check out: DLM's most star-studded—and handsome—lineup of the year was also one of its best ever, when Paul Rudd, Jon Hamm, Mike Birbiglia, John Mulaney, and Morgan Spurlock came together for an episode recorded in New York. Thanks to the pairing of Leonard Maltin Game pro Hamm and rookie Rudd, the games portion of the show is excellent, but John Mulaney's quips are the real highlight of a stellar episode.
6. The Pod F. Tompkast (37 points, five votes)
The Pod F. Tompkast began as an ostensibly monthly endeavor, though it hasn't ever really held to that schedule. Until October, Paul F. Tompkins and collaborator Eban Schletter had posted just four full episodes in 2012—then they dumped seven in the space of two months. As Tompkins noted in an unusually sincere segment in episode #23, their schedules have limited their availability to work on the podcast. Perhaps no podcast, besides Superego or The Thrilling Adventure Hour (on which, not coincidentally, Tompkins frequently appears), has as much writing and general craftsmanship devoted to it, which means, even though the wait between episodes can be long, it's always worth it.
Check out: Episode #16 was one of the last recorded before the Tompkast fall deluge, and it has the perfect balance of the show's elements: a funny sketch from the Paul F. Tompkins Show with Judy Greer, a thoroughly enjoyable chat with Gillian Jacobs, a solid entry of The Great Undiscovered Project, and of course a charming chat with Jen Kirkman.
5. (tie) Sklarbro Country (38 points, six votes) / The Best Show On WFMU (38 points, three votes)
As described by Randy and Jason Sklar, Sklarbro Country exists at the intersection of sports, comedy, and indie rock. The show continues the twins' MST3K-style mockery of the sports world from their ESPN Classic series Cheap Seats, and translates it to a radio show where they snipe at weekly headlines, interview a guest, play some great music, and descend into uproarious fits of laughter. It's a familiar format, but thanks to the almost telepathic timing between the twins—not to mention a double dose of an incredibly infectious laugh—the Sklars continue to mine great material out of already ridiculous news stories. Since June, the weekly podcast has been supplemented by "Sklarbro County," a mid-week bonus episode. Originally intended to be a shorter, punchier rundown of sports and pop-culture headlines, it has since ballooned into its own beast, with Dan Van Kirk serving as a reliable cultivator of ludicrous headlines.
Check out: #119: Denying The Magic, pairs the Sklars with Pete Holmes, another boisterous laugher, for some of the strangest sports headlines of the year. There's also a surprisingly introspective breakdown of the rift in the podcast world between the positive-focused comedians like the Sklars and the more serious and competitive-minded hosts like Marc Maron.
Tom Scharpling is fond of comparing The Best Show to Big Star, a band that toiled in relative anonymity during a fruitful three-year run and only found a larger audience after other groups cashed in with a similar sound. It's an apt comparison for the influential show, which preceded many followers ("podtrash" in Scharpling-speak) who found a way to monetize long-form audio comedy. While that kind of down-in-the-mouth martyrdom has always been a part of Scharpling's on-air persona, 2012 is the year the 12-year-old program took something of a victory lap. The show celebrated its 500th episode with an uncharacteristically warm look back, and Scharpling reveled in spending a couple episodes with his comedy hero, Chris Elliott. Naturally, the affable merrymaking was temporary. The show remains as razor-sharp as ever with its three-hour barrage of unpredictable calls from listeners, character-based bits with Jon Wurster, radio puppetry and excellent storytelling from Scharpling, the self-described "Dollar Menu Dickens." If 2013 marks the year Scharpling finally follows through on his long-teased threat to quit the show, he would leave behind more than 1,500 wonderful hours of material for future listeners to discover.
Check out: The October 9 episode, featuring A.C. Newman and Julie Klausner, serves as an excellent introduction to the show.
4. You Made It Weird (48 points, seven votes)
You Made It Weird's biggest asset, aside from its stellar guests, is how host Pete Holmes consistently finds ways to build a rapport with those guests, quickly making them feel at home. For a podcast that revels in weirdness, Holmes has an innate ability to keep things from becoming too uncomfortable. Instead he willingly becomes the butt of the jokes without his self-deprecation feeling forced or like some strange power play. There's a sense that every word spoken during You Made It Weird is shared among friends, and that any and all ribbing is good-natured.
Check out: Although Pete Holmes is often at his best when he's trading jokes with people he knows, as with Kyle Kinane, the podcast always takes an interesting turn when he lets his guests take the reins. His chat with Zach Galifianakis found the actor/comedian shedding his stage persona and opening up while keeping the humor at the fore.
3. Savage Love (49 points, six votes)
With the huge success of his It Gets Better project, the debut of his MTV show Savage U, and the mainstreaming of his definition of the term "Santorum," sex-advice columnist Dan Savage had a good year, but luckily for listeners, his busy schedule didn't prevent him from regularly releasing the "Lovecast." In 2012, the podcast included mini seminars on sex-toy safety, a live show, "quickie" questions and answers, and visits from doctors and celebrity guests (including Savage's own relatives). The best episodes, however, are the most basic, where Savage offers bracing-yet-comforting advice, helping listeners to realize that sex is simultaneously healthy and ridiculous ("cops and robbers with your pants off") and learning when to be GGG, when to go monogamish, and when to DTMFA. In his podcast, column, and TV show, Savage offers a public service as he educates the vanilla on the wide world of kinks, sexual etiquette, and even legal issues that can come into play when the lights go off.
Check out: The format of Savage Love doesn't warrant week-to-week coverage in Podmass (we tried), and the advice tends to be evergreen. But check out episode #283, in which Savage and sex educator Amy Lang debate whether parents can be too sex-positive, and a straight guy asks for guidance about a flirtatious lesbian friend.
2. Comedy Bang! Bang! (51 points, seven votes)
When Comedy Bang! Bang! made the leap to television this year on the IFC network, creator Scott Aukerman faced the difficult task of translating his freewheeling, hour-plus podcast into a tight 22-minute TV product. The results were understandably mixed, but the podcast remains essential listening. Comedy podcasts have spread like weeds over the past few years, but Comedy Bang! Bang! was one of the first and remains one of the best, an engrossing mix of irreverent interviews and improvisation with an assortment of characters who take advantage of the show's open-door policy. They tend to be the stars of the episodes, and CBB has made people like James Adomian, Jessica St. Clair, Andy Daly, Seth Morris, and Jon Daly objects of comedy-nerd devotion. (In the case of CBB all-star Paul F. Tompkins, more so.) As host, Aukerman maintains a "game for anything" atmosphere that allows all of CBB's weirdness to function at peak capacity.
Check out: James Adomian has a considerable arsenal of characters at his disposal, but in episode #176, "Out Of Bleeps," he found his best. As shock jock Tom Leykis, Adomian floors his fellow guests, CBB all-stars Amy Poehler and Jason Mantzoukas, with his misogynist ranting and buoys one of the funniest episodes of Comedy Bang! Bang! ever.
1. WTF With Marc Maron (53 points, seven votes)
For the second year in a row, Marc Maron's WTF tops our list, and with good reason. This year Maron crossed the 300-episode mark, and while a great deal of this past year focused on his harsh self-analysis, it seems like Maron actually enjoying his work, possibly for the first time ever. While episodes still go to dark places, Maron has interviewed musicians he admires and has found ways to make the podcast both misanthropic and joyful in nearly equal measure. As the episode with party-positive rocker Andrew W.K. proved, Maron knows how to revel in fun at the Cat Ranch instead of focusing on the negative (though that episode takes a dark turn near the end). It's Maron's ability to tear down and build up his guests, as well as himself, that makes every listen to WTF unpredictable. When Maron delivers on the show's promise, which is more often than not, he cements himself as one of the best interviewers around by focusing just as much on his guests as he does himself.
Check out: The celebratory 300th episode looks back at the podcast's earliest installments, with Maron expressing gratitude for all he's achieved with it. This punctuates a year that saw Maron welcome guests ranging from Carrie Brownstein and Wayne Coyne to Steven Wright and David Cross, all of whom prove to be engaging listens.
---
DAVID ANTHONY
1. My Brother, My Brother and Me(10)
2. The Mental Illness Happy Hour (10)
3. WTF With Marc Maron (8)
4. You Made It Weird (6)
5. How Did This Get Made? (6)
6. Washed Up Emo Podcast (5)
7. Walking The Room (5)
---
AARON FRANK
1. The Best Show On WFMU (8)
2. Nocturnal Emotions (4)
3. Sklarbro Country (5)
4. The Todd Glass Show (6)
5. Comedy Bang! Bang! (6)
6. Who Charted? (4)
7. You Made It Weird (6)
8. WTF with Marc Maron (6)
9. The Pod F. Tompkast (5)
---
TRIP COOK
1. The Best Show On WFMU (15)
2. Savage Love (10)
3. The Fogelnest Files (8)
4. Firewall And Iceberg (7)
5. The Mental Illness Happy Hour (5)
6. Sklarbro Country (5)
---
NOAH CRUICKSHANK
1. Sklarbro Country (10)
2. The Smartest Man In The World (10)
3. Nerdist (10)
4. Savage Love (10)
5. The Moth (10)
---
MARAH EAKIN
1. 99% Invisible (15)
2. Doug Loves Movies (10)
3. You Made It Weird (10)
4. Nerdist (5)
5. Savage Love (5)
6. How To Do Everything (5)
---
D.X. FERRIS
1. Coverville (10)
Three times a week, this long-running podcast (900+ episodes and counting) dips into host Brian Ibbott's bottomless musical well, draws palatable cover songs, and presents them by theme, band, or entire album. See recent full-length tributes to Michael Jackson's Bad and Peter Gabriel's So.
2. Fat Man On Batman (10)
A (sometimes) weekly talk show dedicated to a single superhero, hosted by an informed celebrity, featuring significant guests, that doesn't repeat itself? Kevin Smith's Fat Man On Batman is the acme of narrowcasting. 
3. Nerdist (10)
4. Nerdist Writer's Panel (10)
Dedicated to the nuts and bolts of writing TV and comic books, Nerdist Writer's Panel is weekly window into a world previously accessible only to the initiated.
5. WTF With Marc Maron (10)
---
DAN FITCHETTE
1. The Best Show On WFMU (15)
2. How Was Your Week? (10)
3. Doodie Calls With Doug Mand (10)
4. You Made It Weird (8)
5. Comedy Bang! Bang! (7)
---
COLIN GRIFFITH
1. The Flop House (15)
When all three of the regular hosts of The Flop House—the Original Peaches—come together to talk about a bad movie, their rapport is among the best in all of comedy podcasting. It follows, then, that 2012, the year in which they had the fewest guest hosts, was one of their strongest yet—and that's no small feat considering The Flop House has been around for more five years. In that time Dan McCoy, Elliott Kalan, and Stuart Wellington have finely honed their dynamic as well as the show's structure to the point where all three of their regular segments—bad movie talk, listener mailbag, good movie recommendations—are funny on a consistent basis. It can take a little while to warm up to the show, but it rewards that effort many times over when everything clicks.
2. Comedy Bang! Bang! (12)
3. My Brother, My Brother And Me (10)
4. You Made It Weird (7)
5. Doug Loves Movies (6)
---
GENEVIEVE KOSKI
1. Doug Loves Movies (10)
2. Pop Culture Happy Hour (10)
3. Comedy Bang! Bang! (7)
4. You Made It Weird (6)
5. Savage Love (5)
6. The JV Club (5)
7. WTF With Marc Maron (5)
8. Nerdist (2)
---
KEVIN MCFARLAND
1. Pop Culture Happy Hour (14)
2. WTF With Marc Maron (12)
3. Filmspotting (9)
4. Sklarbro Country (9)
5. The Tobolowsky Files (6)
---
STEVE MOORE
1. Walking The Room (10)
2. Never Not Funny (10)
3. Professor Blastoff (8)
4. Citizen Radio (7)
5. Comedy Bang! Bang! (5)
6. The Pod F. Tompkast (5)
7. Hang Out With Me (5)
---
NATHAN RABIN
1. Comedy Bang! Bang! (5) 
2. The Dana Gould Hour (5) 
3. The Mental Illness Happy Hour (5) 
4. Sklarbro Country (5) 
5. The Long Shot Podcast (5)
6. The Todd Glass Show (5) 
7. WTF With Marc Maron (5) 
8. You Made It Weird (5) 
9. The Pod F. Tompkast (5) 
10. Wrestling With Depression (5)
---
KYLE RYAN
1. Comedy Bang! Bang! (9)
2. Never Not Funny (8)
The pay wall may be all that stands between Never Not Funny and the acclaim it deserves. People don't like to pay for things on the Internet, but the $20 seasonal subscription to Never Not Funny translates to pennies for hours of entertainment. Speaking of deserving acclaim, Jimmy Pardo is one of the best comedians working, and his chemistry with Matt Belknap and their frequently-shouted-at underlings makes for some of the most consistently funny longer-form podcasts out there. Kick down a few bucks and go primo, everyone.
3. The Pod F. Tompkast (7)
4. Mike & Tom Eat Snacks (5)
Hampered by long stretches of inactivity in 2012, Mike & Tom Eat Snacks still remains a brilliantly funny podcast. Although ostensibly devoted to the eating of snack foods and candy, the podcast's real charm is the long, discursive tangents that take them to bizarre places. 
5. Savage Love (5)
6. Sklarbro Country (5)
7. Superego (5)
One of the treasures of the podcasting world. If you aren't listening to it, you're missing out.
8. The Moth (3)
9. Walking The Room (3)
10. Doug Loves Movies (2)
---
DAN TELFER
1. Stuff You Missed In History Class (15) 
2. The Dana Gould Hour (15)
3. The Thrilling Adventure Hour (10)
4. How Did This Get Made? (5)
5. Walking The Room (5)
---
CLAIRE ZULKEY
1. The Pod F. Tompkast (15)
2. Savage Love (14)
3. WTF With Marc Maron (7)
4. Bullseye (7)
5. How Was Your Week? (7)