Since the advent of social media there has been the social media shill, the famous person who somehow successfully leverages the unreasonable amount of attention their words and photos get into sweet, sponsored cash. Brands have long paid YouTube stars, Real Housewives, Lindsay Lohan, and others whose fame isn't dependent on "integrity" to pretend to enjoy weight-loss shakes, tooth whiteners, and butt cream in their Twitter and Instagram posts, hoping their endorsements will translate into buys from a clearly loyal, undiscerning audience. It's a good system and it works, insofar as leaving everyone involved feeling equally hollow. But now the Federal Trade Commission is looking to crack down on these paid promotions and clean that system out, like a 100-percent natural Flat Tummy Tea.
Bloomberg Businessweek reports that the FTC is planning to "get tougher" on Instagram celebrity endorsements, putting the burden on advertisers to ensure that the famous people they pay to post their sponsored content do a better job of spelling that out. At the moment, many users skate by with hashtags like "#ad," "#sponsored," and even "#sp"—often jumbled up in the Jabberwocky litany of other hashtags on the average celebrity Instagram post—which the FTC says probably isn't enough.
"If you have seven other hashtags at the end of a tweet and it's mixed up with all these other things, it's easy for consumers to skip over that," the FTC's Michael Ostheimer tells Bloomberg. "The real test is, did consumers read it and comprehend it?" Well, they're combing through Kourtney Kardashian's Instagram, Mr. Ostheimer. So, no. Still, can they not read everything they need to know in the thoroughly detoxed, Dead Sea Scrolls of her eyes?
Apparently not, as the FTC believes neither hashtag nor haunted expression is enough to convey ad dollars at work here. So it's calling on celebrities to be more upfront about disclosing that they aren't just cramming themselves into organ-collapsing waist trainers for their health—even threatening legal action, like the lawsuit it recently brought against Warner Bros. for paying YouTube stars like PewDiePie to promote its video games. Though as of now, the FTC's policies on just how to be more upfront aren't entirely clear. To be on the safe side, other "influencers" might want to follow the lead of Kourtney Kardashian's ex, Scott Disick, who just copied and pasted the email instructions from his marketing team. Once mocked as hilarious laziness, now it can be seen as a prescient form of protest. Hail to you and your heroic refusal to try, Scott Disick!

G/O Media may get a commission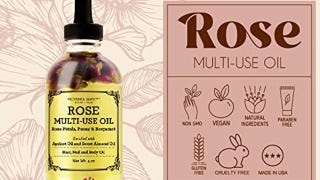 Provence Beauty Rose Multi-Use Oil
But naturally, both the advertisers and "influencers" have already cried that this could make their photographs of semi-famous people holding large containers of things with the labels clearly facing out "seem less authentic." Indeed, theirs is a sacred trust between sort-of-celebrity, gullible person, and fast-acting laxatives. And now that trust is being threatened. Where will our neediest D-listers get the revenue that allows them the freedom to exploit their meager fame now? Who will #sp them?