In the season six finale, Workaholics gets back to basics. Basics for Workaholics meaning a plot that hinges on the theft of a long-storied porno tape, Blake starting a superhero team, Adam being buried up to his neck, Ders sharing the shameful back story of why he has to masturbate constantly, a car chase, a ventriloquist dummy, a bomb scare, and the guys jerking off while wearing trash bags. You know—basics.
It's been an up-and-down season for the show, the guys usual shenanigans looking a little listless at times, and episodes not quite building. Here, while still something of a ghost of Workaholics at its best, at least Adam, Blake, and Ders' adventure in pornographic nostalgia hangs together enough to hang some pretty good Workaholics gags on it. For one thing, they brought along a lot of overqualified help. Their roles are small, but the Childrens Hospital Robs, Corddry and Huebel, deliver as usual as a pair of squabbling bomb squad cops, brought in to defuse the TV/VCR combo unit with the long-lost 90s porn classic Klumps parody The Nuttin' Professor stuck inside. (Ders having called in a desperate bomb threat after the package was mistakenly delivered to Alice.) And that's Upright Citizens Brigade's Matt Besser as the guys' porn hero Dan Yella—now a happily married guy determined to buy up and destroy every copy of his one foray into pornography in order to live up to his online handle and vanity plate "MRNULEAF." This season started out by turning over episodes to a few questionable guests, but, while only given a few lines to do there thing here, Huebel, Corddry, and Besser add to, rather than distract from, the episode's story.
As to that story, it makes perfect sense for the guys to fixate on this formative "pornog," as their lives—in the understandable absence of actual women willing to touch them—center on masturbating, weed, and booze (probably but not necessarily in that order). And there's something almost sweet in the guys' opening scene tonight, when their rooftop porn screening sees them collectively criticizing the mechanical, un-nuanced porn of today. (They are even a little guilty that they're projecting the porn to passers-by.) Scrolling through a number of right-to-the-point online clips, each in turn finds himself turned off, claiming, "No, not my porno." Among their complaints are that the performers don't seem to actually be connecting, you know, as people, and a general lack of attention to the craft. A connoisseur's complaint, to be sure, but also one in keeping with the show's conception of the guys as—for all their nonsense—basically decent. (Connoisseurs they are, however—one joke is that, in searching for The Nuttin' Professor, they know the names of literally dozens of porn sites off the tops of their heads.)
G/O Media may get a commission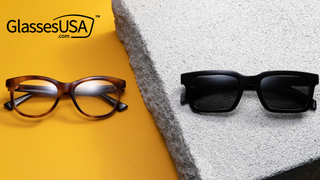 60% off frames
GlassesUSA.com Back to School Sales
When they do end up confronting Yella, their reference to him as their "porn daddy" is undeniably creepy in its way, but the guys don't mean anything creepy by it (even when they enthusiastically accept Yella's offer to have sex with his very understanding wife in a private show in exchange for the tape). Ders, Adam, and Blake's joy at the prospect is an affectionate and respectful one (you know, for them). They're film snobs getting an audience with their Brando (or at least Eddie Murphy), even if their adulation takes the form of the three of them clumsily "cranking down" inside of plastic garbage bags while the bored couple dispassionately humps in their living room.
Along the way to that point, there's the sort of amiably gross screwing around from the three. The scene where they guys' typically dumb and horrifyingly ill-considered plan to catch the guy responsible for stealing their first copy of the tape involves Blake (fashioning himself the vigilante hero The Gnargoyle) perched on the roof with a zipline, Ders hiding in the 'Vo, and Adam buried up to his neck in the lawn, pepper spray at the ready, his head covered by a cardboard box.
The spectacular failure of the plan, which blinds Adam for the rest of the episode, is a nice piece of comic chaos, ably directed by Kyle Newacheck. Blake's neighborhood watch superhero group attracts a goofy ventriloquist (Ify Nwadiwe) and a triple-amputee fireworks fetishist (Cameron Clapp), which makes sense, and involves t-shirts with team name "Beat Ass." (The "b" falls of, naturally.) Adam's blindness has him ineptly assuming he has Daredevil compensatory senses and being excited about the accidental boob-grab possibilities. And Ders—who balks at the guys' pact not to jerk off until The Nuttin' Professor is in their possession—delivers the dramatic story of why, it turns out, he has masturbated every day of his life. (It involves a family vacation, VH-1's Storytellers, and Natalie Imbruglia.) When Yella steals their last procured copy of the movie and the guys set off in pursuit, all the pieces come together with ramshackle but almost logical unity.
Stray observations
"I don't even know what to do since we can't jerk off. I guess have some toast?"

Adam's signature move, putting someone down as if it's a fact and thinking "no offense" will make it okay: "And they're always bad, that's the thing about your stories. No offense."

After Blake calls him out for suspecting the black guy in a hoodie approaching their house, Ders attempts to backtrack: "He could be anyone. A dentist, or a judge, or a Prince Of Bel Air or something."

"Could you not squeeze perfect large air breasts in front of me?"

Adam's guess at the smell of what Jillian is eating—"peanut-buttery grapes."

"Is this by any chance how you got your blade legs?" "I got those in Afghanistan." "Oh, sorry. Thank you for your service." "Setting of fireworks at a Kenny Chesney USO show."

"Oh my God, was that a baby?"

Even that rubber band that Ders put around his penis as an emergency stopgap (apologies) measure comes into play in the end. That's the sort of attention to detail that makes for a successful Workaholics—and the end of another season of Workaholics reviews. Thanks for reading, everyone.