Asian visibility has come a long way on American TV screens. As an Asian-American viewer who pays keen attention to such moments, for me these past few months of television have felt progressive—revolutionary, even. Mindy Kaling and Aziz Ansari have both established themselves in significant, non-stereotyped roles in the TV world. The post-Sandra-Oh era of strong Asian women has seen Lucy Liu as Joan Watson on Elementary and Maggie Q as Beth Davis on Stalker. ABC's Fresh Off The Boat—a show that stars an entire Asian family—made waves when it debuted in February. But perhaps the most surprising development of all is the casting of Asian men as romantic roles, notably on the short-lived and underrated Selfie and Netflix's latest comedy hit, Unbreakable Kimmy Schmidt.

Hollywood's Asian men—the few there are—have a history of being typecast from a very small pool of characters: the nerdy comic relief, the villain, or some sort of kung-fu master. Rarely do they get the part of the romantic lead. If American media tend to hypersexualize Asian women, then they've turned the race's opposite sex into essentially sexless creatures.
Enter Selfie's Henry (John Cho) and Kimmy Schmidt's Dong (Ki Hong Lee), who not only get a girl, but get the girl: two Asian men on mainstream American television paired with the lead actresses of their respective shows. (Important to note: lead Caucasian actresses—Asian men are rarely shown dating outside their own race on TV.) It's certainly a victory for a race of people who have been underrepresented—and mostly unloved—on-screen for years.
Still, that doesn't mean we're suddenly cured of TV's misrepresentations of Asians. The learning process is slow: The #HowIMetYourRacism episode of How I Met Your Mother only aired a year ago. And while the Dong and Henry roles are monumental, there's still a ways to go in their character and story development.
Dong and Henry sit on opposite sides of the Asian representation scale. On one hand, Dong, with his heavy Vietnamese accent, is not just any immigrant, but an about-to-get-his-ass-deported kind of immigrant. His name becomes the butt of many obvious dick jokes. Ironic that Asian dudes get so many dick jokes made about their names ("Wang" being the other big one, no pun intended) but rarely do we see them getting any action.
G/O Media may get a commission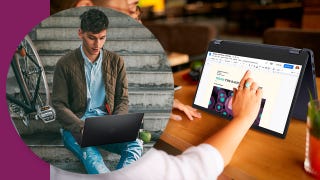 Ends August 15
Best Buy Anniversary Sale 2022
Ends August 15
Best Buy has a number of different promotions happening all for its Anniversary Sales Event. Laptops, tablets, TVs, you names it. Whether you're heading back to school or just trying to fill your home with some new tech, there is something here on sale that you've likely been waiting for.
On the other side of that scale is Selfie's Henry, whose Asian heritage is essentially invisible, starting with the fact that his name is Henry Higgs (Selfie is based on My Fair Lady, but still). He doesn't hold a particularly "Asian job" or have particularly "Asian hobbies"; one might even call him whitewashed. John Cho stepped into a role that could have otherwise been filled by a white man.
The Henry-Dong polarity exists for Asian characters on other shows, too; it's rare to see the respectable middle ground. Regardless of their differences, Henry and Dong share a similar problem: While Asian guys are starting to feel the love, they're not getting all of it. The issue of their sexlessness still lingers. I'm not necessarily talking about literal sex—though that certainly lacks, too—but about the fact that both men experience stunted romance in their storylines.
Henry is an endearing stick-up-his-ass type who plays mentor to the social media-obsessed Eliza Dooley (Karen Gillan), who in turn often points out his lack of a social life (including, obviously, a love life). Henry spends most of Selfie romance-less; even his short-term girlfriend Julia feels more like a business partner than a lover, with no chemistry or warmth between the two. In one scene Henry is on the phone with Eliza, and though he's spending the night alone, he pretends to be having sex with Julia. Henry feigns moans so uncomfortably, it makes us think that he has perhaps never been with a woman before. His awkwardness with Julia is, of course, a lead-up to his realization that he's meant to be with Eliza, but even that epiphany is left unsatisfied. There's a brief "Yes! Finally!" moment when Eliza throws herself onto Henry, but he rigidly wards her off and the two quickly resume their mentor-mentee relationship.

The show's swift cancellation is regretful, not only because the series started to actually get really good, but because we never get the love story out of Eliza and Henry. Selfie's non-conclusion of a finale shows Eliza back with her hookup buddy, Freddy—a man who often made her feel hollow—and Henry, finally realizing his feelings for Eliza, left yearning. So while the Asian man here does become the desired man, he still gets the short end of the usual love story arc—in Henry's case, a seduction scene, but not even a kiss. Also, Henry decides to report said seduction to his company's HR rep, and his account is so stiff that you might think he was either a doctor or an asexual: "Mammaries. I saw them. Separately, and then together. It was basically a full-frontal co-worker type situation." Even John Cho couldn't shake off the sexless Asian man stereotype.
It's worth noting that this story arc was influenced by powers beyond the control of the writers—who, in the case of a renewal or back-nine order, would want to leave room for more stories to tell. It's why Selfie leaves us feeling so unsatisfied—it never got the comeback it desired, or deserved. Kimmy Schmidt wasn't guaranteed a season two on Netflix before all 13 episodes were finished, and its final will-they/won't-they moment is only made more satisfying in our knowledge of its renewal.
On Kimmy Schmidt, Dong also gets involved in a love triangle trying to win over Kimmy. Her choice appears to be made by default: With two men fighting for her attention, she ends up going for the genuinely nice one who cares for her rather than Logan, the self-absorbed daddy's boy whose quirks, revealed over time, become less and less charming. Still, it's only when Kimmy realizes Logan tried to get her friend Dong deported that she calls it off with him. Choosing Dong just seems logical, but their should've-been-climactic "I choose you" scene is otherwise met with a short kiss and goodbye as Dong (temporarily) leaves New York.
Kimmy and Dong barely have a romance during the course of season one. Their first kiss happens to be a fake one, when they act out a part to help out Xanthippe (the stepdaughter of the rich woman Kimmy works for). The actual kiss they share later is brief and rather cold. They never even get to go out on a date. The season finale ends with Dong getting married to someone else (an old woman named Sonja from their GED class) for the sake of his citizenship—a forced "romance" to appease the law. Kimmy seems rattled by the news, but the show ends before we see her reaction develop: Is she just surprised or actually heartbroken? It's another unsatisfying ending—though thankfully, Kimmy Schmidt is returning next year, so it still has a chance to redeem itself in the Dong-Kimmy romance department.
Outside of single-camera sitcoms, the one Asian male love interest that nails both representation and romance is Glenn Rhee (Steven Yeun) in The Walking Dead. He's an Asian man who is neither tied down by stereotypes nor restricted from his romantic passions, as his relationship with Maggie Greene (Lauren Cohan) develops. (Here, too, Maggie is a Caucasian woman.) Glenn's background is acknowledged, but not mocked, and his character is three-dimensional. The Glenn and Maggie love story isn't the principal premise of The Walking Dead, but it's one of the most interesting aspects of it, and it's one that's worthy of being modeled after. Wouldn't it be great if someone like Glenn was cast as a romantic lead? Nevertheless, both Dong and Henry are steps in the right direction, perhaps even one giant leap for (Asian) man-kind.