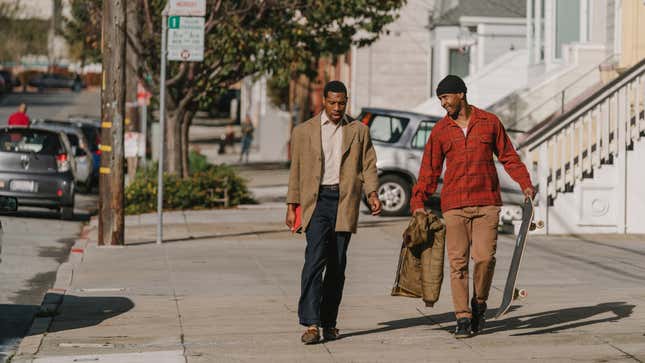 Anthony Hopkins has figured out what we all knew about Marvel movies
The Last Black Man In San Francisco feels like an expulsion of everything director Joe Talbot and star Jimmie Fails have ever wanted to say about their hometown. As childhood friends who grew up in the Bay Area, Talbot and Fails have watched their city irrevocably change over the years through gentrification, the tech industry, and urban renewal in all of its curdled idealism. Their roots in San Francisco run deep enough for them to maintain a loving relationship with the city, but it's complicated by witnessing the way wealthier interests have been privileged above their own, an experience undoubtedly familiar to many long-term urban dwellers. The Last Black Man plays like a poetic portrait, part tender ode and part cartography of lived experience, bringing a nuanced and hard-earned perspective to the screen.
Written by Talbot and Rob Richert, and loosely based on Fails' real-life experience, The Last Black Man revolves around a gorgeous Victorian house in the Fillmore district. Fails, playing a fictionalized version of himself, and his best friend, Montgomery (Jonathan Majors), make the lengthy trip from their outlying neighborhood to the house each day to maintain the exterior's upkeep, much to the chagrin of its wealthy white residents. Despite architectural records that date the structure to the 19th century, Fails believes the house is his birthright, insisting his grandfather built it in 1946, when the Fillmore was known as "the Harlem of the West." He grew up there, but his father (Rob Morgan) lost it in the '90s due to negligence and drug addiction. Its reclamation becomes Fails' lifelong mission, à la a disgraced prince trying to reclaim his throne. So when the owner dies and the heirs become embroiled in an estate dispute, he and Montgomery begin squatting in the abode, reconstructing it in their own image.
The homestead's expansive, stately interior becomes a playground for Fails and Montgomery, who furiously run around the space like children. They return all of Fails' old furniture, stored in pristine condition, and fix it up into an isolated utopia unaffected by the changes, natural or otherwise, happening outside its walls. Talbot and cinematographer Adam Newport-Berra imbue the house with a warm energy, portraying it in a permanently amber light, but they also communicate its intrinsically antique nature. As much as Fails' righteously defies the encroachment of white middle-class taste in his old neighborhood, the Victorian also represents his inability to adapt to the changing tides.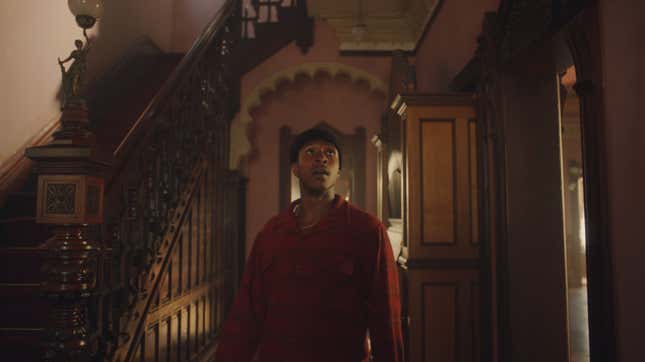 Talbot doesn't maintain a rigid focus on Fails' struggle with the house, preferring a larger, more digressive scope that encompasses multiple walks of life. There's a Greek chorus of neighborhood toughs, whom Montgomery, an aspiring playwright, uses as inspiration for a new work, even though they mercilessly taunt him. Montgomery's blind grandfather (Danny Glover) houses the two cohorts, who in turn watch mid-century Hollywood films with him while describing the action. Fails' disgruntled father, affectionate aunt (Tichina Arnold), and wayward cousin (Mike Epps) also make appearances. The Last Black Man often bursts at the seams with character and detail, making room for local cameos by the likes of former Dead Kennedys frontman Jello Biafra (as a Segway tour guide) and R&B singer Michael Marshall, who sang the infectious chorus to Luniz's "I Got 5 On It." It's a film that carves out space for a nudist and an obnoxious party bus packed with drunks screaming, "This guy fucks!" There's little in the way of cheap villainy, save for an ambitious real estate agent (Finn Wittrock), and even he's not so bad. Talbot extends a Hal Ashby-like grace to everyone who passes through his frame, crafting a community profile to ground the fairy-tale tone in a realistic framework.

With that said, The Last Black Man, like many ambitious debut features, feels overstuffed. Packing a plethora of ideas and emotions into the film, Talbot and Fails risk muddling their worldview; it's not difficult to determine their beliefs or principles, but the impact of both is blunted when diffused across multiple areas of focus—the Victorian, the city, Fails' and Montgomery's respective families, etc. The film's pensive pacing and affected dialogical patterns, reminiscent of Finnish filmmaker Aki Kaurismäki, undoubtedly set it apart from the rabble. But they also too frequently scan as empty affectations. Likewise, while The Last Black Man's gentle, offbeat nature is its greatest strength, it eventually develops into mannered artificiality when that style stops existing for its own sake and has to eventually meet the film's narrative demands. At some point, Talbot simply stakes too much ground to cover, his film culminating in a third act that reaches for the sky and ultimately lands at the roof.
Still, it's a genuine delight to watch someone overreach when they also march to their own beat. The Last Black Man In San Francisco doesn't follow an established playbook. It tries to write a new one, earnestly to life as it's lived and dreamed. Individual elements linger in the mind long after the film concludes: Fails and Montgomery's unconventional yet heartfelt friendship, which never collapses into archetypal territory; the twin immersive forces of Emile Mosseri's orchestral score and Newport-Berra's autumnal color palette; and stunning montages of San Francisco streets which operate like fierce urban advocacy. Every time Talbot introduces a thread that feels bare, there's another one leading in a new, interesting direction. The Last Black Man might read as a statement of purpose, but here's hoping it's merely an introduction.