In an effort to both serve our readers and help support The A.V. Club, we are going to post daily links to deals and interesting items that we find over on Amazon. If you use these links to click through and buy something—not just the thing you clicked—on Amazon, we will see a portion of that income. You don't have to do that if you don't want to, but if you do, know that we appreciate it.
Catch up on The Goldbergs over the weekend before the show returns Wednesday, September 21.
He's (plush) Batman.
G/O Media may get a commission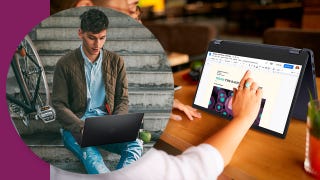 Ends August 15
Best Buy Anniversary Sale 2022
Ends August 15
Best Buy has a number of different promotions happening all for its Anniversary Sales Event. Laptops, tablets, TVs, you names it. Whether you're heading back to school or just trying to fill your home with some new tech, there is something here on sale that you've likely been waiting for.
Haven't you always wanted to dress your sad, angry cat up like a member of Mao's red army? For a mere $16.27, here's your chance. There's also a doctor costume, if you think your tabby is more of a helping sort.
The Lobster ($5.99 to rent, $9.99 to own)
We gave this movie a big B+, saying its first hour is "close to perfect in its merciless satire."
Morris From America just hit theaters a month ago, and already it's on Amazon. We gave it a B, saying it "finds a fresh angle on coming-of-age convention."
Up your minifig game with this 157-piece set of city-centric Lego accessories. This set includes a park bench, picnic table, hot dog cart with hot dog and umbrella, two trees, a bike, a paint roller and bucket, a lawnmower, a ball, a croissant and a basket, a sign, a fence, a briefcase, and flowers, plus about 16 different minifigs, including a service dog.
Amazon's description says this game "deploys with an assortment of collectible physical items and exclusive digital content designed to customize your multiplayer experience."
Powered by SteamVR, this VR headset lets wearers wander around their house, all while exploring the world of virtual reality.