Yesterday the floorboards shrieked and the walls moaned as this Full House became demonstrably Fuller, bursting now with a growing Tanner brood that has once more been called forth by death, to join together and laugh in delicious pain. But as we look upon this grieving shanty already teeming with the widow D.J., her two fatherless spawns, her blood sister Stephanie, her gibbering shadow self Kimmy Gibler, and Gibler's own unholy teenage demographic fulfillment—plus John Stamos as "Uncle Jesse"—there is still a howling, catchphrase-less void. A place of emptiness and uncertainty as to dudes and whether they've got it. A question of whether the Olsen Twins will return, or whether this house will ever be truly full enough to blot out the encroaching darkness.
Earlier reports said that the participation of the Olsens—like that of Bob Saget, Dave Coulier, Lori Loughlin, and the Rippers—were "ongoing." Though, according to a new interview, apparently not everything about a reboot of Full House in the year 2015 has been totally thought through. "We just found out about it today," Mary-Kate Olsen told Women's Wear Daily yesterday, a day that was full of surprise in more ways than just the incremental advancement of women's wear. In fact, the Olsens say they had no knowledge of the series at all until John Stamos made his announcement on Jimmy Kimmel Live, having not paid attention to any of the many Internet reports or dark omens on the sea.
"I ran into Bob [Saget] the other day and we didn't even talk about it," Ashley added. "I'm shocked I haven't heard from John [Stamos]," Mary-Kate countered. Their stories confirmed that they're still on a first-name basis with the guys from Full House, which would suggest they'd at least merit a phone call.
And even after declaring that the Olsen twins were shutting down all acting operations to focus on fashion and babbling about perfume, the sisters say they haven't ruled out appearing on the show. But, as they did so many times in moments of crisis and learning how to do basic human things, the Olsens must first seek the counsel of Bob Saget: "I'm going to call [Saget] and get his perspective," Ashley said, avowing to pose the question of whether one should milk the fame of Full House to Bob Saget. And who knows what Bob Saget, in his wisdom, will say to that?
In the meantime, both Candace Cameron-Bure and Lori Loughlin have separately agreed that only one Olsen is necessary to complete the circle. So it's possible that, after careful consideration, King Saget will decree that the Olsen Twins be cleaved in half with a sword.
G/O Media may get a commission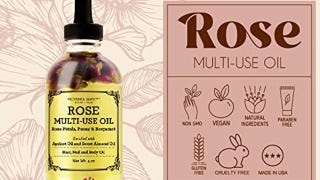 Provence Beauty Rose Multi-Use Oil