One week a month, Watch This offers movie recommendations inspired by the week's new releases or premieres. This week: Equity inspires a look back at other films set in the corporate world.
Don't Go Breaking My Heart (2011)
People mocked Mitt Romney when he described corporations as people, but Johnnie To and Wai Ka-Fai's Don't Go Breaking My Heart understands that individuals investing in a romance operate quite similarly to businesses playing the market. One weighs different partners, attempting to determine if they'll blossom into truly lovable individuals, all before choosing a marriage as a long-term investment. The film's first third equates the 2008 financial meltdown with the breakup of Zixin (Gao Yuanyuan). When the story flashes forward three years, her hope is to finally make sound financial and romantic decisions.
Most romantic comedies pit a bad boy against a nice guy, but Don't Go Breaking My Heart complicates this by providing Zixin with two equal potential partners. To regular Louis Koo plays a competitive financial analyst named Shen-Ran, initially enticing her through a playful window flirtation across skyscrapers, though his commitment to monogamy continually falters. Zixin also flirts with Qihong (Daniel Wu), an alcoholic who has turned his life around to become a successful architect. Throughout the film, Zixin traverses back and forth between these two men, whose charms and flaws evenly measure out.
To and Wai opt against bawdy humor for an elegance reminiscent of 1930s comedies by Ernst Lubitsch. The playful cross-office flirtation sequences use silent-film gestures and sticky pad-made emojis, recalling Jacques Tati's Playtime. The directors shoot Hong Kong as a brightly lit metropolis with metallic lines of pastel colors, all aided by Xavier Jamaux's frothy piano plucks. With wide-opening framing, To and Wai create playful, unexpected sight gags as the characters spy on their expected partners through windows.
G/O Media may get a commission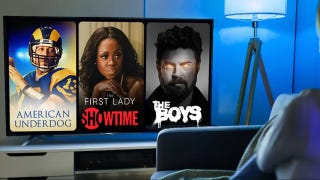 UNDER $1
99¢ Prime Video Channels
The love triangle must be resolved, but the film surprisingly makes either potential outcome enticing. When Zixin finally makes a decision, it's not between the right guy and the wrong one, but two individuals that could each provide her with the happiness she deserves. For all her business acumen, she eventually must choose with her heart.
Availability: Don't Go Breaking My Heat is available on Blu-Ray from Amazon or possibly your local video store/library. It can also be rented or purchased through Amazon Instant Video.