A guide to what we're barely putting up with this week.
The return of the completely engrossing House Of Cards. Anything that keeps Kevin Spacey in the public consciousness as Frank Underwood, and not "Kevin Spacey: Man of 1000 accents in an E-Trade commercial," is a very good thing.
The Divergent Series: Allegiant. There's teen angst and then there's teen dystopian angst. Turns out they're pretty similar, actually.
G/O Media may get a commission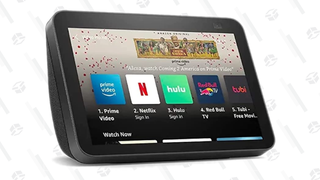 The Kids' Choice Awards, hosted by someone the kids definitely didn't choose, Blake Shelton. It's great that we're empowering kids to make important choices like who gets to take home the orange blimp statue for "coolest actor."
Easter-themed liquid horror, Peeps-flavored milk. Sure, but can you watch the milk explode to twice its size in the microwave? Because that's the only thing Peeps are good for.
NBC's televised elementary school talent show, the Steve Harvey-hosted Little Big Shots. Kids say and do the the darndest things—none of them entertaining.
The relationship-ruining, people-ranking app, Peeple, a.k.a. "Yelp for people." Finally: An app that allows you to treat human beings like restaurants, stores, and that nail salon that smudged your manicure that time!
TLC's thoroughly unnecessary Duggars sequel, Jill & Jessa: Counting On. Enough. There have to be other thirsty, over-breeding families in fringe religious sects to make the stars of their own TLC freak show.