Can two people stay together happily forever? The new six-episode Netflix series Wanderlust attempts to answer this age-old question by intimately dissecting the marriage of an English couple, a therapist and an academic. The therapist is played by Toni Collette, who once again proves that she is one of the finest actors working today, fearlessly exploring her character's rigorous travails as she embarks on this surprising emotional journey.
Collette's character, the pointedly named Joy, is feeling trapped in her loving but passionless marriage. Her husband, Alan (Steven Mackintosh), feels the same way, so the two embark on an experimental polyamorous relationship wherein they both see other people while staying married. For a while, the arrangement does what it's meant to, and rekindles the spark in their marriage; they even double-date with their respective partners. But while the couple frequently and fervently says the new setup is just for fun, with no serious consequences, that inevitably proves impossible in practice.

While Mackintosh's Alan is a steady, supportive partner, it's Collette who remains riveting throughout. Joy's dissatisfaction emerged after a serious bike accident, which in turn was a result of a tragedy related to one of her clients. Collette is such a skilled actor that Joy's internal journey is apparent, even as she silently eats four muffins in her kitchen, shirtless and standing. Flashbacks occasionally dot the screen—like streams of consciousness—to flesh out Joy's myriad mental struggles even further. She spies a newlywed version of Alan and herself at the home improvement store, far removed from her tangled present day; she gets a flash of that long-lost client right before almost kissing someone she shouldn't. Even the camera angles steer us in the right direction: When Joy invites a prospective lover into her office, the camera swirls around behind them before focusing decidedly on Joy's viewpoint, establishing that she's the one in control. Even the music is unexpected and exemplary, ranging from the incendiary "What Would You Do" by Joan As Police Woman to the contemplative "Song To The Siren" cover by This Mortal Coil.
In his TV debut, playwright and series creator Nick Payne adds depth to the madcap-on-the-surface "boring couple tries swinging" scenario. To be sure, the first few episodes focus on the central couple's carnal desires, with significantly steamy interludes. But as they're bound to, emotions manage to worm their way in, and Alan and Joy find themselves in situations much more complicated than expected. While Joy has fun playing the field, Alan finds himself drawn to engaging colleague Claire (Zawe Ashton). And when Joy's ex-flame Lawrence (Paul Kaye) arrives in town, even though she's kissed many new people by this point, she can't kiss Lawrence, as that would take her a step away from Alan that she might not be able to come back from.
G/O Media may get a commission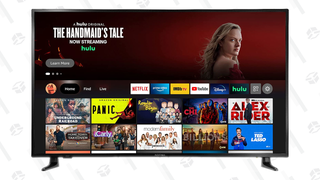 38% Off
Insignia 50" 4K UHD Smart TV
Collette can't carry the whole show, of course, and Payne fleshes out the pair's story by offering sidebars focused on their children. Of these, teenaged Tom (Joe Hurst), the youngest, fares the best, as he realizes that kissing his crush isn't as fun as kissing his best friend, Michelle (Isis Hainsworth), because of the powerful emotional connection he has with her. Their flowering (and attempted deflowering) relationship is very sweet as Tom has wisely learned the lessons of his still-affectionate parents: True love may involve filling a water bottle for somebody instead of just passionate sex. The plotlines of older daughters Laura (Celeste Dring) and Naomi (Emma D'Arcy) suffer by comparison by not being fleshed-out enough and are left wanting, as Laura hooks up with one of Joy's patients, who's also recovering from trauma, while Naomi draws the attention of the housewife and talented baker who lives next door.
But these other stories augment the main ones—like Joy's flashback to losing her virginity juxtaposed against her son attending a party—by offering various examinations of the variety of ways there are to love somebody. There are so many different opportunities to connect with people—almost as many as there are people. Whether it's through a one-night stand or a fling or a late-night phone call or a chat over a pot of tea, we're all trying to make a valuable connection somewhere. Lacking a vital part of that connection at home, Joy and Alan search elsewhere, raising the eternal monogamy question of whether it's possible for one person to fill all of those emotional needs, forever.
Except that because these are considerably full fleshed-out characters, Joy's needs, like our own, go even deeper than that. Collette's Emmy reel is episode five, which involves Joy's own therapy session with her therapist, Angela (Sophie Okonedo). As skilled at her work as Joy is, Angela gently probes to help Joy figure out what she's really looking for. When she gets there, Joy's rage-filled grief is so raw that her onscreen destruction is devastating to witness. It reminds us that whatever dissatisfaction people feel may be far removed from that hookup or drink or Ben & Jerry's we're craving at the moment.
An episode like that one is not really what a viewer might be expecting when embarking on a binge-watch of a "swinging" show like Wanderlust. Like Alan and Joy themselves, the viewer winds up in a very different place from where they started, before trying to find their way home again. Love is a journey, and if we're lucky, it's a long one. But Wanderlust—led by Toni Collette—offers a fascinating exploration of the twists and turns along the way.