Ty Segall and Tim Presley (who records as White Fence, among other monikers and bands) are two young stars of a scene that's been classified under many different names—garage, psych, garage-punk, psych-punk, flower-punk, psych-pop, and so on—but is almost always described in broad terms as "retro." This no doubt will be the case with Hair, a collaborative release boasting gloriously fat drums, snaky guitars, beach-party basslines, sock-hop keyboards, and lots of carefree fucking-around. It is loose, jammy, sloppy, possibly intoxicated, definitely slapdash, and deserves to be ranked as the most purely enjoyable rock record of the first half of 2012. Like so many other great records of its kind that have come out so far this year, and in other years, regardless of what's happening elsewhere in music, Hair deserves better than being drawn and quartered into call-outs to other, older, more familiar bands. Listen closer, and Hair might even sound like what's coming on the horizon. 
Before we get to that, let's touch briefly, once again, on the 2011 book Retromania. (Yes, this is the 10,213th review to reference Simon Reynolds' prolific conversation-starter.) Much of the talk about Retromania has focused on its most obvious point: That culture generally, and music specifically and perhaps most egregiously, is endlessly recycling elements from the past in lieu of looking toward the future. But Reynolds makes another assertion, buried a little deeper in the book, that actually seems fresher, truer, scarier, and potentially more exciting: What if there no longer is such thing as "a future"?
As a concept in mass media, "future" is associated with whatever upcoming movement or far-reaching cultural shift will inalterably change what things sound, look, and feel like. But mass media don't necessarily work that way anymore. We are no longer moving together as a single culture in a straight line; we are individuals zigzagging between different worlds with their own self-contained ecosystems. We are, in other words, free to make our own futures from the pieces of our own experiences (as opposed to something that's "shared" by "everyone").
This has had an impact on culture in two ways. 1) It has finally, and for good, put to rest the myth of the monoculture, which only seemed true in the past because media (not people) were monolithic. 2) It has completely unmoored us from our former sense of time. When people have the freedom to travel rapidly between different eras in the space of a single iTunes playlist, time as a descriptor of a musical aesthetic becomes irrelevant. Certain guitar or drum sounds that might normally be described as "'60s-sounding" are as common today as they were then. And they're free to be combined with other sounds that older listeners associate with bygone eras, while musicians see them simply as colors on a generously expansive sonic palate that can be dipped into and slathered together.
G/O Media may get a commission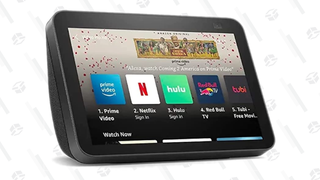 Segall and Presley get lumped together under the banner of garage-punk (to pick one imperfect classification), but outside of some general similarities, they've taken the colors of rock and psychedelia and painted markedly different pictures. Segall is the bolder, cock rock-inclined one: Over time he's evolved from the fire-spitting drug-punk of early records like 2010's Melted to, on last year's sultry Goodbye Bread, a cool, sexy rocker in the mold of Marc Bolan. Presley, meanwhile, is the spooky loner: In addition to Hair, he's released the two-part Family Perfume this year (the second volume comes out May 15), a hypnotic set of bad vibes and low-key melodies that sound like they were recorded in the dark of a locked closet.
Both guys are prolific (Segall will put out Slaughterhouse, which hearkens back to his cruddier and more demented early work, in June), and Hair is in some ways the least consequential of their many recent LPs. But it's also an ideal introduction to their music, combining Segall and Presley's respective strengths: It's a little more out-there than the relatively straightforward crunch rock for which Segall is known, and it's punchier, meatier, and more extroverted than White Fence's usual fare. "Time" has the big-beat, T. Rex strut of Goodbye Bread, but the underlying menace—the sense that it could fall apart instantly and slip into a terrifying hallucination—is all Presley. The irresistible "I Am Not A Game" similarly bounces along on slashing guitar and stuttering drums, but the organ riff blurs by in the undertow like an evil spirit.
If there's a dominant player on Hair, it's probably Segall, since fun wins out over creeping fear on the album's eight giddy tracks—most explosively on "Crybaby," which re-imagines Eddie Cochran through a Syd Barrett lens. But both participants have pivotal roles, if only because it takes at least two to have a party. And as pleasurable it is to listen to, Hair sounds like it was even more fun to bash out. (A collage of the duo's delirious jam sessions spliced together in the middle of "Scissor People" hints at the revelry that occurred behind the scenes.)
Hair is not "innovative" as the word is commonly defined. But it does come out of a world that is in the process of continually reinventing itself with indigenous influences. Judging by how vibrant this scene currently is (if the word "scene" still fits) in various parts of the country—whether it's the robo-punk of Mind Spiders from Denton, Texas; the drone-pop of Radar Eyes from Chicago; or the poisoned power-pop of Atlanta's Gentleman Jesse—these influences are clearly being molded and shaped in distinctive and inspiring ways.
When The A.V. Club interviewed Reynolds last year, he suggested that the only way to find something "new" was to unplug from the digital world. This seemed "inconceivable" to Reynolds, but that's exactly what Segall and Presley (along with many others) have been doing for years. Hair exists outside of what's commonly seen as contemporary, which is precisely what makes it contemporary.
"I only use sounds that I know and love," Presley said in an interview last year. "I can't concern myself with trying to be 'modern' or whatever that means. Electronic music? What is modern?" Recognizing that this question has no single answer is the first step toward a new, uncertain future.