According to a letter posted on his website, Tyler Perry experienced a flood of emotions after watching Precious—a movie about a 16-year-old girl who is physically abused by her mother and father. Perry reveals that seeing the movie forced him to confront his own painful memories of child abuse.
From People:
There's nothing funny about Tyler Perry's latest work: a revealing account of the horrific abuse he suffered as a child.

"I always thought I would die before I grew up," the comedian writes in an uncharacteristically somber letter to fans on his Web site….

Beginning with his mother's failed attempt to leave his abusive father, Perry recounts a horrific list of beatings and hardships he suffered.
Perry's memories are horrific, and I don't doubt his claims of childhood abuse. What I do doubt is People's claim that there's nothing funny about child abuse. Has anyone at People ever seen a Tyler Perry movie? His character Madea is a chronic child beater…and it's hilarious! In fact, child abuse is Tyler Perry's funniest running gag! Madea is easily cinema's funniest child abuser.
In fact, it's a little weird that Tyler Perry didn't come to terms with his own childhood abuse while watching, say, Madea's Family Reunion—which is, in part, a movie about how an old spinster woman hilariously beats some sense and discipline into a foster child. But maybe Tyler Perry's childhood abuse wasn't the funny kind? Cause Madea's brand of kid beating is always funny.
She beats kids in the backseat:
She beats them with with a belt taken from her special belt bag!
And it's not just kids who are under Madea's care who get her beatings! Why, she'll beat any kid, any time, any place!
But it doesn't matter because Madea is a man dressed up like a fat lady and therefore hilarious.
G/O Media may get a commission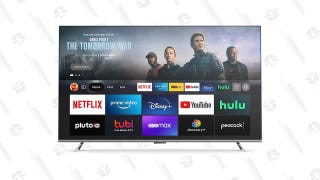 Save 46%
Fire TV 55" Omni Series 4K UHD Smart TV
Just as Precious helped Tyler Perry come to terms with memories of his terrible childhood abuse, maybe someday someone will see Madea's Family Reunion and realize that all those times they cowered underneath the merciless belt of an abusive guardian were, in retrospect, really, really funny.