Here's what's up in the world of television for Monday, April 7. All times are Eastern.
TOP PICK
NCAA Men's Championship Final (CBS, 9 p.m.): Tonight, the Madness Formerly Of March finally ends, as the UConn Huskies battle the Kentucky Wildcats in Dallas, Texas. Kentucky's freshman star Aaron Harrison brought the Wildcats to victory against Wisconsin Saturday night with a game-winning three-pointer in the final moments of the game. He goes up against an enthusiastic UConn team who managed to make it all the way to the final despite being only the seventh seed in their region. Regardless of who wins, it promises to be good basketball—which is all the consolation we have left, as our brackets are totally destroyed.
---
ALSO NOTED
RuPaul's Drag Race (LOGO, 8 p.m.): While the NCAA dukes it out in Texas, RuPaul and her queens bring not just one but two new episodes of Drag Race, along with two new episodes of Untucked. Three hours of drag queens! Oliver Sava is both a little excited and a little freaked out.
Rick And Morty (Adult Swim, 10:30 p.m.): There was not a new episode of this last week, even though we thought there was one? So anyway, there is one now, or at least we think there is. Zack Handlen probably knows whether  or not there really is one. At least, we hope he does.
Archer (FX, 10 p.m.): And Archer: Vice concludes "Palace Of Intrigue" tonight with the thrilling conclusion to the gang's adventure with Gustavo Calderón in Central America. Todd VanDerWerff is both intrigued and palatial.
G/O Media may get a commission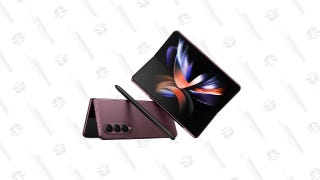 Save Up to $300
Galaxy Z Fold4
---
REGULAR COVERAGE
The Following (Fox, 9 p.m.)
Bates Motel (A&E, 10 p.m.)
---
ELSEWHERE IN TV CLUB
Phil Dyess-Nugent takes a look at the oddity Swingtown in our series One-Season Wonders, Weirdos, and Wannabes. At first, the show was conceived for cable; then when CBS took a chance on it, it had to be hastily rejiggered to be suitable for network. The result was a primetime drama about swingers in the suburbs, with more innuendo than nudity—starring Jack Davenport, no less!
And Marah Eakin interviewed Bob Saget, fresh off of finishing his job narrating the older Ted Mosby in How I Met Your Mother, about the first time he did a bunch of things. Including the first time he told a dirty joke. Which is making us think of the first time we realized that the dad from Full House told really, really filthy jokes.
TV CLUB CLASSIC
Justice League Unlimited (noon): And because we hadn't given Oliver Sava enough work today, expect an installment of JLU at noon. Today: "The Ties That Bind."
WHAT ELSE IS ON?
Bitten (Syfy, 8 p.m.): This werewolf drama ends its first season tonight. Elena returns to her pack to war against the Mutts.
Lost Girl (Syfy, 10 p.m.): And this other science-fiction show with a female protagonist concludes its fourth season tonight. Bo, we are informed, faces what may be the toughest decision of her life. We do not, however, know who she is.
In Performance At The White House: Women Of Soul (PBS, 9 p.m): This is not live, but it is airing for the first time. Featuring Tessanne Chin, Melissa Etheridge, Aretha Franklin, Ariana Grande, Patti LaBelle, Janelle Monáe and Jill Scott, in what is a rather generous definition of "soul."
Independent Lens: Brothers Hypnotic (PBS, 10 p.m): And in this other recurring series on public broadcast TV, PBS' docuseries Independent Lens takes a look at the Hypnotic Brass Ensemble, a Chicago-based jazz band comprised of eight brothers. The Ensemble started out busking on the street and now plays with celebrity musicians, including both Mos Def and Prince. They're all the sons of avant-garde jazz trumpeter Phil Cohran.
Hannah Montana: The Movie (Disney, 8 p.m.): Miley Cyrus stars as Miley Stewart, a young girl with a pop-star career under the stage name "Hannah Montana." It is a dumb name, and the difference between Hannah and Miley is solely indicated by a wig. However, Miley's real-life father Billy Ray Cyrus stars as her fake-life father in the movie, so yeahhhh!
The Perfect Storm (IFC, 8 p.m.): Sometimes, we feature a film just so we can copy-paste TV Guide's utterly brilliant description of it:
Fact-based adventure about a boat skipper (George Clooney) and his crew in the path of a confluence of massive storms. Mind-blowing effects, but the characters are one-dimensional. Mark Wahlberg. Adapted from the Sebastian Junger bestseller. Directed by Wolfgang Petersen, who also directed the 1981 seafaring drama Das Boot. Barry Levinson served as executive producer.
---
IN CASE YOU MISSED IT
Turn: Genevieve Valentine is covering this Revolutionary War spy drama for us, and whatever occurred last night inspired this rather brilliant stray observation: "I have rarely seen a TV baby less interested in anything happening in the frame than Jamie Bell's TV baby. That baby is not being paid enough to make eye contact."