Geek obsession: Van Morrison
What it's daunting: Like most songwriters who started in the '60s and have survived and recorded into the 21st century, Van Morrison has a formidable discography. Unlike many of his peers, though, Morrison has remarkably few hits for newcomers to use as guideposts while navigating his catalog. To the majority of Americans, he's more or less a one-hit wonder—that hit being his 1967 song "Brown Eyed Girl," one of the most-played singles in radio history. But Morrison's calling card is hardly characteristic of his work, a lengthy string of alternately transcendental and frustratingly banal albums that span genres and generations.
Possible gateway: Astral Weeks
Why: Some say that Astral Weeks—Morrison's 1968 breakthrough as a solo artist—is too meandering and ethereal to serve as the best introduction to his music. Don't listen to those people. His first album after the success of "Brown Eyed Girl," Astral Weeks does indeed seem willfully murky and noncommercial, but Morrison more than sells it; from the feathery yet gently frantic acoustic chords of the title track to the flute-haunted death-embrace of "Slim Slow Slider," the disc is a shimmering vision of sex, mortality, and magic that was utterly unprecedented in the pop world. That has a lot to do with Morrison's radical choice of a band: Following his departure from the raw Irish rock band Them in 1966, Morrison recorded his solo debut, Blowin' Your Mind! But he was so unsatisfied with the album that he gathered a handful of jazz musicians for its follow-up, a move that proved brilliant as well as arrogant. Astral Weeks benefits immeasurably from drummer Connie Kay, the improvisation of guitarist Jay Berliner, and Richard Davis' fluttering-yet-sinewy double bass. At the core of this gorgeous chaos, Morrison melds folk, blues, rock, and soul while venting a heady stream of consciousness that mixes pastoral poetry with barroom snarl. "She was wearing a white dress / She appeared like an angel out of this filthy mess," he sings on Astral Weeks' "Sweet Thing," and those lines could almost describe the album itself.
Next steps: Though it was a relative flop when it was released, Astral Weeks unleashed a sustained burst of freedom and emotional alchemy that Morrison rode for a decade. Of that fertile period, 1970's Moondance is closest to Astral Weeks' transcendent, romantic mysticism. It also features Morrison's second most popular song, the jazzy, sultry title track. Just as worthy are 1970's His Band And The Street Choir and 1972's Saint Dominic's Preview—rich, resonant discs that both happened to be capped by joyous, brass-accented tributes to Morrison's R&B heroes ("Domino," a love letter to Fats, on His Band, and "Jackie Wilson Said (I'm In Heaven When You Smile)" on Saint Dominic's). But the album sandwiched between those last two, 1971's Tupelo Honey, is Morrison's best record of the '70s. A paean to the bucolic life he was leading in Woodstock, New York, at the time, it's sees Morrison not banishing his demons, but at least taming them.
G/O Media may get a commission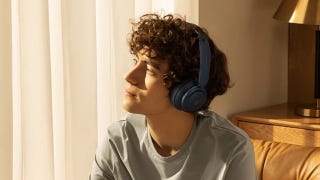 30% off
Soundcore Headphones and Earbuds
As the '70s progressed, Morrison—who never managed to get another big commercial break—seemed frustrated with his cult status. Granted, he made a minor masterpiece with 1974's overlooked Veedon Fleece, but he sounds shaky and scattered on 1977's self-consciously, almost desperately titled A Period Of Transition. In 1979, though, he managed to reconcile his sprawling aesthetic with the sharper sounds of the era; Into The Music is a brisk, confident, invigorating album sporting redemptive tracks like "And The Healing Has Begun." Unfortunately, a healed Van Morrison wound up being a less volatile and compelling one; most of his releases since the dawn of the '80s have been tepid, showing only sporadic flashes of his smoldering fire. The Healing Game, his subdued yet gritty 1997 full-length, marked the beginnings of a comeback, one that eventually culminated in a triumphant orchestral performance of Astral Weeks in 2008 and the excellent-yet-inessential 2009 live album, Astral Weeks Live At The Hollywood Bowl.
Where not to start: Morrison's work with Them has a fanatical following all its own, and for good reason. One of the most striking of the British Invasion imports, Them had two 1965 hits, "Here Comes The Night" and the garage-rock staple "Gloria," which were more than enough to put Them in the history books. The band's two excellent full-lengths with Morrison at the helm, 1965's The Angry Young Them and 1966's Them Again, don't give much of an indication of where Morrison would go with his solo career, but his seething stew of menace and heartache would fuel his later work. Unfortunately, Morrison's first solo album, Blowin' Your Mind!, isn't as vital a document. No one in their right mind at this point in time needs to go out of their way to hear "Brown Eyed Girl," and although a cult has grown around the 10-minute track "T.B. Sheets"—which is far more plodding than that evocative title suggests—it's a far cry from Morrison's later opuses.