It's a little shocking, frankly, that we've done 61 episodes of Pop Pilgrims without Back To The Future. The film is such an indelible part of pop culture, not to mention a personal favorite of most of the A.V. Club staff, that it's almost irritating that we didn't go there immediately back in 2011, when we first visited the Los Angeles area for Pop Pilgrims (especially when we did an entire episode about Nakotomi Plaza but couldn't get anywhere near it). Josh Modell seems to remember talking about going to Doc Brown's house, but if he did, nothing came of it.
The idea to go there this time around came from Los Angeles actor and Back To The Future fan Shane Hartline, who's what's known as a Fiesta Movement Agent. Ford gave him and 99 other social-media types a car to drive around for eight months and document his experiences with it. We let Shane and a couple other agents suggest locations for three bonus episodes of Pop Pilgrims, which will post sporadically through the fall.
Back To The Future filmed on location all around Los Angeles: The gymnasium from the Enchantment Under The Sea dance is in Hollywood; the high school is in Whittier; Marty's house is in the valley; Doc's house(s)—interiors were shot in one, exteriors at another—in Pasadena; the Burger King is in Burbank; and the mall's all the way over in City Of Industry. Hill Valley's iconic town square, of course, was on the Universal backlot until it burned down a few years ago. (The studio has since built a replica.)
We hit all of them—except the Burger King in Burbank—one day in late July, beginning at the Hollywood United Methodist Church. The church has a pretty nice side business in the entertainment arena: The first two Back To The Future films shot there, as did Sister Act, and the week before our arrival, the cast of Chicago was using the room that housed the Enchantment Under The Sea dance for rehearsals. A few bewildered people wandered in while we were shooting asking if we were the people staging the Rock Of Ages auditions. (We should've said yes. Shane could've given them pointers.)
Paul Pav was in charge of all of those Back To The Future locations, as well as the ones used for the film's two sequels. Before he retired after the appropriately titled Last Holiday, Pav worked on a number of landmark films, including Ghostbusters, Poltergeist, E.T., The In-Laws, and even spent half a year in Africa on pre-production for Congo—including negotiating with indigenous tribes—before civil unrest put the kibosh on that. When he met us at HUMC, it was the first time he'd been back since filming Back To The Future Part II there in the late '80s.
G/O Media may get a commission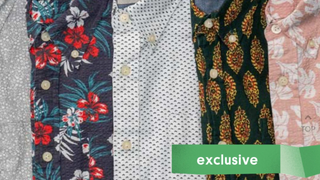 Grab three styles!
JACHS NY Summer Pack
The gymnasium that housed the dance and the high school from Back To The Future are actually separated by 25 miles. Whittier High School in Whittier, California, was used for interiors and exteriors of Hill Valley High School. While the exterior looks pretty much the same as it did nearly 30 years ago, the interior has unsurprisingly changed significantly. The hallway where Principal Strickland confronts Marty early in the film now looks like this:


Twin Pines/Lone Pine Mall, a.k.a. Puente Hills Mall in City Of Industry, California, has a bunch of different stores these days—sadly, Fox Photo no longer exists—but it's unmistakable. So is Doc Brown's house up in Pasadena, also known as the Gamble House (located only about five minutes from the house used as the exterior for the Draper residence in early seasons of Mad Men). It's a national historic landmark that allows people to take pictures in it by appointment only, so filming the interiors of Doc's house and garage there wasn't an option. A nearby house, which remains a private residence, was used instead, and producers built a set for Doc's garage. Marty's house, located in Arleta, is also still a private residence that looks pretty similar to how it did in Robert Zemeckis' film.
All of them still seem to get a fair amount of Back To The Future visitors, particularly Whittier High. They can expect some more as the film's 30th anniversary approaches, especially on October 21, 2015.