S.: Jenn Champion—who recently changed her longtime stage name from Jenn Ghetto, citing the potential offensiveness of the word "ghetto"—was part of a fascinating, fruitful Seattle scene in the mid-'90s that spun around Carissa's Wierd. (That spelling error is intentional.) That band most notably spawned Ben Bridwell of Band Of Horses, but also led to slow, sad, terrific music by Champion (under the name S.) and Sera Cahoone. Her records are great and well-named—Puking And Crying is one—but I don't pull them down too often. 2014's Cool Choices is great, too. Purging one.
Sabalon Glitz: I think the only thing I really loved about this Chicago band's spacey record was a recording of a phone call with lovable crackpot Dr. Frank Stranges, who once met a real-life Venusian. But you can find all that stuff on YouTube nowadays, and it didn't have much to do with the music itself. Purging one.
Samiam: Samiam was the embodiment of a certain punk (bordering on pop-punk) sound in the mid-'90s. I always liked Knapsack better, though it probably sounds pretty much exactly the same to your mom and dad (or you, kid). We were excited that the singer wore an Atomic Records shirt in the video for the band's biggest hit, "Capsized." Purging one.
Adam Sandler: I own three Adam Sandler CDs. What's my excuse? I was younger then? Billy Madison was (and absolutely is) an incredibly funny movie. (Happy Gilmore = almost as good.) I saw Sandler on a crazy huge tour that was heavy on songs. If memory serves, it was actually pretty funny. Listening to They're All Gonna Laugh At You now, I'm not cracking a smile. It's probably me. Purging three.
Santogold: She had to change her name to Santigold, but the only record I own is the Santogold one… and it's awesome. I haven't kept up with subsequent records, but "L.E.S. Artistes" is still a super jam. It'll probably be among the first to go when I realize I haven't reached my goal, but it stays for now. Keeping one.
Art Paul Schlosser: Art Paul Schlosser is sort of like the Daniel Johnston of Madison, Wisconsin, though his songs are far more silly than serious. Schlosser has been a busker in Madison for decades, and he's released an incredible number of CDs (and tapes!) that he hawks on the street. I'm keeping a pair mostly because they conjure up fond memories of seeing him play. He used to occasionally contribute cartoons to Milk Magazine as well, and I once met him in Madison at Halloween, where he was dressed as "Buddy Holly Cheesehead." Years later, he would use that stage name in an appearance on America's Got Talent. It didn't go well. Keeping two.
G/O Media may get a commission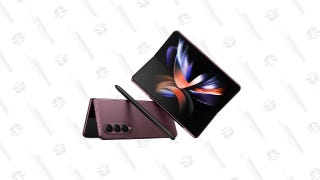 Save Up to $300
Galaxy Z Fold4
Scissors For Lefty: I'm getting to this weird part of the second CD shelf that's super close to the ground and full of single discs, making their likelihood of being chosen very slim. That definitely goes for this slinky San Fran band, who sounded (sound?) like Pulp and Hot Hot Heat, but not really as good as either. Purging one.
Ulrich Schnauss: This one suffered shelf blindness, too: Blue print on a black spine doesn't help. Ulrich Schnauss is a German musician who rides the line between bedroom electronica and shoegaze. I don't remember A Strangely Isolated Place all that well, so it's purging one.
The Sea And Cake: While the rest of Chicago went math- and post-rock—including Tortoise, which also features The Sea And Cake's John McEntire—this band was always a little more lush and jazzy. The Fawn is the one to own. Keeping one, purging two.
Scorn: I'm happily surprised that apparently I've already purged some of my Scorn discs; at one point I'm pretty sure I had 10 or more. The ones I like sound pretty goddamn similar to each other: dark, dubby, beats with heavy bass lines. In a way, the best of them just sound like dark, instrumental hip-hop—which might be weird coming from the guy who once drummed for Napalm Death. I'm just going to hang on to Gyral, which is spookily fantastic. Keeping one, purging two.
Seam: A fellow Seam fanatic once said to me that the band's second record, The Problem With Me, wasn't necessarily his favorite album, but that it was still, in his estimation, perfect. I agree with that pretty wholeheartedly, though I realize that opinion is colored by context: It was the perfect indie-rock record at the perfect time, perfectly paced and perfectly recorded. The lyrics are oblique but touching, and the whole thing feels like one big lovelorn, angry sigh. That puts the rest of the band's also-great catalog at a serious disadvantage when listening time and shelf space are at a premium, but I'm still keeping them all, because even when they're only half as good as The Problem, they're still twice as good as… I dunno, something else. If you like '90s indie-rock but haven't heard this one, pay close attention and enjoy. Keeping five.
Seaweed: I feel like I could switch this with the Samiam entry above and I wouldn't know the difference. Seaweed was a little more earnest, I guess? They covered "Go Your Own Way" for the Clerks soundtrack. Remember that? No? Purging one.
Sebadoh: I'm not going back to verify this in the pages of Milk Magazine, but I'm fairly certain that I listed Sebadoh's Bakesale as my favorite album of 1994. Diehards didn't love that it sounded a lot slicker than anything in the band's past—specifically because Sebadoh had lost loose cannon/songwriter Eric Gaffney—but that didn't matter to a world embracing Pavement. Too much Lou Barlow can be a lot to take, but the album holds up amazingly well. Between it and Bubble And Scrape, I've got all the Sebadoh I need, though. That's kind of a dad judgment, but I stand by it. Keeping two, purging one. (And, man, there used to be scads of Sentridoh and side projects around here, but I must've ditched those a while back.)
7% Solution: I don't really remember this Austin band's origin story, only that they were clearly influenced by the friendlier end of shoegaze, à la The Verve. Here's something fun, though: All About Satellites And Spaceships comes with two copies of the disc with the instruction, "Please give this copy to a friend." Oh, and listening to it now, I forgot that there's a sort of half-cover of R.E.M.'s "What If We Give It Away?" Guess it all makes sense together… Purging one.
Sex Pistols: I've mentioned my eldest (sorry Lisa, that sounds harsh) sister here before, and I think I even mentioned her high school beanie—she went to Shorewood High School (in Shorewood, Wisconsin, as did I), and she craftily sewed the letters "EX PISTOLS" after the school's S. Very punk rock. Strangely, though, I don't remember listening to the Sex Pistols at that age. By the time I hit middle school, I had somehow gotten a copy of a weird compilation called Flogging A Dead Horse, but that's long gone. Now it's just the one-and-done punksterpiece Never Mind The Bollocks. I choose to ignore everything else, including the reunions, but Bollocks is legendary for a reason. Keeping one.
Shapes And Sizes: Whenever there's a single disc that I don't really recognize on the shelf, I assume I reviewed it for SPIN in the mid-'00s, and that's usually right. I reviewed quite a few, at a pretty quick pace, so it makes sense that they don't all occupy brain space at this point. Of this 2007 record, I started the review by saying, "Shapes and Sizes don't play songs as much as teeter toward them," which is a line I'm reasonably proud of. And still… Purging one.

Shellac: I have always preferred the sound of Shellac in person, melting my face, which probably explains why I only own the band's debut, At Action Park. It's a fun one to own on CD, too, because the packaging (which refers to itself as "Tortoise-like") basically ridicules you for not buying the vinyl. Steve Albini, ladies and gentlemen! (Although we're barely acquaintances, I used to play in his poker game sometimes. He made great snacks and told great/bad jokes.) Keeping one.
The Shins: I love the first two records, and though I have two more, I don't need them. I used to have a cat who—no joke—hated The Shins. When James Mercer would hit certain frequencies with his voice, this cat—named Christmas—would howl at the stereo and run out of the room. You might say The Shins changed his life. (But it wasn't "New Slang." It was either "Kissing The Lipless" or "Young Pilgrims"; I can't remember which.) Keeping two, purging two.
Michael Showalter: I like Michael Showalter, but I never listen to this. I think it has a bit about washing your hands before you go pee and drying your dick on a piece of white bread, but maybe I dreamed that. Purging one.
Shudder To Think: What a coincidence: Michael Showalter is in Wet Hot American Summer, which Shudder To Think's Craig Wedren wrote the music for. Now I'm just trying to distract you from the fact that my Shudder To Think collection is weird and woeful, containing just Get Your Goat—from the D.C. art-punk band's unpolished Dischord days—and a promo-only disc featuring slicked-up versions of their early songs, recorded at the behest of their major label. Both good, neither essential? But all the Dischord stuff is on Bandcamp now, and I've got it all digitally anyway. Keeping two, for now.
Sigur Rós: I feel like an old man, and I can't remember what stories I've told you, either here or in other A.V.C. pieces. Oh, well, here's one. I once saw Sigur Rós—I think at the Chicago Theatre—and the audience remained seated for most of the show. (That's fine. It's a tough call for huge Icelandic sheet-rock, right?) At one point, though, a very buttoned-up guy in the front row—I was about 10 rows back—couldn't contain himself during one of the band's most epic moments. He stood up in his chinos and pastel dress shirt—not making fun, just observing that he was a pretty straightlaced-looking guy—and raised his arms in the air and sort of shuddered there in triumph for a minute or so, before sitting back down. It was awesome, and I get it: I've seen them a bunch of times, and it can be religious.
Now, I have a lot of Sigur Rós discs, too. Do I need them all? No, I don't. Gotta keep the classic albums two through four: Ágætis byrjun, ( ), and Takk… Don't need this EP that was created to accompany a dance piece. Guess I haven't listened to Sigur 1/Sigur 9 in ages. I have two different versions of the Sæglópur single. The titles are in Icelandic, when they have titles at all. I've got enough by keeping six, purging three. (And two of those are CD/DVD packs that are extra thick!)
Silkworm: The jewel case on my copy of Silkworm's first album, In The West, has a sticker on it that says, "Featuring 'Killing In The Name,' 'Bullet In The Head.'" (Clearly grabbed a non-broken cover from a stray Rage Against The Machine disc way back when…) Anyway, Silkworm: noisy, smart indie-rock band that started life in Montana but ended up in Chicago, part of the Albini gang for sure. I don't listen to these records much anymore, and I wonder if part of that reason is Silkworm's unhappy ending: Drummer Michael Dahlquist, along with two friends, was killed in a car wreck—victims of a woman who was trying to kill herself. One of the most moving live performances I've ever seen was the remaining members—Tim Midyett and Andy Cohen—performing a one-song tribute to their friend at Touch And Go Records' 25th-anniversary shows in Chicago. They're still playing together, though, as Bottomless Pit, with the drummer from Seam. Purging two.
Silver Jews: Man, I'm in so much trouble. Starlite Walker, the first Silver Jews record—gonna oversimplify here—is the greatest Pavement record never made, which makes sense considering Stephen Malkmus is all over it. Even Malkmus always seemed in awe of the easy way that David Berman has with weird words and turns of phrase. (I'm sure you'll share your favorites in the comments, but let's start with "Half hours on earth / What are they worth? / I don't know" and "In 1984, I was hospitalized for approaching perfection." A Silver Jews song even inspired a long-gone A.V. Club feature, in which Berman was nice enough to be the first participant. Keeping five.
Sarah Silverman: I think Sarah Silverman is hilarious, but when I want to experience her stand-up, it's gonna be via Jesus Is Magic and not this disc, which has an annoyingly large case. Purging one.
Simon & Garfunkel: I really never listen to this massive collection—Collected Works—but I feel like I should keep it. Is this a disease? Keeping one.
The Six Parts Seven/The Sixths: These bands have nothing to do with each other, other than that every track on the albums I own features a different guest singer. The Six Parts Seven was a mostly instrumental band that had the kind of brilliant idea to ask their more famous friends to remix/reinterpret their songs—and add vocals—for Lost Notes From Forgotten Songs. Sam Beam, Isaac Brock, and David Bazan make interesting stabs, though it's nothing for the keeper pile. The Sixths is Magnetic Fields mastermind Stephin Merritt and a bunch of guest singers, so it basically sounds like Magnetic Fields covers (except they're all original Sixths' songs). Some of my '90s indie favorites are here, like Lou Barlow, Dean Wareham, Mac McCaughan, and Mark Robinson. But it's not in regular rotation. Goodbye, both of you fine concepts! Purging two.
Skylab: I barely remember this band, other than that it's sort of ambient/electronic. It sounds super dated now. Purging one.
Slint: I don't have a super strong connection to Slint; I was much more into the bands that came immediately after it, to be honest. But there's a pretty undeniable dark energy to Spiderland. I hear it's a classic! Keeping one.
Small Factory: This Rhode Island band is just a footnote now, but it made two really great indie-pop albums that were sort of sweet and acerbic at the same time, 1993's I Do Not Love You and 1994's For If You Cannot Fly. My favorite song of the band's is on a third disc, a compilation, but I don't need that whole thing. It's called "If You Hurt Me," and its finest lyric goes, "If you break my heart / I'll smash up your fucking car." Keeping two, purging one.
Elliott Smith: I find it a little hard to listen to Elliott Smith's saddest songs in light of his suicide; it's not like the guy kept his darkest feelings to himself. But he's also an incredible source of light—even the most brutal songs have some sense that he was healing by singing them. My favorite records are Elliott Smith and especially Either/Or; I thought he was at his best with minimal instrumentation, though I can appreciate the more orchestrated stuff, too. I was lucky enough to see him play a few times way back when, and though I never actually met him, a friend of his sent me this after he was on the cover of Milk. Keeping eight.
The Smiths: I'm not a Beatles guy or a Stones guy; I'm a Smiths guy. (And a Fugazi guy, I guess?) While Morrissey's career has had dwindling returns, The Smiths remain coated in amber, with four studio albums, two compilations, and a live disc that are each pretty much perfect. (I've never been a fan of "You Just Haven't Earned It Yet, Baby," but pretty much everything else is untouchable.) And check out this fantastic purging fact: I have the Complete box set plus individual jewel case discs of all those albums! So I can purge all of those, and just keep The Sound Of The Smiths compilation (for "Jeane" and "Wonderful Woman") and the "Sweet And Tender Hooligan" CD single, which dug up some otherwise unavailable tracks in 1995, for some odd reason.
Did I mention that The Smiths wrote some of the most amazing songs of the '80s? Or that they're like The Catcher In The Rye for people my age? "Don't forget the songs that made you cry / And the songs that saved your life / Yes, you're older now, and you're a clever swine / But they were the only ones who ever stood by you." Keeping two, purging 10, the box set is on a different shelf!
Smog: Oh, this is just torture. I have too many Smog discs, but I'm not sure what I can cut. I know that Knock Knock is staying, because it's a top-10 of all time for me—the perfect expression of Bill Callahan's lonely, smart, singular take on singer-songwriter-ness. That record is perfect, and most of the others are great, and I just need to rip this Band-Aid off and say keeping four, purging four. I might come back to un-purge some later. (Keeping Knock Knock, Red Apple Falls, Dongs Of Sevotion, and A River Ain't Too Much To Love. And don't worry, The Doctor Came At Dawn is in a slim pack in a box somewhere, along with all the other slim cardboard-case discs.)
Smoking Popes: This is pretty easy for me; I'm hanging on to Born To Quit and Destination Failure from this Chicago pop-punk band. I saw them open for The Replacements on the recent-ish reunion tour and was delighted to hear all the hits—most of which can be found on those two records. Keeping two, purging two.
Snailhouse: Snailhouse is a Canadian singer-songwriter who briefly played in Maritime. His own songs are quiet and slow, just like I like 'em. Keeping two, though he has a million records.
Snoop Doggy Dogg: Doggystyle. My god, the artwork is pretty awful, but the songs are still there. Keeping one.
B.J. Snowden: This Canadian lady was sort of on the cusp of so-bad-it's-good-ness, I guess. She's no Harvey Sid Fisher. Purging one.
Snow Patrol: Snow Patrol mostly got famous in America by having a song on Grey's Anatomy—or so I've heard. I've never seen the show. But if I'm a proud Coldplay fan, I might as well be a proud Snow Patrol fan, too—they definitely travel in the same musical orbit, though Snow Patrol has a bit more indie lean, for lack of a better word. (Singer Gary Lightbody claims Sebadoh as a major influence, and it's noticeable.) The one to start with is 2003's Final Straw, which features a string of rafter-reaching alt-rock anthems like "Run," "Chocolate," and "How To Be Dead." Keeping that one and the ones after it—the first two albums feel like dress rehearsals for the big game. Keeping four, purging three.
The tally: Six hundred eighty-three plus another 48 makes 731.
Personal Hall Of Fame (the discs that I'll take to the grave, maximum of one per artist): Seam, The Problem With Me; Sebadoh, Bakesale; The Shins, Oh, Inverted World; Sigur Rós, Takk…; Elliott Smith, Either/Or; The Smiths, man that's tough but if it's one forever it might have to be Louder Than Bombs, partly because it's so long; Smog, Knock Knock; Snow Patrol, Final Straw.
Next up: Did I mention that I'm not at all on target? More in the S category, too.