Every day, Watch This offers staff recommendations inspired by a new movie coming out that week. This week: With The Railway Man on the horizon, we highlight movies about prisoners of war.
Little Dieter Needs To Fly (1997) and Rescue Dawn (2006)
The great German director Werner Herzog once spoke of an "ecstatic truth," visible only through "fabrication and imagination and stylization." His argument was that in order to see the whole truth, you needed more than just an unbiased presentation of facts and information. You needed a dramatic or poetic perspective, too. This philosophy explains why Herzog occasionally re-stages conversations and encounters in his documentary work, regardless if doing so compromises the supposed authenticity. Perhaps it also explains why he felt the need to make not one, but two films about Dieter Dengler, one of the most iron-willed of his real-life subjects. Dengler was a Navy pilot who crash-landed in Laos during the Vietnam War. After months of torture and imprisonment by the Viet Cong, he escaped into the jungle and was eventually (and rather miraculously) rescued. In 1997's Little Dieter Needs To Fly, Herzog catches up with Dengler three decades after his ordeal, allowing the veteran to talk about his life and eventually coercing him into returning to Laos to reenact some of his experiences. The director's Rescue Dawn, made nine years later, dramatizes said experiences, with Christian Bale as the unlucky airman.
Both films are gripping, but for very different reasons. Like many of Herzog's documentaries, Little Dieter seems primarily interested in philosophical inquiry—in this case, trying to understand how somehow could live an ordinary, fulfilling life after surviving such a nightmarish crucible. Dengler remains matter-of-fact about what he went through, even as he's talking about some of the most harrowing events. The scenes in the jungle, in which Dengler returns to the place he was once held captive and interacts with locals playing his captors, flirts with cruelty in its pursuit of an emotional reaction. "Their lives seem to be normal," says Herzog, of men like his subject, seen driving around among other civilians. "But they are not." Little Dieter is about coping with trauma, and the way someone like Dengler might turn painful memories into great stories as a means of disconnecting from them. Rescue Dawn, by contrast, is just a crackerjack survivalist adventure—a docudrama about life on the edge of death, braving the elements, and friendship among prisoners of war.
It's when considered together, or put in dialogue with each other, that these two Herzog triumphs shine. It's not simply that one depicts the ordeal and the other the aftermath. It's that the two films seem to represent a complete vision, gaining power from the context they provide each other: There's something incomparably immersive about hearing Dengler talk about his experiences and seeing them vividly, artistically re-staged. (His admission in Little Dieter that he felt closer to fellow prisoner Dwayne than his own family lends poignancy to the lightly fictionalized camaraderie of Rescue Dawn, just as the performances of Bale and Steve Zahn help audiences understand that confession.) Maybe Herzog realized that he needed the tools of both documentary and narrative to get to the heart of this incredible true story. In other words, perhaps the "ecstatic truth" of Dengler's saga lies somewhere in the intersection of these two movies.
G/O Media may get a commission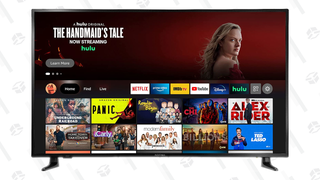 38% Off
Insignia 50" 4K UHD Smart TV
Availability: Little Dieter Needs To Fly is available on DVD, which can be obtained through Netflix. Rescue Dawn is also available on DVD through Netflix, and to rent or purchase through Amazon Instant Video.