What Are You Watching? is a weekly space for The A.V Club's film critics and readers to share their thoughts, observations, and opinions on movies new and old.
First things first: Jordan Vogt-Roberts' The Kings Of Summer left me unimpressed back in the day, so I was pleasantly surprised by just how much I liked the splashy first hour of Kong: Skull Island. As A.A. Dowd notes in his review, Vogt-Roberts somehow succeeds in turning what is usually the worst part of any King Kong movie into the best. From the pre-credits sequence of two fighter planes crashing into the beach through the heist-style supporting character hiring process and Kong's initial attack on the helicopters, the movie tears through period references (it's set in 1973) and visual ideas: super-saturated color schemes; close-ups of Ektachrome slides, Nixon bobbleheads, and spinning nine-track computer tapes; gag cuts, composites, and Vertigo zooms. But the movie suffers from having way too many characters (what is Tom Hiddleston even doing in this movie?) and unremarkable monsters. Vogt-Roberts lacks the sense for scale of, say, Gareth Edwards, who directed 2014's Godzilla (of which Skull Island is a spin-off) and then went on to do Rogue One.
For years, I have harbored a sick fascination with Franklin J. Schaffner's 1982 romantic comedy Yes, Giorgio, starring the Italian tenor Luciano Pavarotti in his only non-opera role. One of the few pleasures of this dismal profession is having low expectations upended, and once you discover that, say, the second director-to-video sequel to Mimic is a low-budget horror remake of Rear Window, you begin to jones for the harder, less promising stuff. And what could be less promising than a movie that sounds like a Seinfeld gag? (In this same category, I would put anther object of sick fascination, the 1970 musical Song Of Norway.) Plus, there's the X factor of Schaffner, a TV innovator who made Patton and the enjoyable Planet Of The Apes and seemed to become progressively more indifferent to subject matter as his career wore on.

Anyway, Yes, Giorgio is god-awful. Boring, too. The high point is Pavarotti singing a wretched original song (not John Williams' finest hour) from the basket of a hot-air balloon; the sequence resembles one of the era's nighttime TV station sign-offs. Kathryn Harrold, who sadly never got another role as good as Modern Romance, plays the object of the Pavarotti character's desires. She is upstaged by his seemingly limitless collection of hats, opera scarves, and ascots, which change as frequently as Maggie Cheung's cheongsam dresses in In The Mood For Love. The film inspired me to do some dishes while listening to Isaac Hayes' great soundtrack for Truck Turner. (If you ever need to get some greasy pans done, I recommend "Pursuit Of The Pimpmobile.") One thing led to another, and before I knew it, I had decided to watch Gordon Parks' Shaft for the first time in more then a decade.
G/O Media may get a commission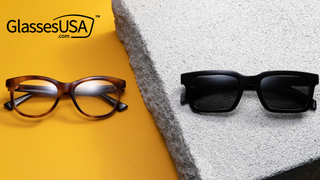 60% off frames
GlassesUSA.com Back to School Sales
I find a lot of blaxploitation irresistible—it's that magic of the super-stylized (the attitudes, the pulpy plots, the music, etc.) mixing freely with the authenticity of extensive location shooting and having to make do on a low budget. Hayes' theme song introduced not only the larger-than-life title character, but that whole Brechtian street-operetta side of the genre. Admittedly, much of Shaft is silly: the quasi-psychedelic sex scene; the bad guys with black gloves and Tommy guns; the crappy sound; the blind, stuttering newspaper seller who says, "Take care, Shaft." But I'd forgotten how much of a visual treat it is—those iconic telephoto shots of Richard Roundtree stomping down the sidewalk, low angles, shadows, long-ish single-take scenes filmed in moving cars and narrow storefronts. Parks was a great photographer before he got into movies, with a powerful eye for placing people within spaces and streets. Maybe I should rewatch Shaft's Big Score.