Sometimes a hijacking, a gunshot arm, and a bloody dismembered corpse is all it takes. That's how season two of F Is For Family pays off Frank and Sue Murphy's seemingly intractable marital woes at least. Is that a complaint? I suppose so. But the series has never settled its comic tone completely, with the thoughtful, painful (and, sure, very, very loud) character comedy jarring at times with the show's gross-out physical gags and would-be shocking comic asides. When Frank and his Mohican buddies cooked up their plan to drug the genuinely insane and dangerous Scoop and just chuck him on an airplane to Duluth, it was about as well-reasoned as the Wile E. Coyote drawings Bill and Phillip used to visualize their revenge against the also-psychotic Jimmy. Jimmy wound up with a broken leg, while Scoop ended his life in pieces on the tarmac, but that's more a function of how much more access the adult world has to heavy machinery and explosives.
It's not like the show hasn't been laying tracks to this particular outcome all along. The hijacking deus ex machina comes at the hands of the black revolutionaries whose leader was shown being belittled on local TV, there have been intermittent news reports of a Patty Hearst-like kidnapped heiress, the newspapers announced cutbacks in airport security, and Scoop—while not destined to wind up in quite so many pieces, necessarily—was a horrible accident waiting to happen. But last episode's revelations suggested that the problems between Sue and Frank weren't going to be fixed with a hug, or an apology, or, yes, even a terrorist incident and an extremely dead guy. The episode opens on a Thomas Crown Affair-like split screen montage of the fractious couple's wordless waking routine (set to Vanity Fare's insufferably chipper "Early In The Morning") that sees Sue and Frank sleeping, eating, and dressing for work separately, before they resume their running argument in the driveway. Sue is still bitter and wounded that Frank had been secretly hoping for her to fail, while Frank, as ever, tries to extricate himself by angrily asserting that all that is in the past, and can't she just get over it already? Sue, exhausted and defeated, offers Frank one last chance to say… something. "That breakfast sucked," he sneers, before they drive off in separate directions.
Some problems can be resolved with hugs, or the crude F Is For Family equivalent thereof. Bill finds that he's essentially taken the thorn from the lion's paw by bringing the wounded Jimmy to the hospital, as his former tormentor only fakes that he's going to brain Bill with his crutches before telling him that they're cool now. Jimmy's still a horrible little creep—his fantasy about how he'd pose Bill's dead body should their roles be reversed is far too well thought-out—but the two boys bond well enough to keep the peace for a while. At least until Bill acts on his immediate prepubescent attraction to Jimmy's sweetly foul-mouthed little sister Bridget.
G/O Media may get a commission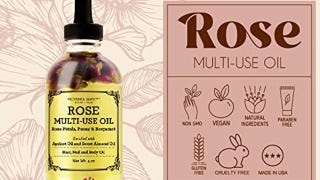 Provence Beauty Rose Multi-Use Oil
And Kevin and Vic have a civilized talk about Kevin's infidelity with Cutie Pie, as Vic, bursting into Kevin's underground lair, tells the terrified boy that he's not mad. Vic's revelation that Cutie Pie (still her name) has been sleeping with literally everyone they know is yet another failure of F Is For Family to give this female supporting character any traits beyond "vapid, promiscuous lady parts," but Vic's speech explaining his understanding of how teenage boys are about sex, and his own realization that he's got a major drug problem, is, in Sam Rockwell's bleary telling, quite touching in its way. (Vic still doesn't remember that he's been fired from the radio station after being let go some six times at this point.) F Is For Family secured some seriously overqualified actors for small parts, and Rockwell's Vic remains the most rounded of the bunch, here assuring Kevin that his own youthful experiences with a sexy friend of his mom's and a toll booth lady on the turnpike that night really put Kevin's betrayal in perspective. When Kevin notes confusedly that Vic's narrative doesn't track, Vic's sage "Once your dick gets hard the story never makes sense," is about as profound a summation of the pair's relationship as can be offered. (Kevin tucking the spent Vic into Kevin's bed is a sweet way to end it, too.)
Frank and Sue's split adventures during the day see them attempting—and, necessarily, failing—to fix themselves on their own. Sue scores big when the Salad Tosser is a day-saving sensation at the Plast-a-Ware stockholders' meeting, but she's crushed when Henrietta not only takes credit for the gizmo, but asserts her willingness to destroy Sue and Vivian in court if they dare claim it. Sue having come up with the idea on the company's time is a tried way to swipe defeat from the jaws of victory which may or may not be as done a deal as Henrietta makes it seem. But, for Sue, it's the most demeaning example yet of the working world in which she'd invested so much of herself treating her with contempt.
Frank, meanwhile, finds himself at gunpoint, the runway hijacking coming inconveniently just when he's decided to ditch the felonious Scoop scheme and run to tell Sue what an ass he's been. (Frank himself hijacks Bob Pogo's heartfelt speech about friendship with his flashbacks to all the times he was that ass, and Sue was his unwavering supporter.) It all leads up to one of those big moments where the guy spills his heart in public, unaware that Sue and the kids, having seen Frank's plight on TV, are watching from the crowd, which, again, is a contrived way to resolve the season's most affecting and complex conflict. But, along the way to the very messy sort-of happy reunion (Frank covered in Scoop's blood, Sue dripping with mud after drunkenly wallowing following Henrietta's betrayal), Bill Burr and Laura Dern sell the Murphys' individual pain with their customary specificity and immediacy. Frank's whole "Go ahead and shoot me because I have nothing to live for without Sue" bit is another cliché, but, with Burr giving the whole speech a grudging sincerity, it works anyway. And Dern makes Sue's acceptance of Frank's overheard and abject apology (and unneeded announcement that she's "an absolute animal in the sack") work too, again even when it shouldn't, if originality had anything to say about it. Plus, what with the mud, and the blood, and Frank's advice to the traumatized Maureen and Bill to "shove down" all their feelings about seeing Scoop's exploded body, there's enough sentimental undercutting going on to keep the moment from getting too uncharacteristically sticky. With sentiment. Everyone ends up very, very literally sticky.
In the end, it comes down to whether Frank and Sue's journey back to their shared bed short-changes either character, and I don't see it that way. Both of their big plans in the latter half of the season have come crashing down in flames (or Scoop-blood), but they have actually learned just enough to, for now at least, let the other person think that their feelings and their dreams are being respected. Even before the payoff of the joke that Frank's using some of Smokey's sabotaged rubbers for the couple's reunion sex, their earnest statements of support and talk of resuming their pre-parenthood dreams (college, flying lessons) touchingly sets Frank and Sue Murphy up for another round of disappointment. But their difficult, and funny, journeys this season have convincingly restated that they really do have each other, for better or worse.
Stray observations
Smokey and Frank's relationship—Smokey's inadvertent role in Frank's coming unwanted new fatherhood notwithstanding—remains strangely touching and hopeful to the end. Burr and Michael Kenneth Williams found the shared humanity in these two crotchety, miserable, hardworking bastards that made their cross-racial respect feel endearingly alive. Frank: "I'll never forget you." Smokey: "Yes you will. But I appreciate it." Goodbye Smokey, you ornery motherfucker.

F Is For Family's social satire remains tonally all over the place, with sexist crooner Tommy Tahoe blithely singing about beating up mouthy women versus the continually unspoken understanding that Rosie would get Frank's old job if he weren't black.

The feral kids go out watching two squirrels hump inside a broken TV, while Jimmy softens just enough to not beat the shit out of a little kid, for now. Adios.

"Well, if it isn't Bill, the compassionate pussy!"

"It's not as easy as all that." "Easier than losin' her."

Rosie, on Frank's plan to flee the kidnapping in order to talk to Sue: "Can't do this? You just did do this!"

Maureen, please do well in computer club.

One more salute to David Koechner who, against all odds, found the heart inside the mountain of wheezing fat jokes that was Bob Pogo. It's a big, weird heart, as his touching—if mostly ignored—speech to Frank shows.

Frank, machine gun in his face, calls out to God: "This is why I don't come to your fuckin' house on Sunday!"

And that's a wrap on the A.V. Club's coverage of F Is For Family, season two. Thanks for reading and commenting, as ever, everyone. Now get out of here before I put you through a fuckin' wall, just for old times' sake.